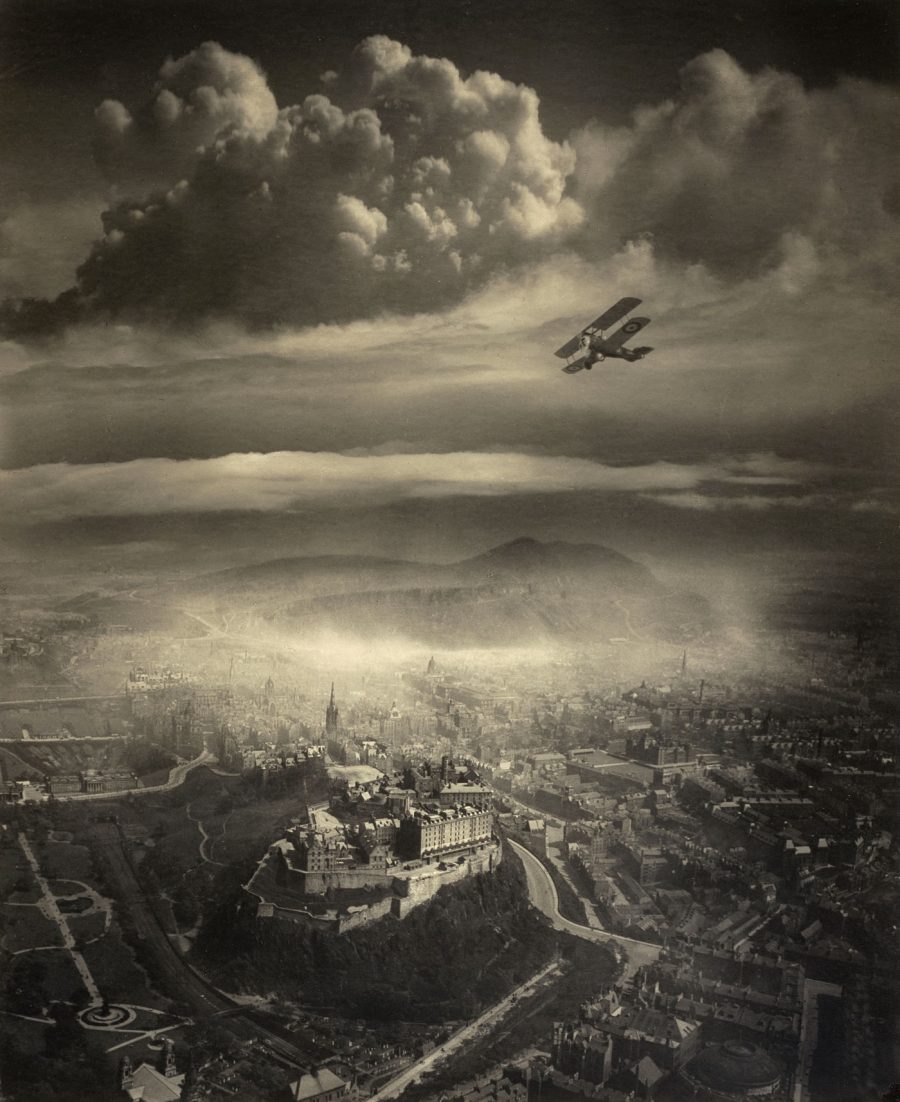 The British photographer Alfred Buckham (1879–1956) came of age during the early history of flight and served, starting in 1917, as a reconnaissance photographer for the Royal Naval Air Service. Apparently a better photographer than pilot, Buckham "crashed nine times before he was discharged from the Royal Naval Air Service as a hundred per cent disabled," writes the National Galleries Scotland website. (At the age of 39, he damaged his voice box and had to breathe out of a tracheotomy tube for the rest of his life.) But, nonetheless, his passion for aerial photography continued unabated.
In 1920, Buckham captured this rather splendid aerial photo of Edinburgh, the capital of Scotland. It's his chef d'oeuvre. About the photograph, the National Galleries writes:
Buckham's aerial view of Edinburgh has become one of the most popular photographs in our collection. The view is taken from the west, with the castle in the foreground and the buildings of the Old Town along the Royal Mile gradually fading into a bank of mist with the rocky silhouette of Arthur's Seat just visible in the distance. Buckham was always keen to capture strong contrasts of light and dark, often combining the skies and landscapes from separate photographs to achieve a theatrical effect. As he does here, he some­times collaged or hand-painted the form of a tiny aircraft to enhance the vertiginous effect. Yet accuracy remained a concern; Buckham later professed a particular fond­ness for his view of Edinburgh, 'because it presents, so nearly, the effect that I saw'.
If you follow these links, you can see a wider selection of Buckham's photographs, including Sunshine, and Showers; The Storm Centre; Sunset over the Pentlands Range; The Forth Bridge; Volcano: Crater of Popocatepetl; and more.
Related Content:
Amazing Aerial Photographs of Great American Cities Circa 1906
New Digital Archive Puts Online 4,000 Historic Images of Rome: The Eternal City from the 16th to 20th Centuries
Beautiful, Color Photographs of Paris Taken 100 Years Ago—at the Beginning of World War I & the End of La Belle Époque
The History of Russia in 70,000 Photos: New Photo Archive Presents Russian History from 1860 to 1999
Behold the Very First Color Photograph (1861): Taken by Scottish Physicist (and Poet!) James Clerk Maxwell