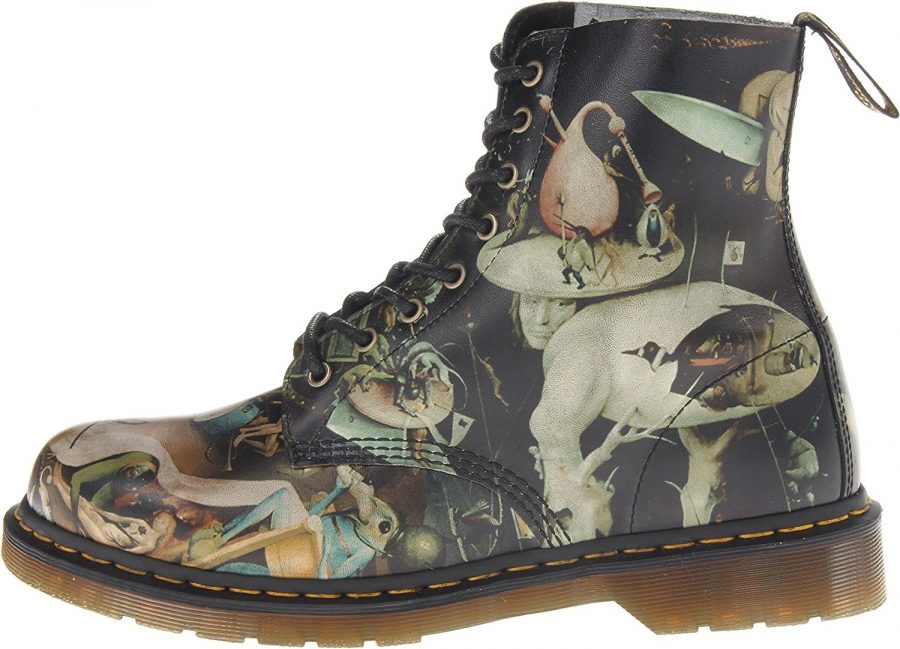 As in cuisine, where peasant food can become trendy and expensive overnight, so it is in fashion: how else to explain the way a humble working-class boot went from the factory floor to stylistic statement.
The original 1960's Dr. Martens boot, the one with the cushioned sole, fancy tread, and yellow stitching, was designed to be affordable. That's why the punks loved it, that's why the ska/Two Tone guys and gals loved it, and that's why rich rockers like Pete Townshend showed his solidarity by wearing them along with his boiler suit.
But that was then, and this is…the Tate Gallery of London's specially commissioned series of arty Docs. The "1460" boot above shows details from Hieronymus Bosch's "Garden of Earthly Delights" (the hellish third panel), which you have to admit is pretty cool. For the lover not the fighter among us, you can also go for the more debauched second panel from "Garden" printed on a "1461" style shoe.
If Bosch isn't your style, the Tate Gallery also commissioned ones featuring Giannicola Di Paolo, William Hogarth, and Biagio Di Antonio. Trouble is, all of these have already sold out, though you can still get versions sporting art by William Blake and JMW Turner. I guess you might want to bookmark Dr. Martens Artist Series' page. We're here to expand your cultural knowledge on Open Culture, not to provide daily deals!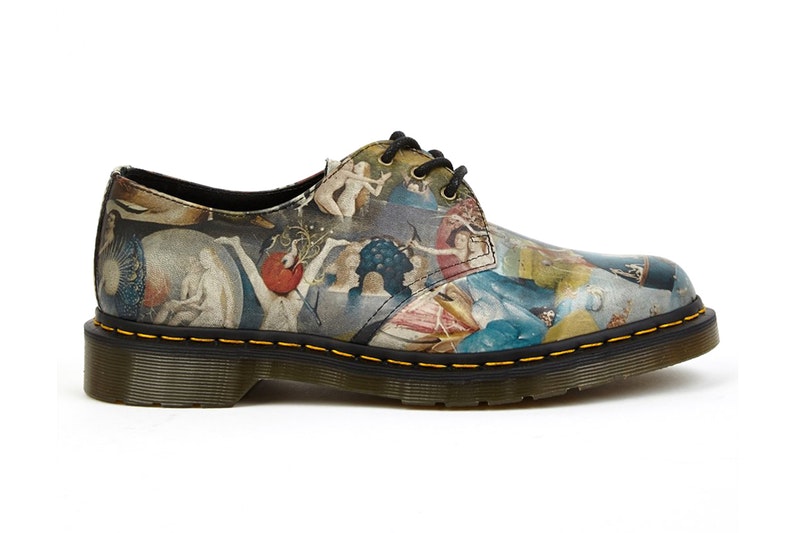 So, yes, these limited edition boots are just slightly more than the original "smooth" style and not exactly cheap. But, on the other hand, this new phase of the company is a celebration of skirting complete obsolescence. While marketers love to say these brands "never go out of style," they in fact did. According to their own website, Dr. Martens had such declining sales at the turn of the millennium that all but one factory closed. It was by commissioning artists to rebrand the boot in similar ways as the Tate Gallery that the company was able to turn things around and, best of all, keep manufacturing the boots in Britain.
Whether you should wear your high culture so low to the ground is for you to figure out once you get your hands on a pair. Again, there are still versions by William Blake and JMW Turner in steady supply.
Related Content:
Take a Virtual Tour of Hieronymus Bosch's Bewildering Masterpiece The Garden of Earthly Delights
Hieronymus Bosch Figurines: Collect Surreal Characters from Bosch's Paintings & Put Them on Your Bookshelf
Hieronymus Bosch's Medieval Painting, "The Garden of Earthly Delights," Comes to Life in a Gigantic, Modern Animation
Ted Mills is a freelance writer on the arts who currently hosts the artist interview-based FunkZone Podcast and is the producer of KCRW's Curious Coast. You can also follow him on Twitter at @tedmills, read his other arts writing at tedmills.com and/or watch his films here.