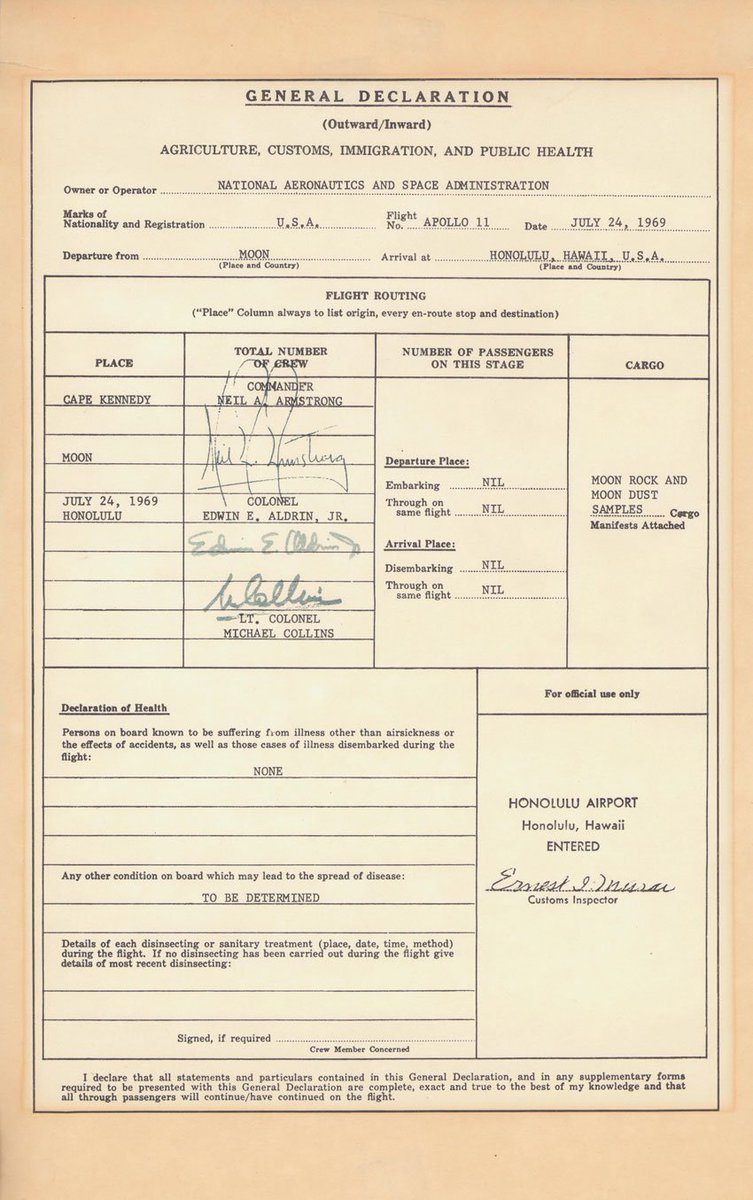 Above, find a document signed 50 years ago by Neil Armstrong, Buzz Aldrin, and Michael Collins after they returned from the first manned trip to the moon. The three astronauts came down in the Pacific Ocean and were taken to Honolulu on July 24, 1969, where they supposedly signed this immigration form, declaring a cargo of moon rocks and dust. President Nixon was good enough to let them back into the country.
The form, NASA spokesperson John Yembrick told Space.com, is authentic. And, he says, it was a joke. He does not, however, say exactly when the form was signed, either on the day the crew splashed down or sometime afterward. They did not actually arrive in Honolulu until the 26th. After their return,
The astronauts were trapped inside a NASA trailer as part of a quarantine effort just in case they brought back any germs or disease from the moon. They even wore special biological containment suits when they walked out on the deck of the USS Hornet after being retrieved. 
NASA transported them to Houston, quarantine trailer and all, and they emerged from isolation three weeks later.
Astronauts these days mostly just need a shower when they touch down, although internet savvy International Space Station astronaut Chris Hadfield did tell some customs related stories on a Reddit AMA—maybe nothing so weird as the current space snorkeling up there, but still a pretty great read.
Note: An earlier version of this post originally appeared on our site in December 2013.
Related Content:
"Moon Hoax Not": Short Film Explains Why It Was Impossible to Fake the Moon Landing
Michio Kaku Schools Takes on Moon Landing-Conspiracy Believer on His Science Fantastic Podcast
Dark Side of the Moon: A Mockumentary on Stanley Kubrick and the Moon Landing Hoax
Find Astronomy Courses in our Collection of 1300 Free Courses Online
Josh Jones is a writer and musician based in Durham, NC. Follow him at @jdmagness