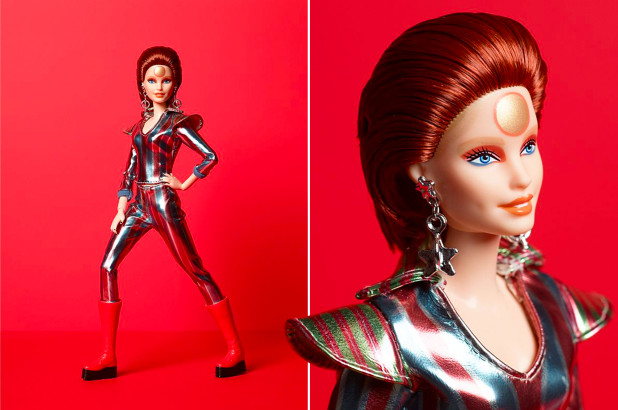 This week Open Cul­ture com­mem­o­rat­ed the 50th anniver­sary of the release of David Bowie's "Space Odd­i­ty" by explor­ing the song's rela­tion­ship to the Apol­lo 11 moon land­ing and Stan­ley Kubrick­'s 2001: A Space Odyssey. Mat­tel, they han­dled things a lit­tle dif­fer­ent­ly, releas­ing a new David Bowie Bar­bie Doll. Here's their spiel:
In the defin­i­tive cel­e­bra­tion of two pop cul­ture icons, Bar­bie hon­ors the ulti­mate pop chameleon, Eng­lish singer, song­writer and actor, David Bowie.
This col­lectible Bar­bie doll wears the metal­lic Zig­gy Star­dust 'space suit' with red and blue stripes, flared shoul­ders and Bowie's sig­na­ture cher­ry-red plat­form boots.
Spe­cial details include bold make­up — fea­tur­ing the famed astral sphere fore­head icon — and a hair­style inspired by Bowie's fiery-red locks.
Spe­cial­ly designed pack­ag­ing makes Bar­bie David Bowie the ulti­mate collector's item for Bowie and Bar­bie fans alike.
Hon­or David Bowie's extra­or­di­nary tal­ent and unde­ni­able influ­ence with Bar­bie David Bowie doll.
Relat­ed Con­tent
David Bowie's "Space Odd­i­ty" and the Apol­lo 11 Moon Land­ing Turn 50 This Month: Cel­e­brate Two Giant Leaps That Took Place 9 Days Apart
Hear Demo Record­ings of David Bowie's "Zig­gy Star­dust," "Space Odd­i­ty" & "Changes"