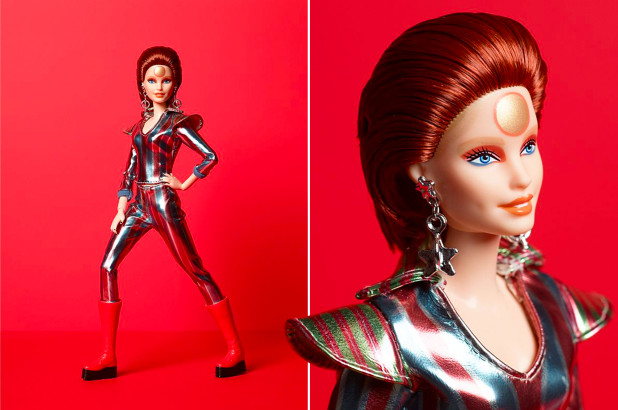 This week Open Culture commemorated the 50th anniversary of the release of David Bowie's "Space Oddity" by exploring the song's relationship to the Apollo 11 moon landing and Stanley Kubrick's 2001: A Space Odyssey. Mattel, they handled things a little differently, releasing a new David Bowie Barbie Doll. Here's their spiel:
In the definitive celebration of two pop culture icons, Barbie honors the ultimate pop chameleon, English singer, songwriter and actor, David Bowie.
This collectible Barbie doll wears the metallic Ziggy Stardust 'space suit' with red and blue stripes, flared shoulders and Bowie's signature cherry-red platform boots.
Special details include bold makeup — featuring the famed astral sphere forehead icon — and a hairstyle inspired by Bowie's fiery-red locks.
Specially designed packaging makes Barbie David Bowie the ultimate collector's item for Bowie and Barbie fans alike.
Honor David Bowie's extraordinary talent and undeniable influence with Barbie David Bowie doll.
Related Content
David Bowie's "Space Oddity" and the Apollo 11 Moon Landing Turn 50 This Month: Celebrate Two Giant Leaps That Took Place 9 Days Apart
Hear Demo Recordings of David Bowie's "Ziggy Stardust," "Space Oddity" & "Changes"