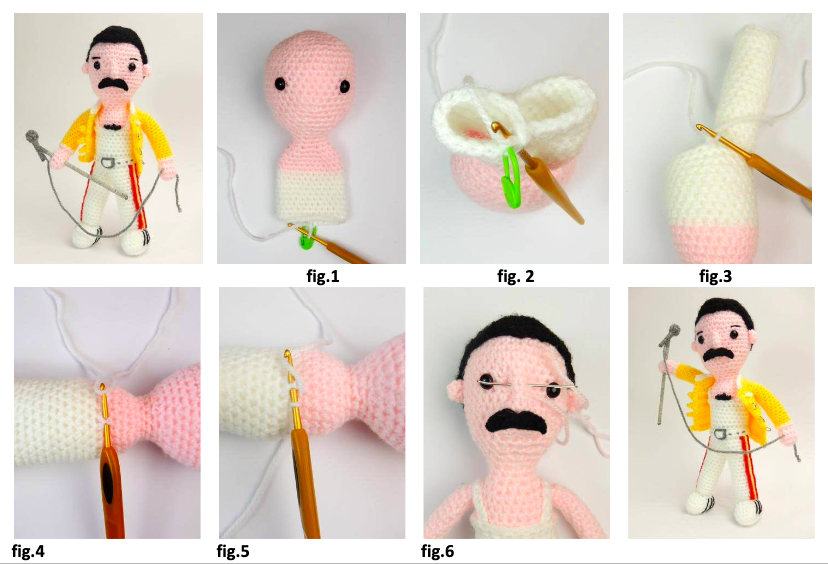 Given his passion for his pussycats, is it really such a stretch to imagine Queen frontman Freddie Mercury passing a quiet evening at home with a cup of tea and a basket of crochet supplies?
Tis but a handicrafter's fantasy.
Other than a boyish interest in stamp collecting, Mercury claimed to have no hobbies, famously telling an interviewer who inquired, "I have none. I have a lot of sex. Try and get out of that one!"
Which is not to say sex and crochet are mutually exclusive.
If your crochet notions are rooted in frumpy afghans, lumpy baby sweaters, and 1970s beer can hats, you need to get with the times and picture a church bazaar populated exclusively by sexy woolen Mercurys in miniature facsimiles of his Wembley Stadium era garb.
Moji-Moji Design's Janice Holmes, a self-taught expert in amigurumi, the art of tiny crocheted creatures, devised the pattern in order to stitch up a special request for a Queen-loving friend.
The result, complete with hairy chest, jacket buckles, and a bamboo skewer mic stand, was so fabulous that she felt compelled to share the pattern with the world, in hope that those who took advantage of the free download would consider donating to the Mercury Phoenix Trust, a charity that bandmates Brian May and Roger Taylor and Queen manager Jim Beach founded to fight HIV/AIDS worldwide.
Those who braved the tricky, many-stepped pattern were invited to share photos of their final creation on Moji-Moji's Facebook page. As of last count, there are 21, and it's fascinating to note the slight variations in eyes, mustache, and chest hair.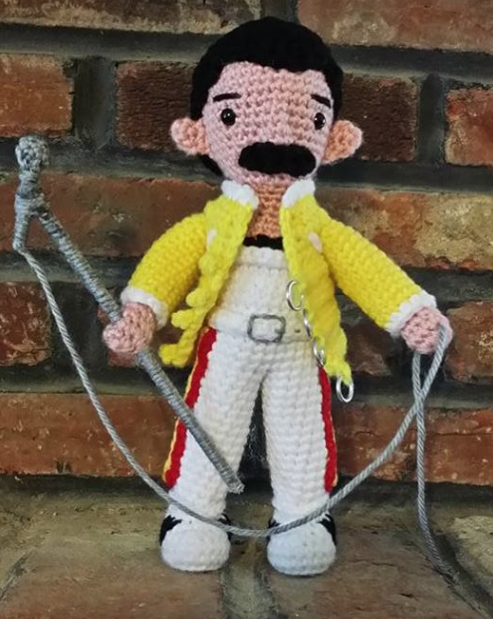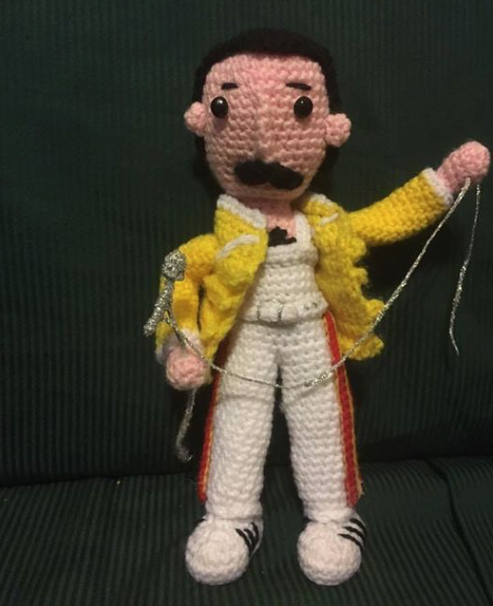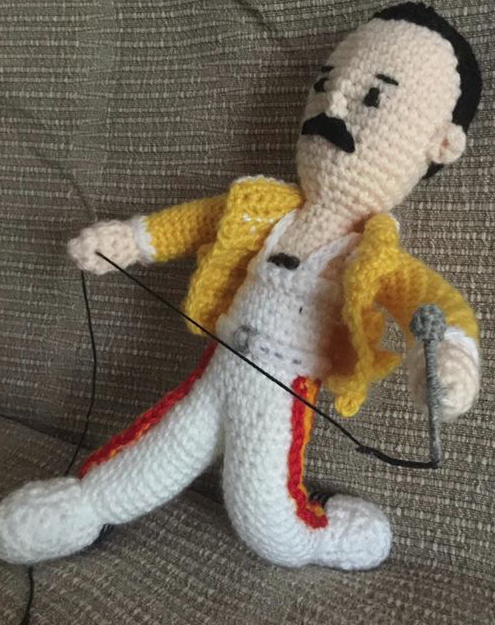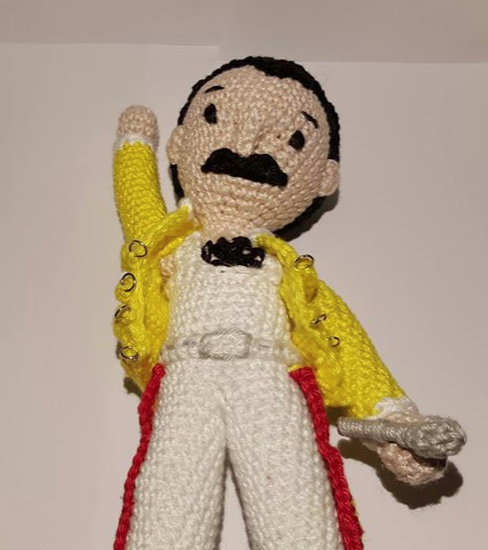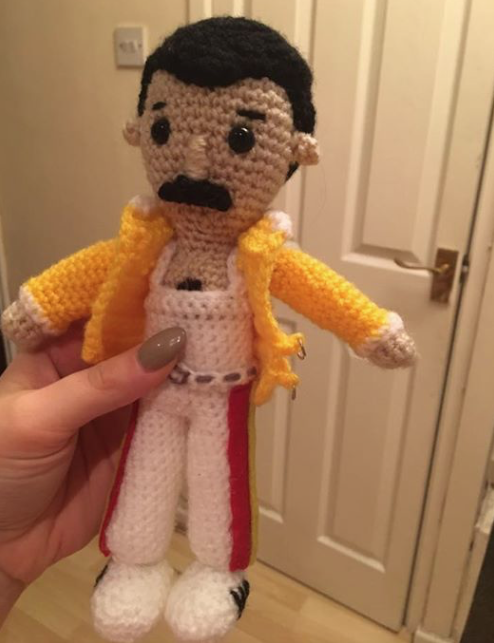 In keeping with amigurumi tradition, the affordable patterns in Moji-Moji's Etsy shop run toward cute animals, cuddly monsters, and seasonal favorites like witches and elves.
But Freddie clearly stirred something up. Read the comments and you'll find crafters petitioning Holmes for more music icons like David Bowie and Prince.
Ready to snuggle up with a crochet hook? Download Moji-Moji's free Freddie Mercury amigarumi pattern here.
If that's rather too daunting, ease into the craftiness with another free download—Lady Lazybones' far less advanced foldable cubecraft Freddie.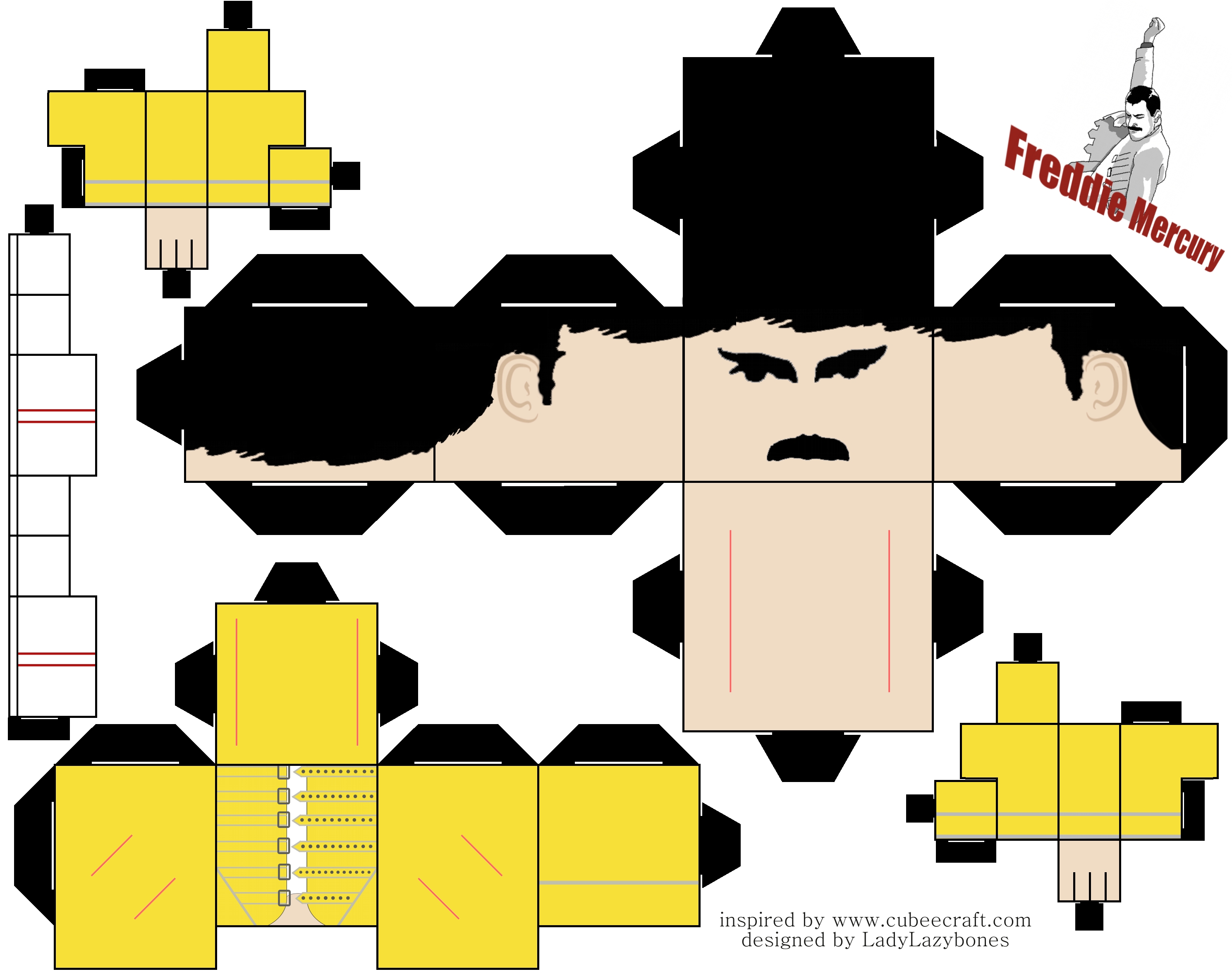 Even if you plan on sticking with sex as your sole hobby, please consider making a voluntary contribution to the Mercury Phoenix Trust here.
via Boing Boing
Related Content:
Meet Freddie Mercury and His Faithful Feline Friends
Watch Behind-the-Scenes Footage From Freddie Mercury's Final Video Performance
Freddie Mercury Reimagined as Comic Book Heroes
Ayun Halliday is an author, illustrator, theater maker and Chief Primatologist of the East Village Inky zine. Join her in NYC on Monday, October 7 when her monthly book-based variety show, Necromancers of the Public Domain celebrates the art of Aubrey Beardsley. Follow her @AyunHalliday.