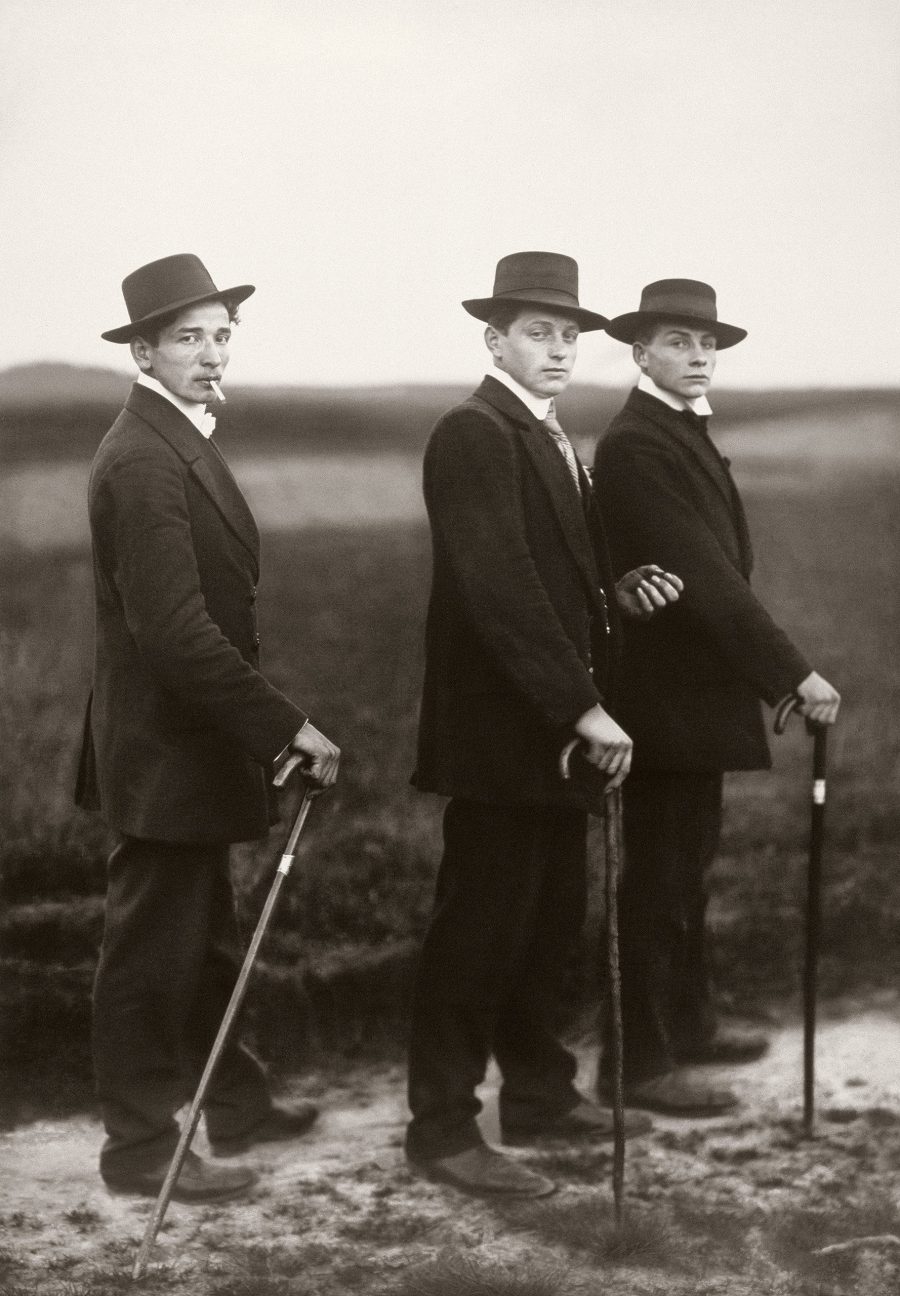 The portrait is your mirror. It's you. —August Sander
A picture is worth a thousand words, and compelling portraits that speak eloquently to a critical moment in history often earn many more than that.
Author John Green's thoughtful Art Assignment investigation into Three Farmers on Their Way to a Dance, August Sanders' 1914 photograph, taps into our need to interpret what we're looking at.
The descriptive title (the piece is alternatively referred to as Young Farmers) offers some clues, as does the date.
The subjects' youth and location—a remote village in the German Westerwald—suggest, correctly as it turns out, that they would soon be bound for what Green terms "another dance," WWI.
Green has learned far more about the people in his favorite photo since he covered it in a 2-minute segment for his vlogbrothers channel below.
Much of the shorter video's narration carries over to the Art Assignment script, but this time, Green has the help of "a community of problem solvers" who contributed research that fleshed out the narrative.
We now know the young farmers' identities, actual occupations, what they did in the war, and their eventual fate.
Ditto their connection to photographer Sanders, who lugged his equipment on foot to the remote mountain path the friends would be traveling in finery made possible by the Second Industrial Revolution.
A consummate storyteller, Greene makes a meal out of what he has learned.
It would provide the basis for a helluva book…though here another author has beaten Green to the punch. Richard Powers' novel, also titled Three Farmers on Their Way to a Dance, was a National Book Critics Circle Award Finalist in 1985.
Related Content: 
The First Photograph Ever Taken (1826)
Take a Visual Journey Through 181 Years of Street Photography (1838-2019)
See the First Photograph of a Human Being: A Photo Taken by Louis Daguerre (1838)
Ayun Halliday is an author, illustrator, theater maker and Chief Primatologist of the East Village Inky zine.  Here latest project is an animation and a series of free downloadable posters, encouraging citizens to wear masks in public and wear them properly. Follow her @AyunHalliday.