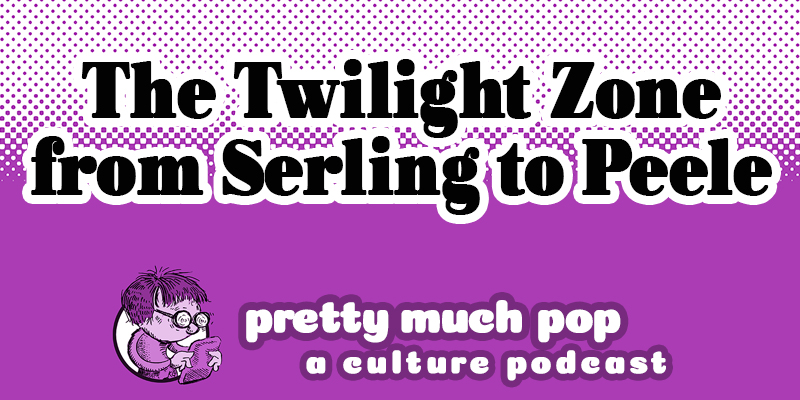 Something's strange… Is it a dream? If it's a morality tale with a twist ending, you're probably in the Twilight Zone. Your hosts Brian Hirt, Erica Spyres, and Mark Linsenmayer, plus guest Ken Gerber (Brian's brother) are in it this week, discussing the thrice revived TV series. Does the 1959-1963 show hold up? What makes for a good TZ episode, and does Jordan Peele's latest iteration capture the spirit? We talk about episodes new and old, the 1983 film, plus comparisons to Black Mirror and David Lynch.
The classic episodes we focus most on (and might spoil, so you should go watch them) are It's a Good Life, Will the Real Martian Please Stand Up?, What You Need, The Howling Man, Perchance to Dream, and Nick of Time. The others Ken recommended for us are The Obsolete Man and The Masks. Mark complains about Walking Distance.
In the new series, season 1, we do spoil Blurry Man and praise (but don't spoil) Replay. We don't spoil season two at all, but recommend Try, Try and Meet in the Middle and pan Ovation and 8.
Some articles we looked at include:
A good video on the background of the show is "American Masters Rod Serling: Submitted for your Approval," and you can find detailed discussions of many episodes on The Twilight Zone Podcast. Ken recommends The Twilight Zone Companion. Oh, and Chris Hardwick really likes TZ.
If you enjoyed this episodes, you might like our previous discussion with Ken on time travel.
Learn more at prettymuchpop.com. This episode includes bonus discussion that you can only hear by supporting the podcast at patreon.com/prettymuchpop. This week, we continue for more than half an hour, further discussing the Twilight Zone with Ken, which includes a look at the 1985-1989 series.
This podcast is part of the Partially Examined Life podcast network.
Pretty Much Pop: A Culture Podcast is the first podcast curated by Open Culture. Browse all Pretty Much Pop posts.