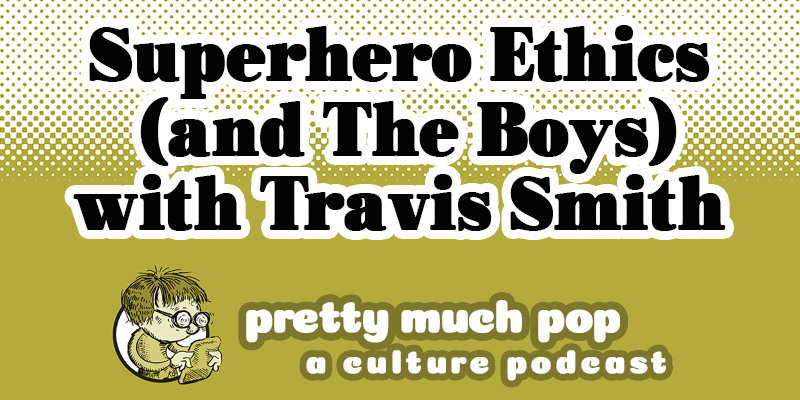 Is there no end to the seem­ing­ly end­less fas­ci­na­tion with super­hero media? Your hosts Mark Lin­sen­may­er, Eri­ca Spyres, and Bri­an Hirt are joined by Travis Smith, who teach­es polit­i­cal phi­los­o­phy at Con­cor­dia Uni­ver­si­ty, to dis­cuss. Travis sees their res­o­nance as a mat­ter of metaphor: How can we do more with the abil­i­ties we have? His book Super­hero Ethics: 10 Com­ic Book Heroes, 10 Ways to Save the World, Which One Do We Need Now? match­es up heroes like Bat­man vs. Spi­der-Man for eth­i­cal com­par­i­son: Both "act local­ly," but Bat­man would like to actu­al­ly rule over Gotham, while Spi­der-Man engages in a more "friend­ly neigh­bor­hood" patrol. What phi­los­o­phy should gov­ern the way we try to do good in the world?
Lurk­ing in the back­ground is the cur­rent release of sea­son two of the Ama­zon series The Boys, based on Garth Ennis' graph­ic nov­els, which assumes that pow­er cor­rupts and asks what reg­u­lar folks might do in the face of cor­po­rate-backed invul­ner­a­bil­i­ty. This cyn­i­cal take is part of a long tra­di­tion of ask­ing "what if super-heroes were lit­er­al­ly real?" that goes through Watch­men all the way back to Spi­der-Man him­self, who faces finan­cial and oth­er mun­dane prob­lems that Super­man was immune to.
Giv­en Travis' book, we did­n't real­ly need sup­ple­men­tary arti­cles for this episode, but you can take a look at this inter­view with him to learn more about his com­ic book loves and the Cana­di­an her­itage that led him to start fight­ing crime (you know, indi­rect­ly, through eth­i­cal teach­ing).
Learn more at prettymuchpop.com. This episode includes bonus dis­cus­sion that you can only hear by sup­port­ing the pod­cast at patreon.com/prettymuchpop. This pod­cast is part of the Par­tial­ly Exam­ined Life pod­cast net­work.
Pret­ty Much Pop: A Cul­ture Pod­cast is the first pod­cast curat­ed by Open Cul­ture. Browse all Pret­ty Much Pop posts