Last laughs can be sweet, and according to music journalist, Anthony DeCurtis, his friend, the late Lou Reed, "reveled" in the critical drubbing that greeted his 3rd solo album, 1973's Berlin.
Not immediately, however.
Berlin, which followed hard on the heels of Reed's widely adored Transformer, had a painful, protracted delivery.
This was due in part due to RCA execs getting cold feet about releasing Reed's grim concept record as a double album. This necessitated a lot of pruning, a week before deadline.
Producer Bob Ezrin, who had planted the idea for a concept album based on a track from Reed's eponymous first solo effort, was detoxing in the hospital, and thus not present for the final mastering.
But much of the hell leading to Berlin's release was a hell of Reed's own making.
His dependence on drugs and alcohol hampered the writing process, as per Reed's first wife, Bettye Kronstad, who filed for divorce midway through the process.
If you want a glimpse of what that marriage's final days might have been like, look to Berlin.
Kronstad was distressed to find many private details from their relationship on display in the tragic rock opera. There was some fictionalization, but Reed also put his thumb on the scales when it suited him, in songs like "The Kids," which recast Kronstad's late mother in a particularly unfair way.
Reed once took a shot at the album's critical reception, suggesting that people didn't like it because its depiction of a miserable couple, whose union is marred by infidelity, domestic abuse, addiction, and suicide, was "too real":
It's not like a TV program where all the bad things that happen to people are tolerable. Life isn't like that. And neither is the album.
Sometimes he bluffed:
I have never been interested in critical receptions, deceptions, hellos, goodbyes, huzzahs, hurrahs. I don't read them, so I don't care.
At other times, he raged:
There are people I'll never forgive for the way they fucked me over with Berlin. The way that album was overlooked was the biggest disappointment I ever faced.
In a more vulnerable mood, he admitted:
Berlin was a big flop and it made me very sad. The way that album was overlooked was probably the biggest disappointment I ever faced. I pulled the blinds shut at that point, and they've remained closed.
Unsurprisingly, his early plans for staging a theatrical companion piece to the album, with possible participation by Andy Warhol, were shelved.
34 years later…
Cue director Julian Schnabel, the Brooklyn Youth Chorus, and St. Ann's Warehouse, the New York City venue that had previously co-commissioned Songs for Drella, a musical Warhol tribute by Reed and John Cale.
In 2006, Reed took centerstage in Brooklyn for a 5-night theatrical run of Berlin that also featured a 35-piece ensemble, original guitarist Steve Hunter, and dreamy videos by the director's daughter, Lola, starring Emmanuelle Seigner as an abstract sketch of the doomed protagonist, Caroline.
The resulting concert film, which St. Ann's Warehouse is streaming for free through November 29, proved far more popular with critics than the 1973 record had been. (Three years prior to the St Ann's staging, Rolling Stone upgraded its original opinion of the album from career ending disaster to 344th Greatest Album of All Time.)
Stephen Holden's glowing New York Times review of the film made multiple mention of angels and demons, as is perhaps to be expected when a work combines Lou Reed, a Sid and Nancy-ish romance, a children's choir, and the ethereal voice of Anohni, late of Antony and the Johnsons.
Readers, see for yourself, and let us know—did RCA's promotional poster for the original album get something right nearly 50 years ago? Is this "a film for the ears?"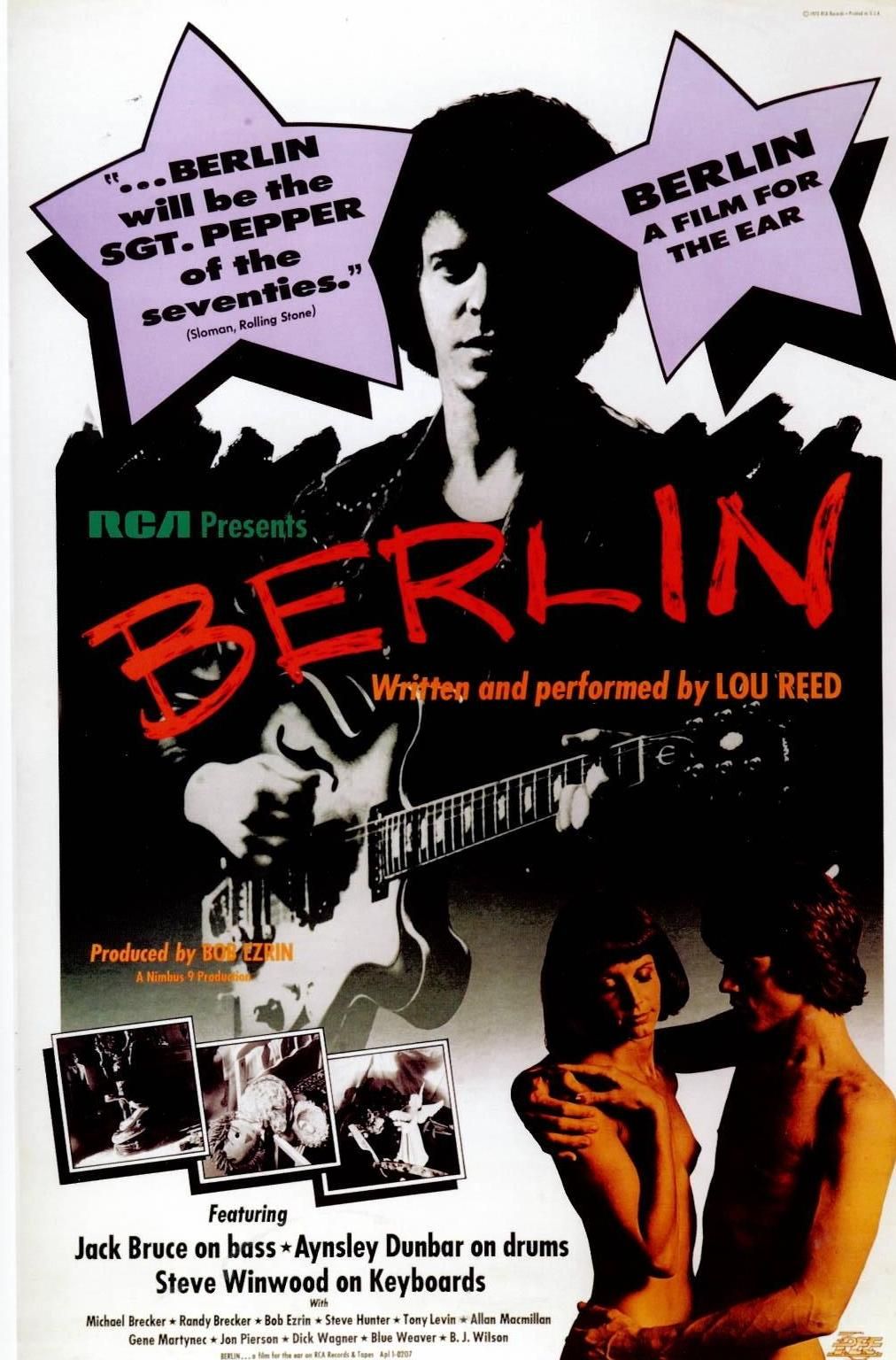 Listen to the original 1973 album and the live concert version at St. Ann's for free on Spotify.
Stream Julian Schnabel's Lou Reed's Berlin, Live at St. Ann's Warehouse here through November 29.
Related Content: 
Lou Reed Sings "Sweet Jane" Live, Julian Schnabel Films It (2006)
Lou Reed's Mixtape for Andy Warhol Discovered by Cornell University Professor: Features 12 Previously Unreleased Songs
Lou Reed Creates a List of the 10 Best Records of All Time
Ayun Halliday is an author, illustrator, theater maker and Chief Primatologist of the East Village Inky zine.  Follow her @AyunHalliday.