The mod­ern artist has what can seem like an unlim­it­ed range of mate­ri­als from which to choose, a vari­ety com­plete­ly unknown to great Renais­sance mas­ters like Leonar­do da Vin­ci. Few, if any, can say, how­ev­er, that they have any­thing like the raw tal­ent, inge­nu­ity, and dis­ci­pline that drove Leonar­do to draw inces­sant­ly, con­stant­ly hon­ing his tech­niques and exploit­ing every use of the tools and tech­niques avail­able to him.
What were those tools and tech­niques? Con­ser­va­tor Alan Don­nithorne demon­strates Leonardo's mate­ri­als in the video above, with exam­ples from the hold­ings of the Roy­al Col­lec­tion at Wind­sor Cas­tle. Leonar­do "drew inces­sant­ly," the Roy­al Col­lec­tion Trust writes, "to devise his artis­tic projects, to explore the nat­ur­al world, and to record the work­ings of his imag­i­na­tion." He used met­al­point, a method of draw­ing on coat­ed paper with a met­al sty­lus; pen and ink, with pens made from a goose wing feath­er; and, after the 1490s, red and black chalks.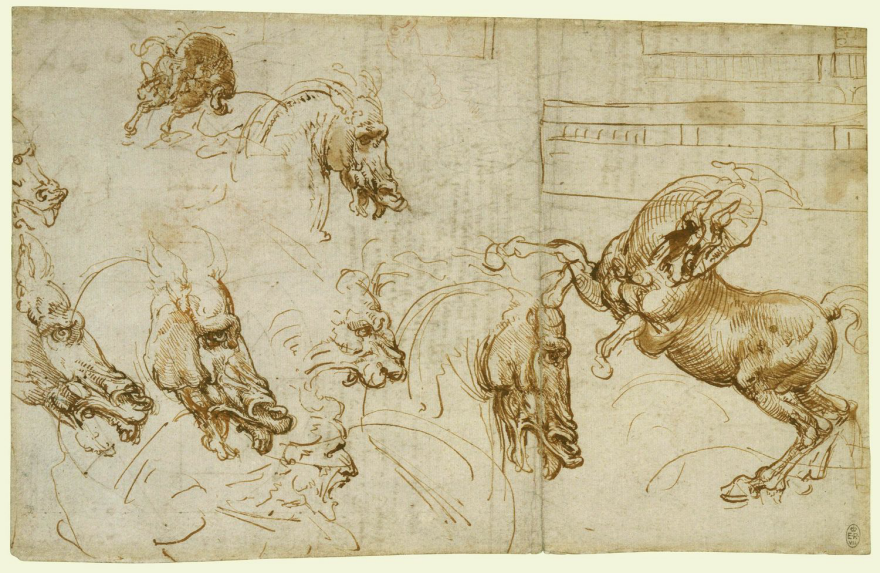 Leonar­do pro­duced thou­sands of draw­ings dur­ing his lifetime"many of them of extreme beau­ty and com­plex­i­ty," says Don­nithorne, "and it's incred­i­ble to think that he pro­duced them using these very sim­ple ingre­di­ents."
The Roy­al Col­lec­tion owns around 550 of these draw­ings, "togeth­er as a group since the artist's death in 1519," when he bequeathed them to his stu­dent, Francesco Melzi. These works "pro­vide unpar­al­leled insight," the Col­lec­tion writes, "into the work­ings of Leonardo's mind and reflect the full range of his inter­ests, includ­ing paint­ing, sculp­ture, archi­tec­ture, anato­my, engi­neer­ing, car­tog­ra­phy, geol­o­gy, and botany."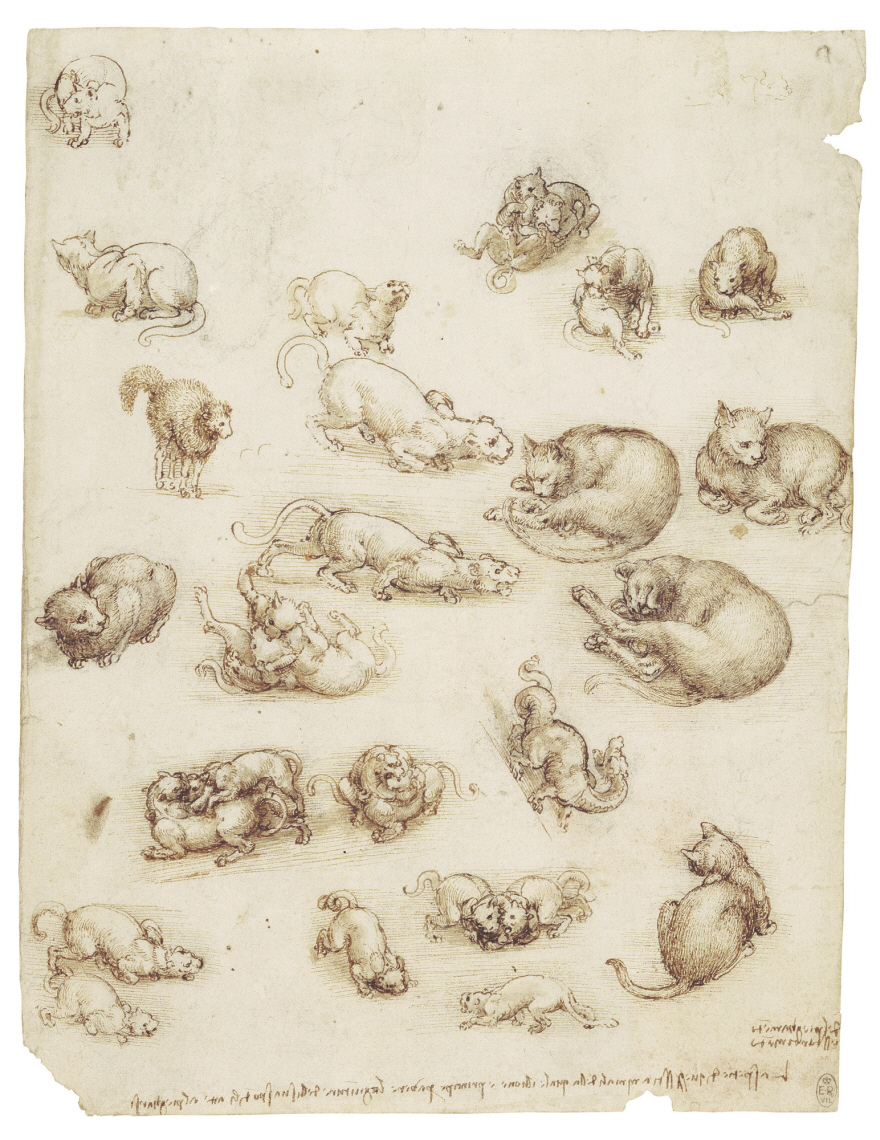 The rest­less­ness of Leonardo's mind and hand also reflect the need to move quick­ly from project to project as he pur­sued some com­mis­sions and aban­doned oth­ers. "Across all these themes," how­ev­er, Christo­pher Bak­er, direc­tor of Euro­pean and Scot­tish Art and Por­trai­ture at the Nation­al Gal­leries of Scot­land, sees "a rav­ish­ing range of tech­niques and mate­ri­als…. The pre­ci­sion required by met­al­point proved espe­cial­ly appro­pri­ate for some of his most inci­sive human or ani­mal obser­va­tions, while iron gall ink and red and black chalks allowed an explorato­ry free­dom fit­ting for com­po­si­tion­al tri­als, fic­tive works or cap­tur­ing move­ment."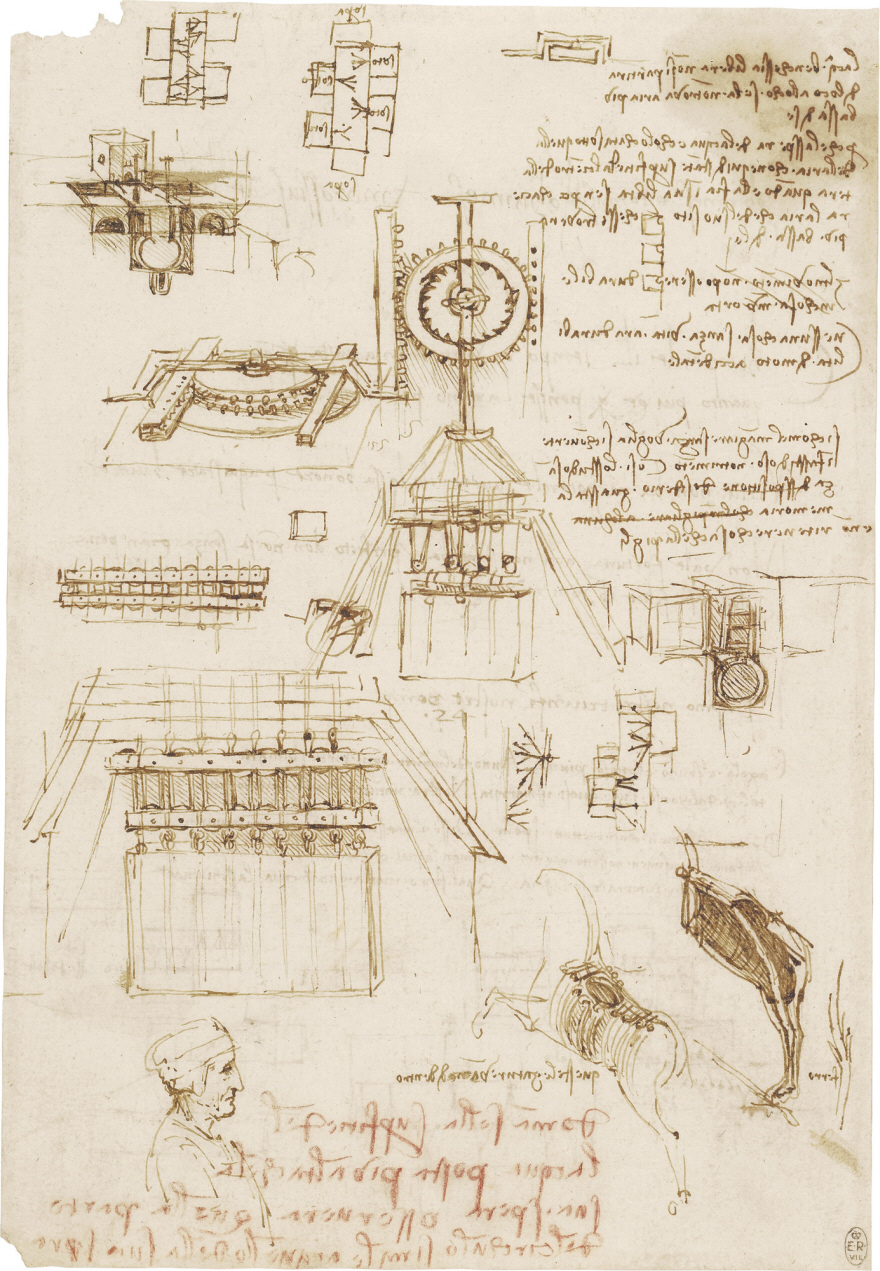 The artist's "prodi­gious skills" are evi­dent among his many shifts in style and sub­ject and we see even in util­i­tar­i­an illus­tra­tions how "he over­turned so many con­ven­tions and some­times mixed his media to won­der­ful effect." Leonardo's choice of media was hard­ly expan­sive com­pared to the dizzy­ing­ly col­or­ful aisles that greet the bud­ding artist at art sup­ply stores today. But what he could do with a sty­lus, goose-quill pen, and chalk has nev­er been equalled. Learn more about how he used his mate­ri­als in Donnithorne's book, Leonar­do da Vin­ci: A Clos­er Look, pub­lished on the 500th anniver­sary cel­e­bra­tions of Leonardo's death.
via Core77
Relat­ed Con­tent:
The Old­est Known Globe to Depict the New World Was Engraved on an Ostrich Egg, Maybe by Leon­dar­do da Vin­ci (1504)
Leonar­do da Vinci's Ele­gant Stud­ies of the Human Heart Were 500 Years Ahead of Their Time
Leonar­do da Vinci's Ear­li­est Note­books Now Dig­i­tized and Made Free Online: Explore His Inge­nious Draw­ings, Dia­grams, Mir­ror Writ­ing & More
Josh Jones is a writer and musi­cian based in Durham, NC. Fol­low him at @jdmagness