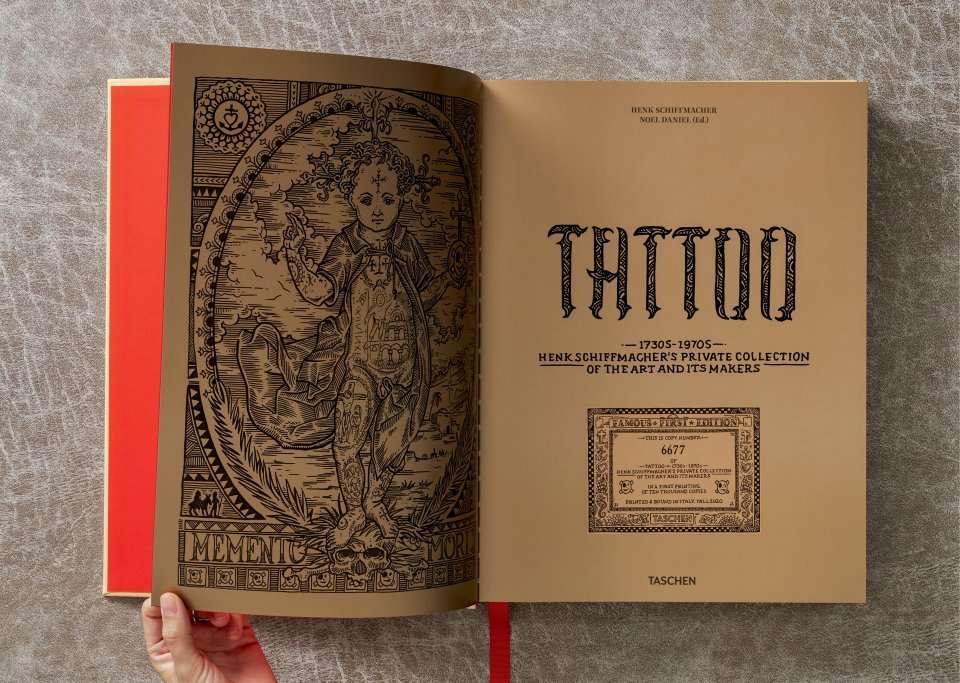 I always think tattoos should communicate. If you see tattoos that don't communicate, they're worthless. —Henk Schiffmacher, tattoo artist
Tattooing is an ancient art whose grip on the American mainstream, and that of other Western cultures, is a comparatively recent development.
Long before he took up—or went under—a tattoo needle, legendary tattoo artist and self-described "very odd duck type of guy," Henk Schiffmacher was a fledgling photographer and accidental collector of tattoo lore.
Inspired by the immersive approaches of Diane Arbus and journalist Hunter S. Thompson, Schiffmacher, aka Hanky Panky, attended tattoo conventions, seeking out any subculture where inked skin might reveal itself in the early 70s.
As he shared with fellow tattooer Eric Perfect in a characteristically rollicking, profane interview, his instincts became honed to the point where he "could smell" a tattoo concealed beneath clothing:
The kind of tattoos you used to see in those days, you do not see anymore, that stuff made in jail, in the German jails, like, you'd like see a guy who'd tattooed himself as far as his right hand could reach and the whole right (side) would be empty…I always loved that stuff which was never meant to be art which is straight from the heart.
When tattoo artists would write to him, requesting prints of his photos, he would save the letters, telling Hero's Eric Goodfellow:
I would get stuff from all over the world. The whole envelope would be decorated, and the letter as well. I have letters from the Leu Family and they're complete pieces of art, they're hand painted with all kinds of illustrations. Also people from jail would write letters, and they would take time to write in between the lines in a different colour. So very, very unique letters.
Such correspondence formed the earliest holdings in what is now one of the world's biggest collections of contemporary and historical tattoo ephemera.
Schiffmacher (now the author of the new Taschen book, TATTOO. 1730s-1970s) realized that tattoos must be documented and preserved by someone with an open mind and vested interest, before they accompanied their recipients to the grave. Many families were ashamed of their loved ones' interest in skin art, and apt to destroy any evidence of it.
On the other end of the spectrum is a portion of a 19th-century whaler's arm, permanently emblazoned with Jesus and sweetheart, preserved in formaldehyde-filled jar. Schiffmacher acquired that, too, along with vintage tools, business cards, pages and pages of flash art, and some truly hair raising DIY ink recipes for those jailhouse stick and pokes. (He discusses the whaler's tattoos in a 2014 TED Talk, below).
His collection also expanded to his own skin, his first canvas as a tattoo artist and proof of his dedication to a community that sees its share of tourists.
Schiffmacher's command of global tattoo significance and history informs his preference for communicative tattoos, as opposed to obscure ice breakers requiring explanation.
When he first started conceiving of himself as an illustrated man, he imagined the delight any potential grandchildren would take in this graphic representation of his life's adventures—"like Pippi Longstocking's father."
While his Tattoo Museum in Amsterdam is no more, his collection is far from mothballed. Earlier this year, Taschen published TATTOO. 1730s-1970s. Henk Schiffmacher's Private Collection, a whopping 440-pager the irrepressible 69-year-old artist hefts with pride. You can purchase the book directly from Taschen, or via Amazon.
Related Content: 
Meet America & Britain's First Female Tattoo Artists: Maud Wagner (1877-1961) & Jessie Knight (1904–1994)
Why Tattoos Are Permanent? New TED Ed Video Explains with Animation
Browse a Gallery of Kurt Vonnegut Tattoos, and See Why He's the Big Gorilla of Literary Tattoos
Ayun Halliday is an author, illustrator, theater maker, the Chief Primatologist of the East Village Inky zine and the human alter ego of L'Ourse.  Follow her @AyunHalliday.