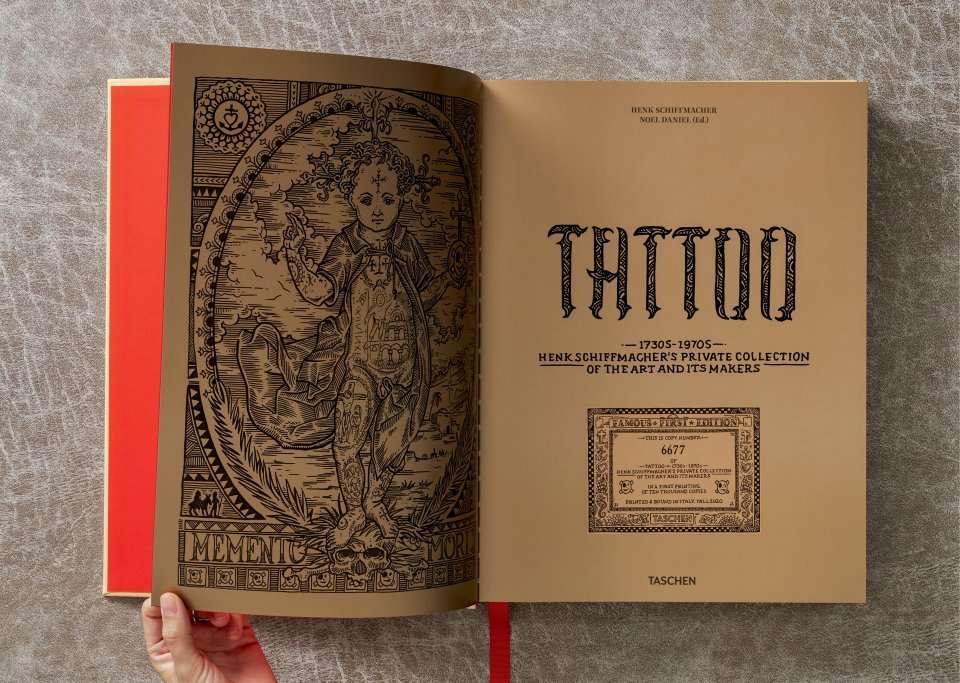 I always think tat­toos should com­mu­ni­cate. If you see tat­toos that don't com­mu­ni­cate, they're worth­less. —Henk Schiff­mach­er, tat­too artist
Tat­too­ing is an ancient art whose grip on the Amer­i­can main­stream, and that of oth­er West­ern cul­tures, is a com­par­a­tive­ly recent devel­op­ment.
Long before he took up—or went under—a tat­too nee­dle, leg­endary tat­too artist and self-described "very odd duck type of guy," Henk Schiff­mach­er was a fledg­ling pho­tog­ra­ph­er and acci­den­tal col­lec­tor of tat­too lore.
Inspired by the immer­sive approach­es of Diane Arbus and jour­nal­ist Hunter S. Thomp­son, Schiff­mach­er, aka Han­ky Panky, attend­ed tat­too con­ven­tions, seek­ing out any sub­cul­ture where inked skin might reveal itself in the ear­ly 70s.
As he shared with fel­low tat­too­er Eric Per­fect in a char­ac­ter­is­ti­cal­ly rol­lick­ing, pro­fane inter­view, his instincts became honed to the point where he "could smell" a tat­too con­cealed beneath cloth­ing:
The kind of tat­toos you used to see in those days, you do not see any­more, that stuff made in jail, in the Ger­man jails, like, you'd like see a guy who'd tat­tooed him­self as far as his right hand could reach and the whole right (side) would be empty…I always loved that stuff which was nev­er meant to be art which is straight from the heart.
When tat­too artists would write to him, request­ing prints of his pho­tos, he would save the let­ters, telling Hero's Eric Good­fel­low:
I would get stuff from all over the world. The whole enve­lope would be dec­o­rat­ed, and the let­ter as well. I have let­ters from the Leu Fam­i­ly and they're com­plete pieces of art, they're hand paint­ed with all kinds of illus­tra­tions. Also peo­ple from jail would write let­ters, and they would take time to write in between the lines in a dif­fer­ent colour. So very, very unique let­ters.
Such cor­re­spon­dence formed the ear­li­est hold­ings in what is now one of the world's biggest col­lec­tions of con­tem­po­rary and his­tor­i­cal tat­too ephemera.
Schiff­mach­er (now the author of the new Taschen book, TATTOO. 1730s-1970s) real­ized that tat­toos must be doc­u­ment­ed and pre­served by some­one with an open mind and vest­ed inter­est, before they accom­pa­nied their recip­i­ents to the grave. Many fam­i­lies were ashamed of their loved ones' inter­est in skin art, and apt to destroy any evi­dence of it.
On the oth­er end of the spec­trum is a por­tion of a 19th-cen­tu­ry whaler's arm, per­ma­nent­ly embla­zoned with Jesus and sweet­heart, pre­served in formalde­hyde-filled jar. Schiff­mach­er acquired that, too, along with vin­tage tools, busi­ness cards, pages and pages of flash art, and some tru­ly hair rais­ing DIY ink recipes for those jail­house stick and pokes. (He dis­cuss­es the whaler's tat­toos in a 2014 TED Talk, below).
His col­lec­tion also expand­ed to his own skin, his first can­vas as a tat­too artist and proof of his ded­i­ca­tion to a com­mu­ni­ty that sees its share of tourists.
Schiffmacher's com­mand of glob­al tat­too sig­nif­i­cance and his­to­ry informs his pref­er­ence for com­mu­nica­tive tat­toos, as opposed to obscure ice break­ers requir­ing expla­na­tion.
When he first start­ed con­ceiv­ing of him­self as an illus­trat­ed man, he imag­ined the delight any poten­tial grand­chil­dren would take in this graph­ic rep­re­sen­ta­tion of his life's adven­tures—"like Pip­pi Long­stock­ing's father."
While his Tat­too Muse­um in Ams­ter­dam is no more, his col­lec­tion is far from moth­balled. Ear­li­er this year, Taschen pub­lished TATTOO. 1730s-1970s. Henk Schiff­macher's Pri­vate Col­lec­tion, a whop­ping 440-pager the irre­press­ible 69-year-old artist hefts with pride. You can pur­chase the book direct­ly from Taschen, or via Ama­zon.
Relat­ed Con­tent:
Meet Amer­i­ca & Britain's First Female Tat­too Artists: Maud Wag­n­er (1877–1961) & Jessie Knight (1904–1994)
Why Tat­toos Are Per­ma­nent? New TED Ed Video Explains with Ani­ma­tion
Browse a Gallery of Kurt Von­negut Tat­toos, and See Why He's the Big Goril­la of Lit­er­ary Tat­toos
Ayun Hal­l­i­day is an author, illus­tra­tor, the­ater mak­er, the Chief Pri­ma­tol­o­gist of the East Vil­lage Inky zine and the human alter ego of L'Ourse. Fol­low her @AyunHalliday.