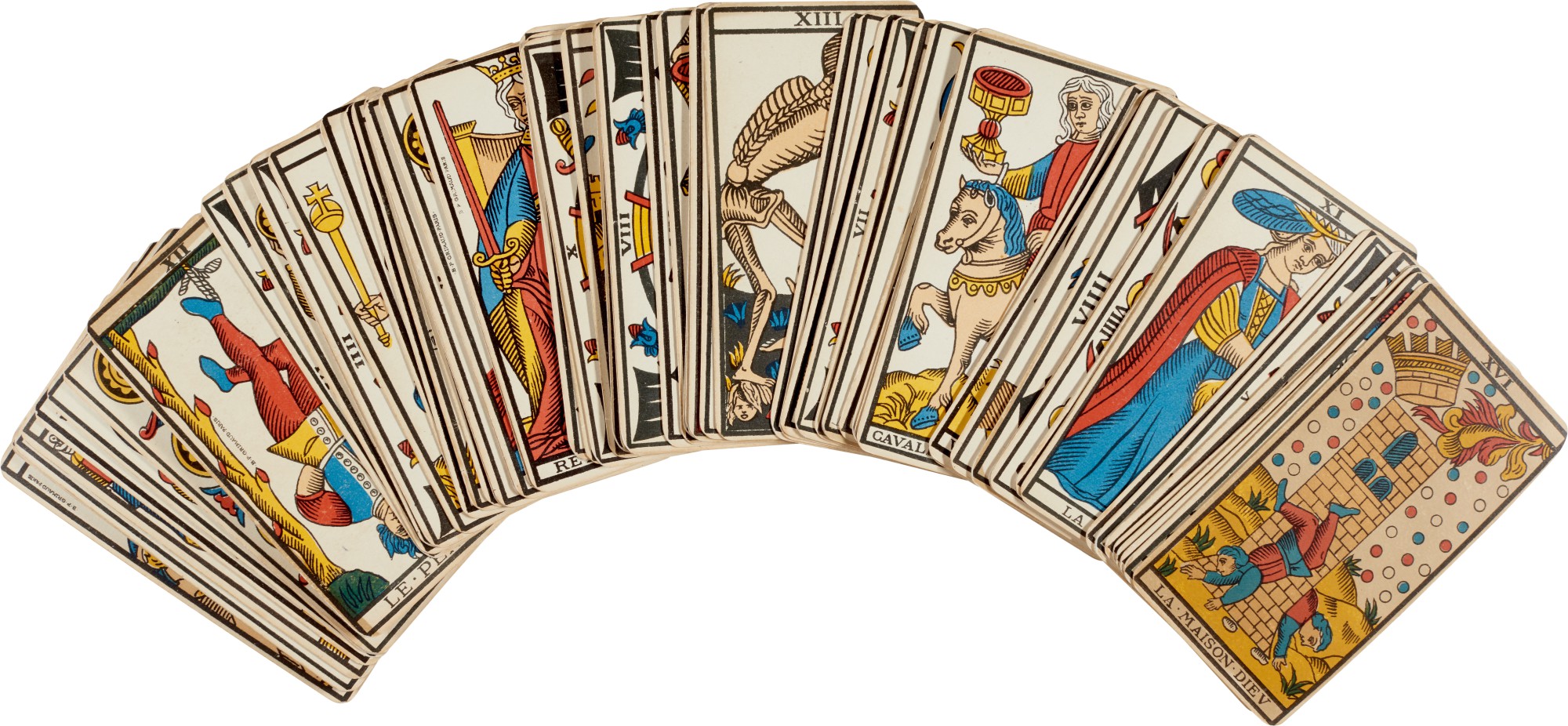 We celebrated my birthday yesterday: [Ted] gave me a lovely Tarot pack of cards and a dear rhyme with it, so after the obligations of this term are over your daughter shall start her way on the road to becoming a seeress & will also learn how to do horoscopes, a very difficult art which means reviving my elementary math. 

– Sylvia Plath, in a letter to her mother, 28 October 1956
Sylvia Plath's Tarot cards, a 24th birthday present from her husband, poet Ted Hughes, just went for £151,200 in an auction at Sotheby's.
That's approximately £100,000 more than this lot, a Tarot de Marseille deck printed by playing card manufacturer B.P. Grimaud de Paris, was expected to fetch.
The auction house's description indicates that a few of the cards were discolored —  evidence of use, as supported by Plath's numerous references to Tarot in her journals.
Recall Tarot's appearance in "Daddy," her most widely known poem, and her identification with the Hanging Man card, in a poem of the same name:
By the roots of my hair some god got hold of me.

I sizzled in his blue volts like a desert prophet.

The nights snapped out of sight like a lizard's eyelid :

A world of bald white days in a shadeless socket.

A vulturous boredom pinned me in this tree.

If he were I, he would do what I did.
This century has seen her collection Ariel restored to its author's intended order.
The original order is said to correspond quite closely to Tarot, with the first twenty-two poems symbolizing the cards of the Major Arcana.
The next ten are aligned with the numbers of the Minor Arcana. Those are followed by four representing the Court cards. The collection's final four poems can be seen to reference the pentacles, cups, swords and wands that comprise the Tarot's suits.
Ariel's manuscript was rearranged by Hughes, who dropped some of the "more lacerating" poems and added others in advance of its 1965 publication, two years after Plath's death by suicide. (Hear Plath read poems from Ariel here.)
Daughter Frieda defends her father's actions and describes how damaging they were to his reputation in her Foreword to Ariel: The Restored Edition.
One wonders if it's significant that Plath's Page of Cups, a card associated with positive messages related to family and loved ones, has a rip in it?
We also wonder who paid such a staggering price for those cards.
Will they give the deck a moon bath or salt burial to cleanse it of Plath's negative energy?
Or is the winning bidder such a diehard fan, the chance to handle something so intimately connecting them to their literary hero neutralizes any occult misgivings?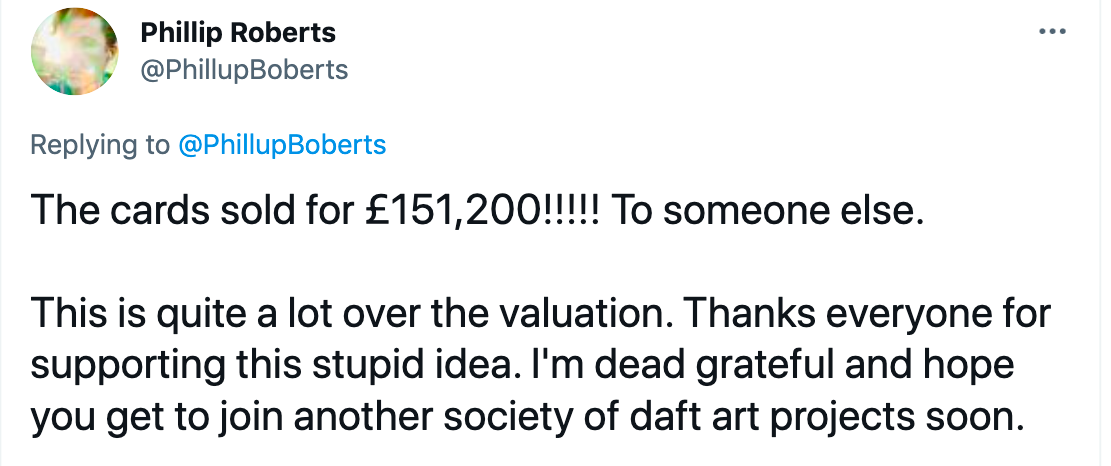 We rather wish Plath's Tarot de Marseille had been awarded to Phillip Roberts in Shipley, England, who planned to exhibit them alongside her tarot-influenced poems in a pop up gallery at the Saltaire Festival. To finance this dream, he launched a crowd-funding campaign, pledging that every £100 donor could keep one of the cards, to be drawn at random, with all contributors invited to submit new art or writing to the mini-exhibition: Save Sylvia Plath's cards from living in the drawers of some wealthy collector, and let's make some art together!
Alas, Roberts and friends fell  £148,990 short of the winning bid. Better luck next time, mate. We applaud your graciousness in defeat, as well as the spirit in which your project was conceived.
Related Content:
The Artistic & Mystical World of Tarot: See Decks by Salvador Dalí, Aleister Crowley, H.R. Giger & More
Why Should We Read Sylvia Plath? An Animated Video Makes the Case
Hear Sylvia Plath Read 18 Poems From Her Final Collection, Ariel, in 1962 Recording
Ayun Halliday is an author, illustrator, theater maker and Chief Primatologist of the East Village Inky zine.  Follow her @AyunHalliday.