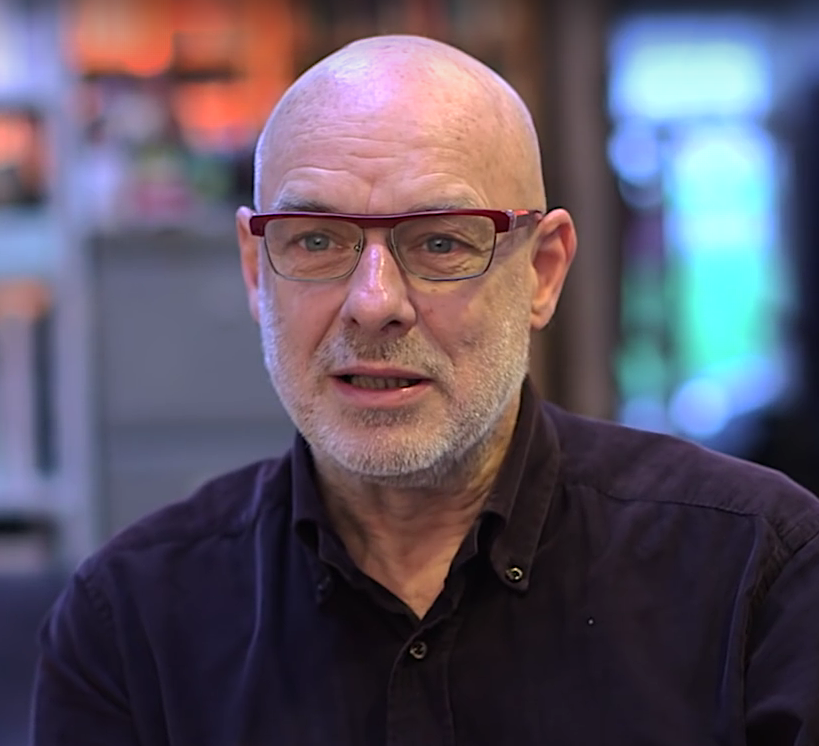 Image via Wiki­me­dia Com­mons
Bri­an Eno kept busy dur­ing last year's pan­dem­ic, telling the L.A. Times this past Jan­u­ary about one of his lat­est ideas, an open source Zoom alter­na­tive, just one of any num­ber of projects he's kick­ing around at any giv­en time. One of the most pro­lif­ic and influ­en­tial artists, musi­cians, pro­duc­ers, and thinkers of the past sev­er­al decades, Eno is such a cul­tur­al insti­tu­tion, he war­rants his own appre­ci­a­tion day. That's just what he got on Feb­ru­ary 12, 1988 when KPFA (a radio sta­tion in Berke­ley, CA) turned over an entire day to host­ing Eno for wide-rang­ing inter­views, sto­ries about his col­lab­o­ra­tions, and con­ver­sa­tions about the musi­cal gen­res he invent­ed. He even takes ques­tions, and his replies are illu­mi­nat­ing and urbane.
Eno's always been a gen­er­ous and wit­ty con­ver­sa­tion­al­ist. The Bri­an Eno Day broad­cast hits on near­ly all of the major high­lights of his career up to that point, with a com­pre­hen­sive overview of his work, ear­li­er inter­view record­ings, and loads of songs and excerpts from his exten­sive record­ed cor­pus. Much of this work is obscure and much of it is as well-known as the man him­self. One can­not tell the sto­ries of artists like U2, Talk­ing Heads, and David Bowie, for exam­ple, with­out talk­ing about Eno's guid­ing hand as a pro­duc­er. Eno's renowned for found­ing glam rock pio­neers Roxy Music, invent­ing ambi­ent music, and for his gen­er­a­tive approach­es to mak­ing art, whether on small paper cards or in soft­ware and apps.
Eno once said his first musi­cal instru­ment was a tape recorder, and he's been obsessed with record­ing tech­nol­o­gy ever since, deliv­er­ing his influ­en­tial lec­ture "The Record­ing Stu­dio as a Com­po­si­tion­al Tool" in 1979 and demon­strat­ing its prin­ci­ples in all of the music he's made. In these inter­views, Eno not only dis­cuss­es the major plot points, but also "reveals such tasty tid­bits as his dis­like for com­put­er key­boards; an admis­sion that even he does not know what his lyrics mean; a pref­er­ence for the music of Stock­hausen's stu­dents rather than that of Stock­hausen him­self; and the dif­fer­ences between New Age, Min­i­mal, and Ambi­ent Music," notes the descrip­tion on Inter­net Archive.
In the 33 years since this broad­cast, Eno has pro­duced enough music and visu­al art to fill anoth­er 10-hour day of inter­views and overviews. But his meth­ods have not changed: he has pur­sued his lat­er work with the same open­ness, curios­i­ty, and col­lab­o­ra­tive spir­it he devel­oped in his first few decades. Hear him in his ele­ment, rang­ing far afield in con­ver­sa­tions about archi­tec­ture, genet­ic evo­lu­tion, and his own video instal­la­tion pieces. Eno rarely gets per­son­al, pre­fer­ring to talk about his work, but it's humil­i­ty, not secre­cy, that keeps him off the top­ic of him­self. As he recent­ly told a Guardian inter­view­er, "I'm not f*cking inter­est­ed at all in me. I want to talk about ideas." Hear Eno do exact­ly that in 10 hours of record­ings just above.
Relat­ed Con­tent:
Behold the Orig­i­nal Deck of Oblique Strate­gies Cards, Hand­writ­ten by Bri­an Eno Him­self
Bri­an Eno Presents a Crash Course on How the Record­ing Stu­dio Rad­i­cal­ly Changed Music: Hear His Influ­en­tial Lec­ture "The Record­ing Stu­dio as a Com­po­si­tion­al Tool" (1979)
Bri­an Eno Explains the Ori­gins of Ambi­ent Music
Hear Bri­an Eno Rein­vent Pachelbel's Canon (1975)
Josh Jones is a writer and musi­cian based in Durham, NC. Fol­low him at @jdmagness