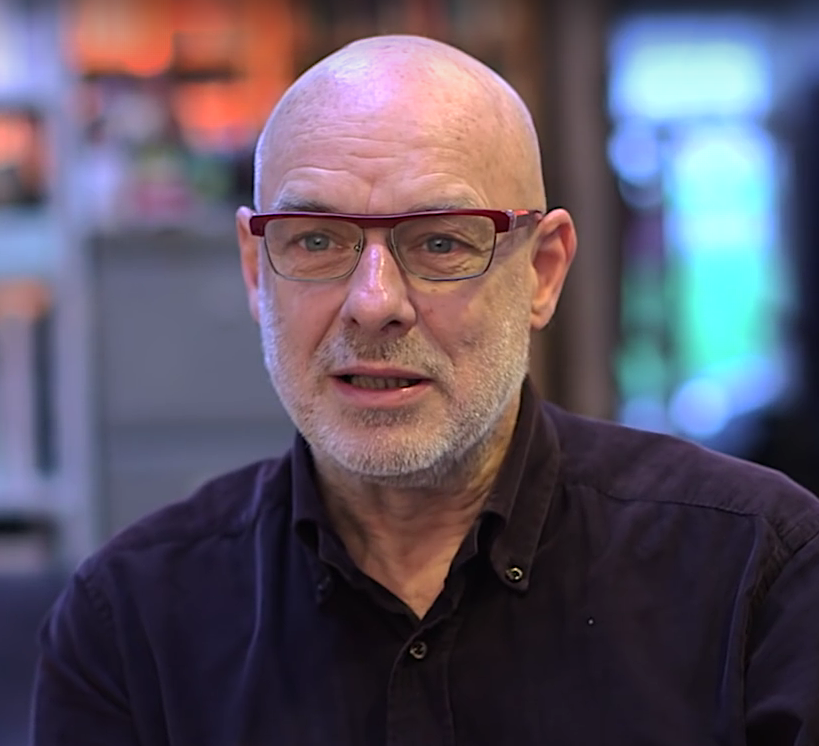 Image via Wikimedia Commons
Brian Eno kept busy during last year's pandemic, telling the L.A. Times this past January about one of his latest ideas, an open source Zoom alternative, just one of any number of projects he's kicking around at any given time. One of the most prolific and influential artists, musicians, producers, and thinkers of the past several decades, Eno is such a cultural institution, he warrants his own appreciation day. That's just what he got on February 12, 1988 when KPFA (a radio station in Berkeley, CA) turned over an entire day to hosting Eno for wide-ranging interviews, stories about his collaborations, and conversations about the musical genres he invented. He even takes questions, and his replies are illuminating and urbane.
Eno's always been a generous and witty conversationalist. The Brian Eno Day broadcast hits on nearly all of the major highlights of his career up to that point, with a comprehensive overview of his work, earlier interview recordings, and loads of songs and excerpts from his extensive recorded corpus. Much of this work is obscure and much of it is as well-known as the man himself. One cannot tell the stories of artists like U2, Talking Heads, and David Bowie, for example, without talking about Eno's guiding hand as a producer. Eno's renowned for founding glam rock pioneers Roxy Music, inventing ambient music, and for his generative approaches to making art, whether on small paper cards or in software and apps.
Eno once said his first musical instrument was a tape recorder, and he's been obsessed with recording technology ever since, delivering his influential lecture "The Recording Studio as a Compositional Tool" in 1979 and demonstrating its principles in all of the music he's made. In these interviews, Eno not only discusses the major plot points, but also "reveals such tasty tidbits as his dislike for computer keyboards; an admission that even he does not know what his lyrics mean; a preference for the music of Stockhausen's students rather than that of Stockhausen himself; and the differences between New Age, Minimal, and Ambient Music," notes the description on Internet Archive.
In the 33 years since this broadcast, Eno has produced enough music and visual art to fill another 10-hour day of interviews and overviews. But his methods have not changed: he has pursued his later work with the same openness, curiosity, and collaborative spirit he developed in his first few decades. Hear him in his element, ranging far afield in conversations about architecture, genetic evolution, and his own video installation pieces. Eno rarely gets personal, preferring to talk about his work, but it's humility, not secrecy, that keeps him off the topic of himself. As he recently told a Guardian interviewer, "I'm not f*cking interested at all in me. I want to talk about ideas." Hear Eno do exactly that in 10 hours of recordings just above.
Related Content: 
Behold the Original Deck of Oblique Strategies Cards, Handwritten by Brian Eno Himself
Brian Eno Presents a Crash Course on How the Recording Studio Radically Changed Music: Hear His Influential Lecture "The Recording Studio as a Compositional Tool" (1979)
Brian Eno Explains the Origins of Ambient Music
Hear Brian Eno Reinvent Pachelbel's Canon (1975)
Josh Jones is a writer and musician based in Durham, NC. Follow him at @jdmagness