Remember how it felt to be bundled into tights, socks, jeans, a thick sweater, a snowsuit, mittens, only to realize that you really needed to pee?
Back in 1665, the Little Ice Age compelled the well-to-do ladies of Delft to turn themselves out with a similar eye toward keeping warm, but their ensembles had a distinct advantage over the Christmas Story snowsuit approach.
Relieving themselves was as easy as hiking their skirts, petticoats, and voluminous, lace-trimmed chemise. No flies for freezing fingers to fumble with. In fact, no drawers at all.
Historical costumer Pauline Loven, a creator of the Getting Dressed In… series, builds this elite outfit from the innermost layer out, above, noting that clothing was an avenue for well-to-do citizens to flaunt their wealth:
A long, full, Linen or silk chemise trimmed with lace at the cuff
A waist-tied hip pad to bolster several layers of cozy, lined petticoats
An elegant silk gown comprised of several components:

A flat fronted skirt tucked into pleats at the sides and back
A laced up bodice stiffened with whale bone stays
Detachable sleeves
A stomacher for front-laced bodices

A loose fitting, fur-trimmed velvet or silk jacket
Silk or woolen thigh-high stockings gartered below the knee (created for the episode by heritage educator, and knitwear designer Sally Pointer)
A linen or silk kerchief pinned or tied at the breast
Square-toed leather shoes with a curved heel (created for the episode by Kevin Garlick, who specializes in handmade shoes for re-enactors.)
Fashionable accessories might include a foot warming, charcoal powered voeten stoof and understated jewelry, like the pearls Johannes Vermeer painted to such luminous effect.
If that doesn't tip you off to the direction this historic recreation is headed, allow us to note that the attendant, who's far from the focus of this episode, is garbed so as to suggest The Milkmaid by a certain Dutch Baroque Period painter who specialized in domestic interior scenes…and whose initials are J.V.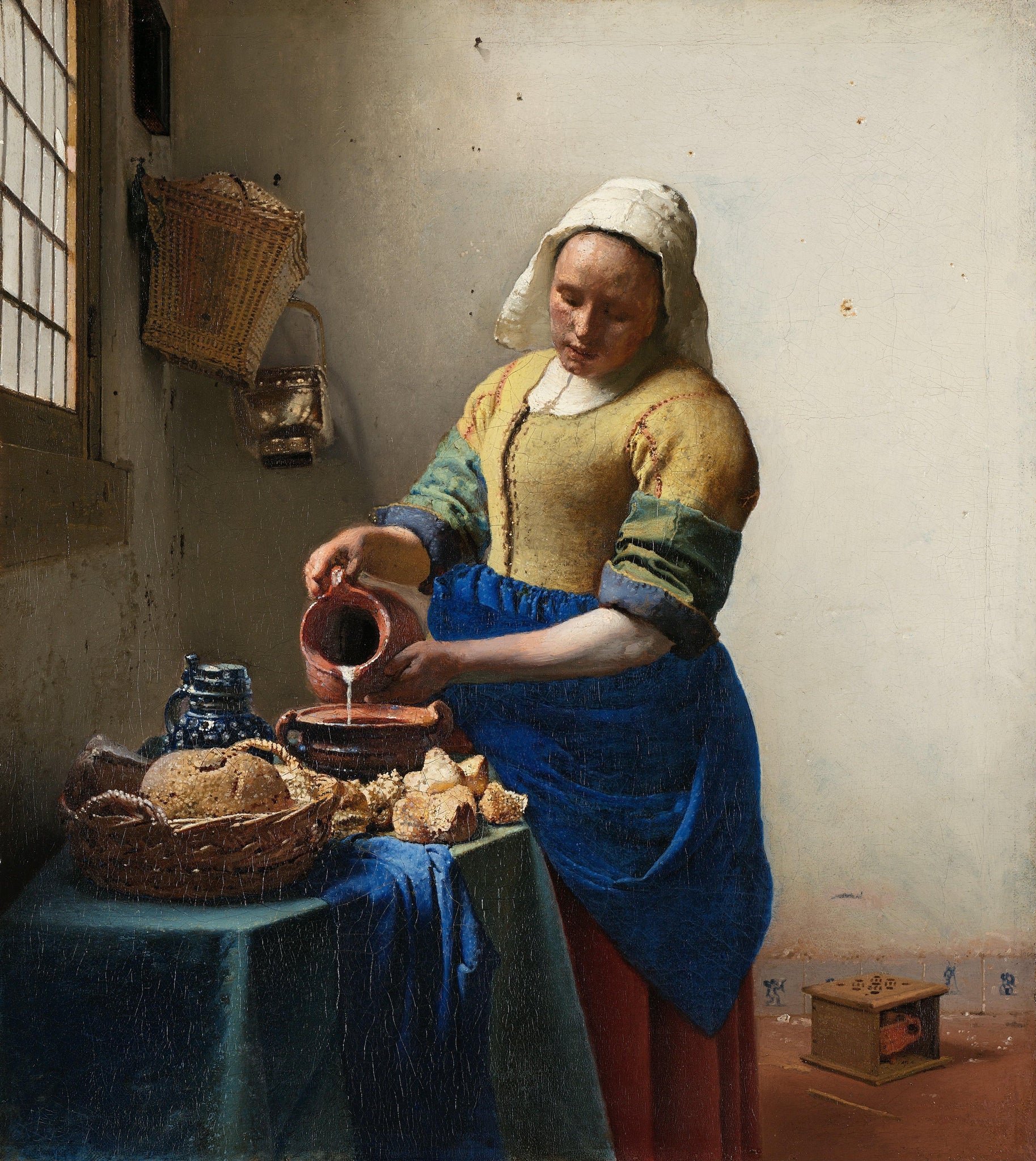 The finishing touch is a turban of yellow silk taffeta and blue silk dupion, an exotic element that may produce a sense of deja vu in art lovers … and anyone who relishes a good art-based recreation challenge.
View more of Pauline Loven's work and Getting Dressed In… episodes focused on other periods at Crow's Eye Productions' YouTube channel.
Related Content:
How Women Got Dressed in the 14th & 18th Centuries: Watch the Very Painstaking Process Get Cinematically Recreated
A Pre-Pantone Guide to Colors: Dutch Book From 1692 Documents Every Color Under the Sun
Ghosts of History: Dutch Artist Eerily Superimposes Modern Street Scenes on World War II Photos
Street Art for Book Lovers: Dutch Artists Paint Massive Bookcase Mural on the Side of a Building
Ayun Halliday is an author, theatermaker, and the Chief Primaologist of the East Village Inky zine. Her latest book, Creative, Not Famous: The Small Potato Manifesto, will be published in early 2022.  Follow her @AyunHalliday.