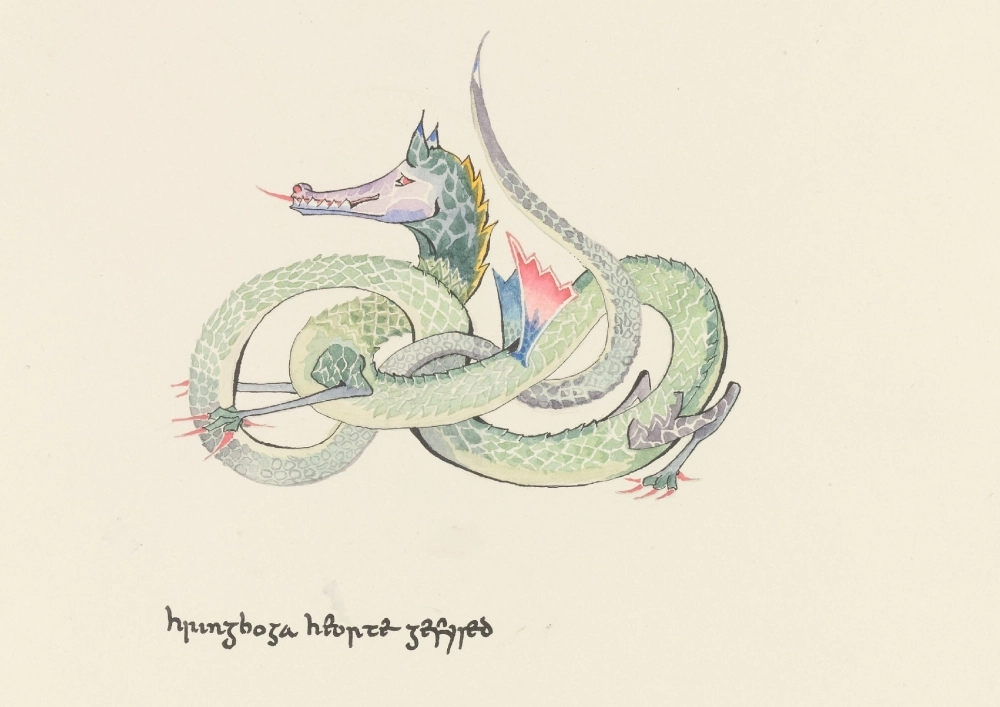 J. R. R. Tolkien managed to write the Lord of the Rings trilogy, which ought to be accomplishment enough for one mortal. But he also wrote the The Hobbit, the gateway for generations of children into his major work, as well as a host of other works of fiction, poetry, and scholarship, many of them not published until after his death in 1973. And those are only his writings: a lifelong artist, Tolkien also produced a great many drawings and paintings, book-cover designs, and pictures meant to delight his own children as well as the children of others.
Yet somehow more material has remained in the vault, and only now brought out for proper public consideration. As reported earlier this month by Artnet's Sarah Cascone, Tolkien's estate "has released a new website featuring artworks, some previously unseen," all created by the man himself.
"In addition to a number of detailed maps, the estate has released illustrations Tolkien created for The Hobbit, The Lord of the Rings, and The Silmarillion, as well as drawings he made for his children, landscapes drawn from real life, and imagined abstractions."
Tolkienologists will also thrill to the new site's "previously unpublished photographs of Tolkien and his family, including his son Christopher, who drew the final versions of the Lord of the Rings maps for publication." (Christopher died in 2020, and Tolkien's last surviving child Priscilla died just last month.) Divided into sections dedicated to his writing, his painting, his scholarship, his letters, his life, and related audio-visual material, this online exhibition presents Tolkien as not just a world-builder but a man in full. In his life and work, he established the model for the modern fantasy novelist, but also — as underscored by a journey across his full narrative, intellectual, and artistic range — an ideal unlikely to be equaled any time soon. Visit the site here.
Related content
110 Drawings and Paintings by J. R. R. Tolkien: Of Middle-Earth and Beyond
Discover J. R. R. Tolkien's Personal Book Cover Designs for The Lord of the Rings Trilogy
Map of Middle-Earth Annotated by Tolkien Found in a Copy of Lord of the Rings
The Largest J. R. R. Tolkien Exhibit in Generations Is Coming to the U.S.: Original Drawings, Manuscripts, Maps & More
Discover J. R. R. Tolkien's Little-Known and Hand-Illustrated Children's Book, Mr. Bliss
J. R. R. Tolkien Sent Illustrated Letters from Father Christmas to His Kids Every Year (1920-1943)
Based in Seoul, Colin Marshall writes and broadcasts on cities, language, and culture. His projects include the Substack newsletter Books on Cities, the book The Stateless City: a Walk through 21st-Century Los Angeles and the video series The City in Cinema. Follow him on Twitter at @colinmarshall or on Facebook.