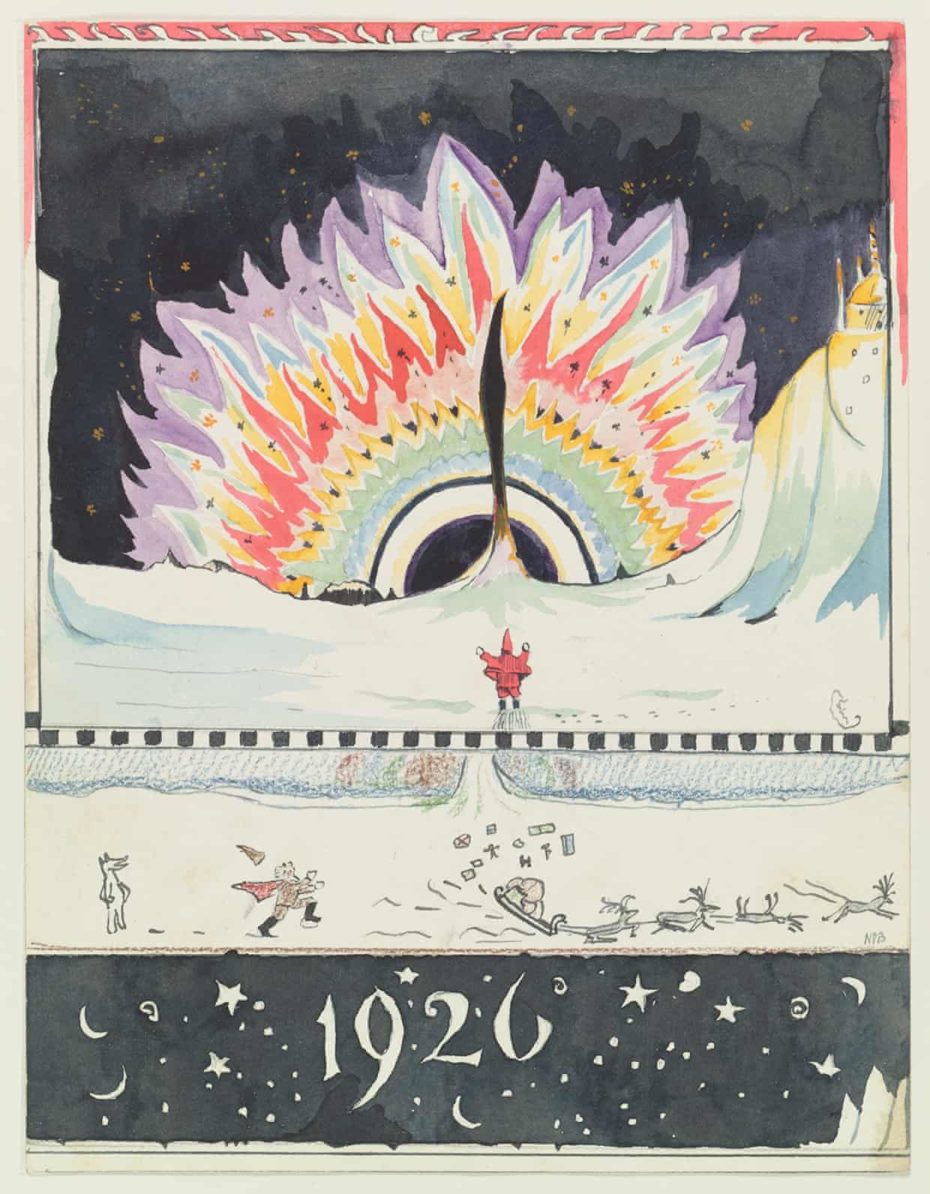 It does­n't take chil­dren long to sus­pect that San­ta Claus is actu­al­ly their par­ents. But if Mom and Dad demon­strate suf­fi­cient com­mit­ment to the fan­ta­sy, so will the kids. This must have held even truer for the fam­i­ly of the 20th cen­tu­ry's most cel­e­brat­ed cre­ator of fan­tasies, J. R. R. Tolkien. Before Tolkien had begun writ­ing The Hob­bit, let alone the Lord of the Rings tril­o­gy, he was hon­ing his sig­na­ture sto­ry­telling and world-build­ing skills by writ­ing let­ters from Father Christ­mas. The tod­dler John Tolkien and his infant broth­er Michael received the first in 1920, just after their Great War vet­er­an father was demo­bi­lized from the army and made the youngest pro­fes­sor at the Uni­ver­si­ty of Leeds. Anoth­er would come each and every Christ­mas until 1943, two more chil­dren and much of a life's work lat­er.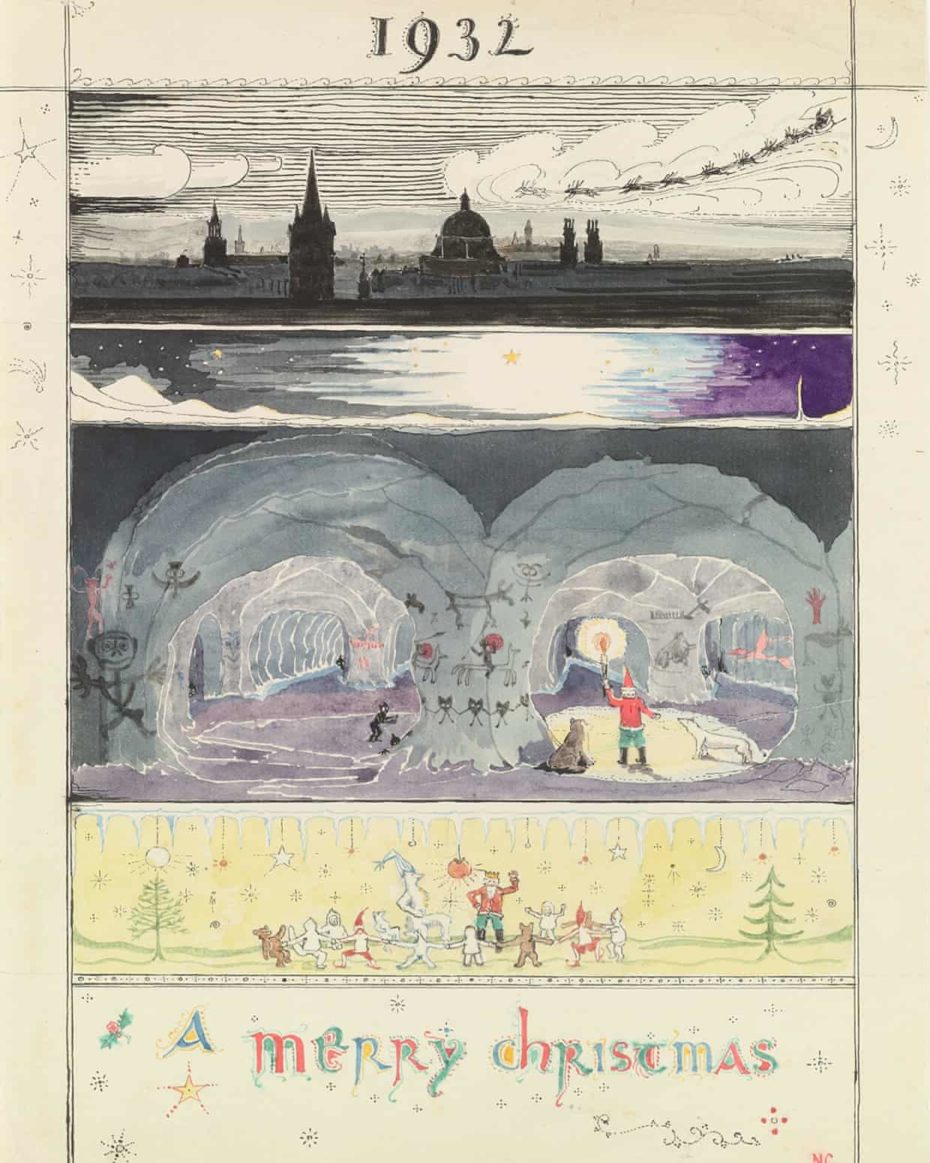 Every year, Tolkien's Father Christ­mas had a great deal to report to John, Michael, and lat­er Christo­pher and Priscil­la. Apart from the usu­al has­sle of assem­bling and deliv­er­ing gifts, he had to con­tend with a host of oth­er chal­lenges includ­ing but not lim­it­ed to attacks by maraud­ing gob­lins and the acci­den­tal destruc­tion of the moon.
The cast of char­ac­ters also includes an unre­li­able polar-bear assis­tant and his cubs Pak­su and Valko­tuk­ka, the sound of whose names hints at Tolkien's inter­est in lan­guage and myth. Since the pub­li­ca­tion of the col­lect­ed Let­ters From Father Christ­mas a few years after Tolkien's death, enthu­si­asts have iden­ti­fied many traces of the qual­i­ties that would lat­er emerge, ful­ly devel­oped, in his nov­els. The spir­it of adven­ture is there, of course, but so is the humor.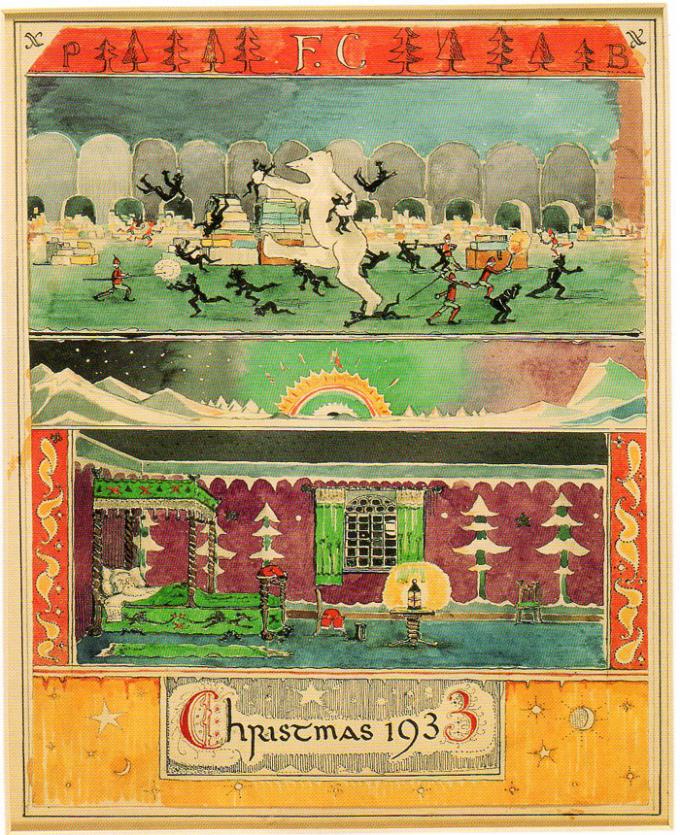 Under­stand­ing seem­ing­ly from the first how to fire up a young read­er's imag­i­na­tion, the mul­ti­tal­ent­ed Tolkien accom­pa­nied each let­ter from Father Christ­mas with an illus­tra­tion. Col­or­ful and evoca­tive, these works of art depict the scenes of both mishap and rev­el­ry described in the cor­re­spon­dence (itself stamped with a Tolkien-designed seal from the North Pole). How intense­ly must young John, Michael, Christo­pher, and Priscil­la have antic­i­pat­ed these mis­sives in the weeks — even months — lead­ing up to Christ­mas. And how aston­ish­ing it must have been, upon much lat­er reflec­tion, to real­ize what atten­tion their father had devot­ed to this fam­i­ly project. Grow­ing up Tolkien no doubt had its down­sides, as rela­tion to any famous writer does, but unmem­o­rable hol­i­days can't have been one of them.
Relat­ed Con­tent:
Read J. R. R. Tolkien's "Let­ter From Father Christ­mas" To His Young Chil­dren
Dis­cov­er J. R .R. Tolkien's Per­son­al Book Cov­er Designs for The Lord of the Rings Tril­o­gy
The Only Draw­ing from Mau­rice Sendak's Short-Lived Attempt to Illus­trate The Hob­bit
110 Draw­ings and Paint­ings by J.R.R. Tolkien: Of Mid­dle-Earth and Beyond
When Sal­vador Dalí Cre­at­ed Christ­mas Cards That Were Too Avant-Garde for Hall­mark (1960)
Based in Seoul, Col­in Mar­shall writes and broad­casts on cities and cul­ture. His projects include the book The State­less City: a Walk through 21st-Cen­tu­ry Los Ange­les and the video series The City in Cin­e­ma. Fol­low him on Twit­ter at @colinmarshall or on Face­book.