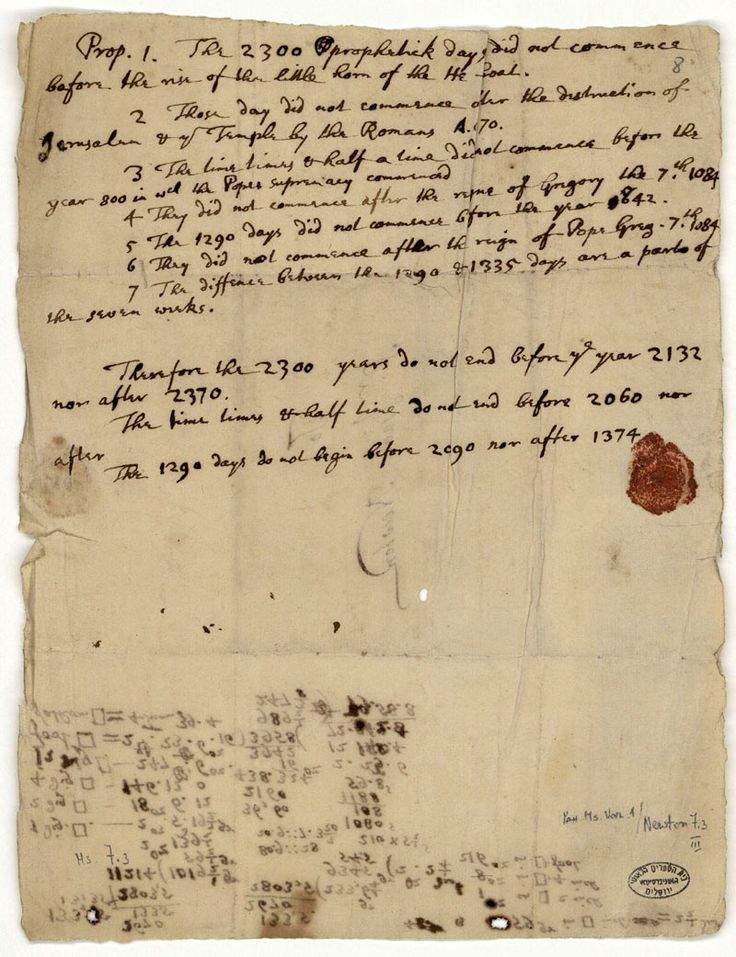 We have become quite used to pro­nounce­ments of doom, from sci­en­tists pre­dict­ing the sixth mass extinc­tion due to the mea­sur­able effects of cli­mate change, and from reli­gion­ists declar­ing the apoc­a­lypse due to a sur­feit of sin. It's almost impos­si­ble to imag­ine these two groups of peo­ple agree­ing on any­thing oth­er than the omi­nous por­tent of their respec­tive mes­sages. But in the ear­ly days of the sci­en­tif­ic revolution—the days of Shake­speare con­tem­po­rary Fran­cis Bacon, and lat­er 17th cen­tu­ry Descartes—it was not at all unusu­al to find both kinds of rea­son­ing, or unrea­son­ing, in the same per­son, along with beliefs in mag­ic, div­ina­tion, astrol­o­gy, etc.
Yet even in this mael­strom of het­ero­dox thought and prac­tices, Sir Isaac New­ton stood out as a par­tic­u­lar­ly odd co-exis­tence of eso­teric bib­li­cal prophe­cy, occult beliefs, and a rigid, for­mal math­e­mat­ics that not only adhered to the induc­tive sci­en­tif­ic method, but also expand­ed its poten­tial by apply­ing gen­er­al axioms to spe­cif­ic cas­es.
Yet many of Newton's gen­er­al prin­ci­ples would seem total­ly inim­i­cal to the nat­u­ral­ism of most physi­cists today. As he was for­mu­lat­ing the prin­ci­ples of grav­i­ty and three laws of motion, for exam­ple, New­ton also sought the leg­endary Philosopher's Stone and attempt­ed to turn met­al to gold. More­over, the devout­ly reli­gious New­ton wrote the­o­log­i­cal trea­tis­es inter­pret­ing Bib­li­cal prophe­cies and pre­dict­ing the end of the world. The date he arrived at? 2060.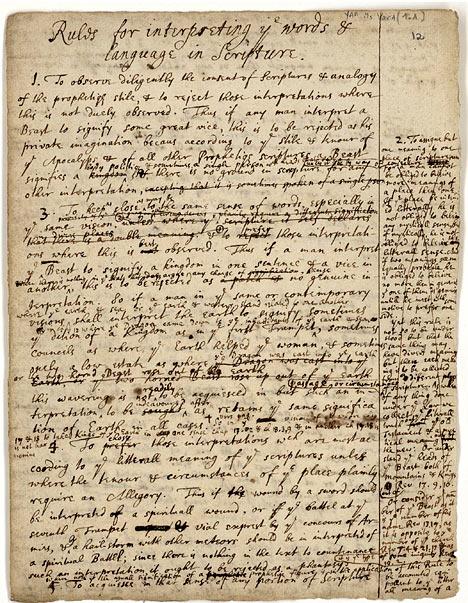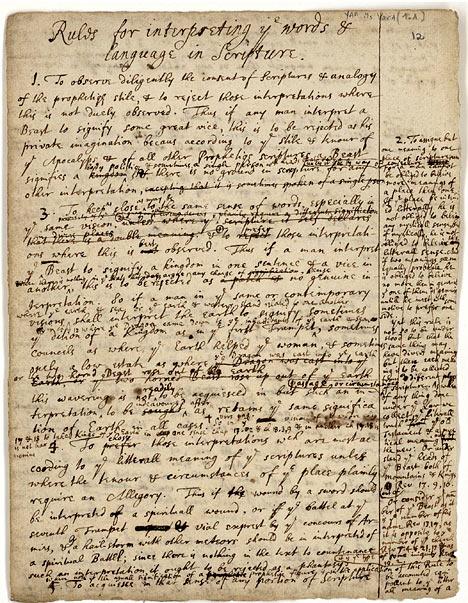 New­ton seems, writes sci­ence blog Anoth­er Pale Blue Dot, "as con­fi­dent of his pre­dic­tions in this realm as he was in the ratio­nal world of sci­ence." In a 1704 let­ter exhib­it­ed at Jerusalem's Hebrew Uni­ver­si­ty, above, New­ton describes his "rec­coning":
So then the time times & half a time are 42 months or 1260 days or three years & an half, rec­coning twelve months to a yeare & 30 days to a month as was done in the Cal­en­dar of the prim­i­tive year. And the days of short lived Beasts being put for the years of lived [sic] king­doms, the peri­od of 1260 days, if dat­ed from the com­plete con­quest of the three kings A.C. 800, will end A.C. 2060. It may end lat­er, but I see no rea­son for its end­ing soon­er.
New­ton fur­ther demon­strates his con­fi­dence in the next sen­tence, writ­ing that his intent, "though not to assert" an answer, should in any event "put a stop the rash con­jec­tures of fan­ci­full men who are fre­quent­ly pre­dict­ing the time of the end." Indeed. So how did he arrive at this num­ber? New­ton applied a rig­or­ous method, that is to be sure.
If you have the patience for exhaus­tive descrip­tion of how he worked out his pre­dic­tion using the Book of Daniel, you may read one here by his­to­ri­an of sci­ence Stephen Sno­be­len, who also points out how wide­spread the inter­est in Newton's odd beliefs has become, reach­ing across every con­ti­nent, though schol­ars have known about this side of the Enlight­en­ment giant for a long time.
For a sense of the exact­ing, yet com­plete­ly bizarre fla­vor of Newton's prophet­ic cal­cu­la­tions, see anoth­er New­ton let­ter at the of the post, tran­scribed below.
Prop. 1. The 2300 prophet­ick days did not com­mence before the rise of the lit­tle horn of the He Goat.

2 Those day [sic] did not com­mence a[f]ter the destruc­tion of Jerusalem & ye Tem­ple by the Romans A.[D.] 70.

3 The time times & half a time did not com­mence before the year 800 in wch the Popes suprema­cy com­menced

4 They did not com­mence after the re[ig]ne of Gre­go­ry the 7th. 1084

5 The 1290 days did not com­mence b[e]fore the year 842.

6 They did not com­mence after the reigne of Pope Greg. 7th. 1084

7 The dif­f­ence [sic] between the 1290 & 1335 days are a parts of the sev­en weeks.

There­fore the 2300 years do not end before ye year 2132 nor after 2370.

The time times & half time do n[o]t end before 2060 nor after [2344]

The 1290 days do not begin [this should read: end] before 2090 [New­ton might mean: 2132] nor after 1374 [sic; New­ton prob­a­bly means 2374]
The edi­to­r­i­al inser­tions are Pro­fes­sor Snobelen's, who thinks the let­ter dates "from after 1705," and that "the shaky hand­writ­ing sug­gests a date of com­po­si­tion late in Newton's life." What­ev­er the exact date, we see him much less cer­tain here; New­ton push­es around some oth­er dates—2344, 2090 (or 2132), 2374. All of them seem arbi­trary, but "giv­en the nice round­ness of the num­ber," writes Moth­er­board, "and the fact that it appears in more than one let­ter," 2060 has become his most mem­o­rable dat­ing for the apoc­a­lypse.
It's impor­tant to note that New­ton didn't believe the world would "end" in the sense of cease to exist or burn up in holy flames. His end times phi­los­o­phy resem­bles that of a sur­pris­ing num­ber of cur­rent day evan­gel­i­cals: Christ would return and reign for a mil­len­ni­um, the Jew­ish dias­po­ra would return to Israel and would, he wrote, set up "a flour­ish­ing and ever­last­ing King­dom." We hear such state­ments often from tel­e­van­ge­lists, school boards, gov­er­nors, and pres­i­den­tial can­di­dates.
As many peo­ple have argued, despite Newton's con­cep­tion of his sci­en­tif­ic work as a bul­wark against oth­er the­olo­gies, it ulti­mate­ly became a foun­da­tion for Deism and Nat­u­ral­ism, and has allowed sci­en­tists to make accu­rate pre­dic­tions for hun­dreds of years. 20th cen­tu­ry physics may have shown us a much more rad­i­cal­ly unsta­ble uni­verse than New­ton ever imag­ined, but his the­o­ries are, as Isaac Asi­mov would put it, "not so much wrong as incom­plete," and still essen­tial to our under­stand­ing of cer­tain fun­da­men­tal phe­nom­e­na. But as fas­ci­nat­ing and curi­ous as Newton's oth­er inter­ests may be, there's no more rea­son to cred­it his prophet­ic cal­cu­la­tions than those of the Mil­lerites, Harold Camp­ing, or any oth­er apoc­a­lyp­tic dooms­day sect.
Note: An ear­li­er ver­sion of this post appeared on our site in 2015.
Relat­ed Con­tent:
M.I.T. Com­put­er Pro­gram Pre­dicts in 1973 That Civ­i­liza­tion Will End by 2040
Isaac New­ton Cre­ates a List of His 57 Sins (Cir­ca 1662)
Isaac New­ton Con­ceived of His Most Ground­break­ing Ideas Dur­ing the Great Plague of 1665
Videos Recre­ate Isaac Newton's Neat Alche­my Exper­i­ments: Watch Sil­ver Get Turned Into Gold
The Icon­ic Design of the Dooms­day Clock Was Cre­at­ed 75 Years Ago: It Now Says We're 100 Sec­onds to Mid­night
Josh Jones is a writer and musi­cian based in Durham, NC. Fol­low him at @jdmagness