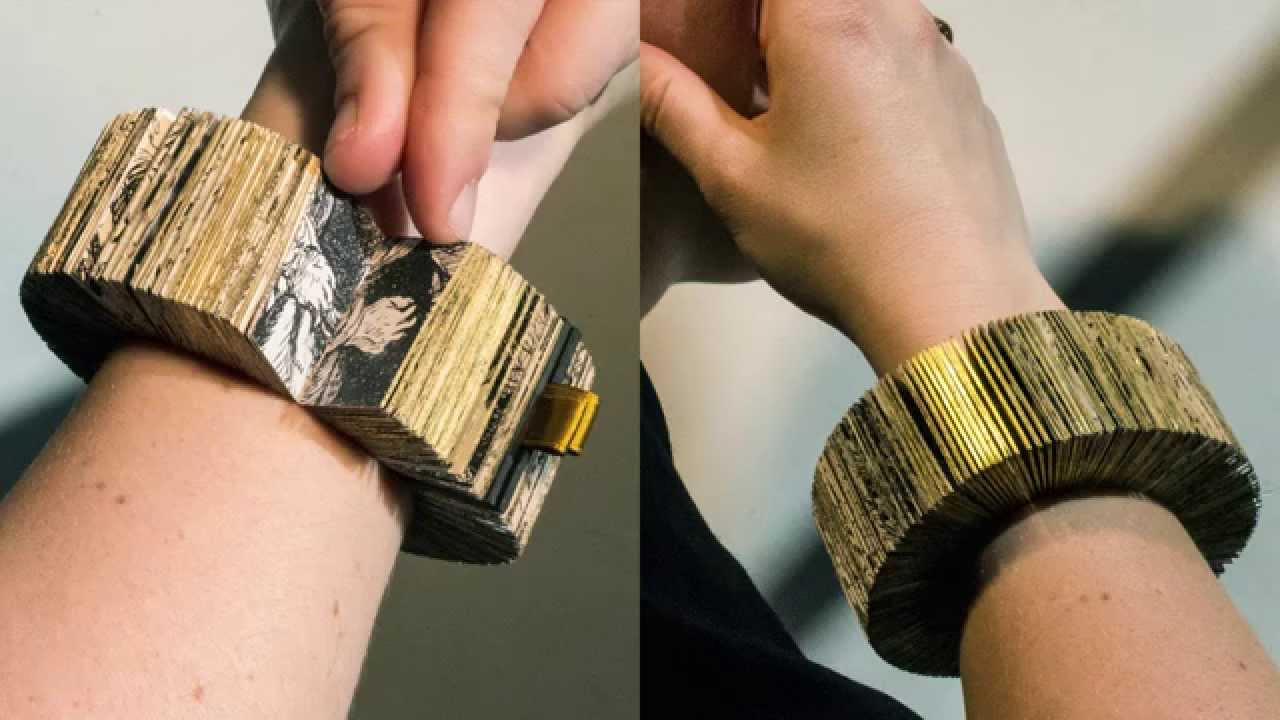 Admittedly jewelry is not one of our areas of expertise, but when we hear that a bracelet costs €10,000, we kind of expect it to have a smattering of diamonds.
Designers Lyske Gais and Lia Duinker are getting that amount for a wristlet comprised chiefly of five large paper sheets printed with high res images downloaded free from the Rijksmuseum's extensive digital archive of Rembrandt drawings and etchings.
Your average pawnbroker would probably consider its 18-karat gold clasp, or possibly the custom-made wooden box in which it can be stored when not in use the most precious thing about this ornament.
An ardent bibliophile or art lover is perhaps better equipped to see the book bracelet's value.
Each gilt edged page – 1400 in all – features an image of a hand, sourced from 303 downloaded Rembrandt works.
An illustration on the designers' Duinker and Dochters website details the painstaking process whereby the bookbracelet takes shape in 8-page sections, or signatures, cross stitched tightly alongside each other on a paper band. Put it on, and you can flip through Rembrandt hands, Rolodex-style. When you want to do the dishes or take a shower, just pack it flat into that custom box.
Gais and Duinker also include an index, which is handy for those times when you don't feel like hunting and pecking around your own wrist in search of a hand that appeared in the Flute Player or  Christ crucified between the two murderers.
The Rembrandt's Hands and a Lion's Paw bracelet, titled like a book and published in a limited edition of 10, nabbed first prize in the 2015 Rijksstudio Awards, a competition that challenges designers to create work inspired by the Rijksmuseum's collection.
(2015's second prize went to an assortment of conserves and condiments that harkened to Johannes Hannot's 1668 Still Life with Fruit. 2014's winner was a palette of eyeshadow and some eyeliners inspired by Jan Adam Kruseman's 1833 Portrait of Alida Christina Assink and a Leendert van der Cooghen sketch.)
But what about that special art loving bibliophile who already has everything, including a Rembrandts Hands and a Lions Paw boekarmband?
Maybe you could get them Collier van hondjes, Gais and Duinker's follow up to the book bracelet, a rubber choker with an attached 112-page book pendant showcasing Rembrandt dogs sourced from various museum's digital collections.
Purchase Rembrandt's Hands and a Lions Paw limited edition book bracelet here.
And embark on making your own improbable thing inspired by a high res image in the Rijksmuseum's Rijks Studio here.
– Ayun Halliday is the Chief Primatologist of the East Village Inky zine and creator, most recently of Creative, Not Famous: The Small Potato Manifesto.  Follow her @AyunHalliday.