Vin­cent Van Gogh's The Star­ry Night is one of the most pop­u­lar and eas­i­ly rec­og­nized paint­ings on earth. If you haven't seen it per­son, you've prob­a­bly seen it repro­duced on a post­card, a tote bag, or a t‑shirt.
Musi­cian Shel­don Clarke was a Star­ry Night vir­gin when he start­ed work­ing as a secu­ri­ty offi­cer at the Muse­um of Mod­ern Art:
I knew noth­ing about Vin­cent or Star­ry Night before I start­ed work­ing here. And I remem­ber the first time I stood at that painting…first of all, I was so amazed at the reac­tion of the pub­lic. There was always a group of peo­ple just fight­ing to look at it or take pic­tures or take self­ies and I was just curi­ous to know like, who is this painter and why is every­one so excit­ed to see this piece?
Now, Clarke is suf­fi­cient­ly well versed to hold forth on both the nature of the art­work and cir­cum­stances in which the artist cre­at­ed it. He is, with Senior Paint­ings Con­ser­va­tor Anny Avi­ram, Asso­ciate Cura­tor Cara Manes, and Robert Kastler, direc­tor of Imag­ing and Visu­al Resources, one of four MoMA staffers to give some con­text, while try­ing their hands at the new Star­ry Night LEGO set.
A col­lab­o­ra­tion between MoMA and LEGO, the set rein­ter­prets Van Gogh's thick impas­to brush­work in 2316 tiny plas­tic bricks, includ­ing a mini fig­ure of the artist, equipped with paint­brush, palette, easel, and an adjustable arm for posi­tion­ing him at suf­fi­cient dis­tance to gain per­spec­tive on his world famous work.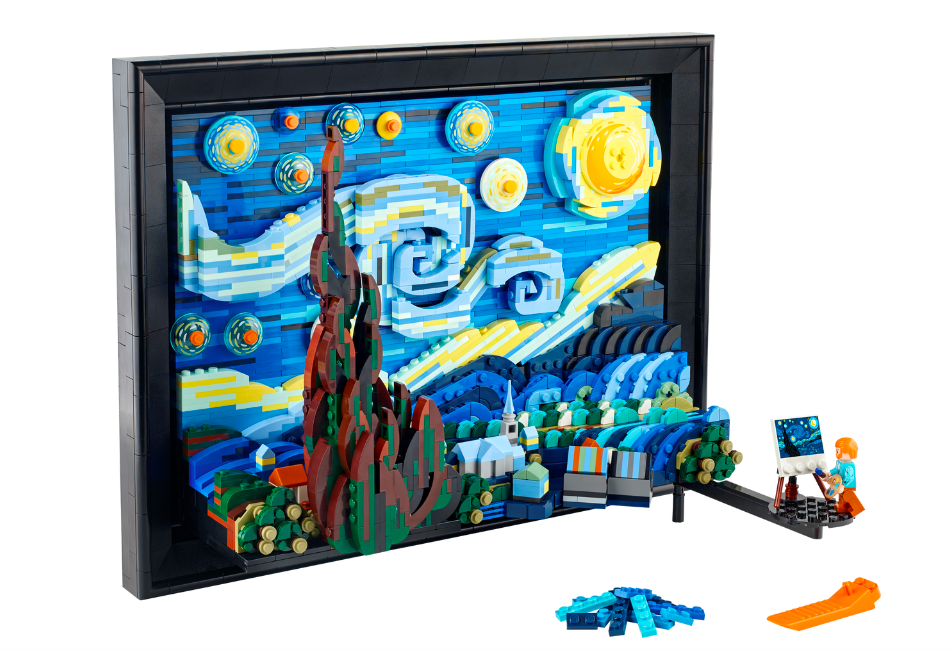 The set is the win­ning entry in a LEGO Ideas com­pe­ti­tion. Design­er Tru­man Cheng, a 25-year-old LEGO fan and PhD can­di­date focus­ing on med­ical robot­ics and mag­net­ic con­trolled sur­gi­cal endo­scopes. He had long want­ed to ren­der The Star­ry Night in LEGO, bu its exe­cu­tion required a light­bulb moment:
One day, I was just play­ing with LEGO parts, and I real­ized that stack­ing LEGO plates togeth­er at ran­dom inter­vals looks a lot like van Gogh's icon­ic brush strokes. I couldn't help but won­der what the full paint­ing would look like with this build style.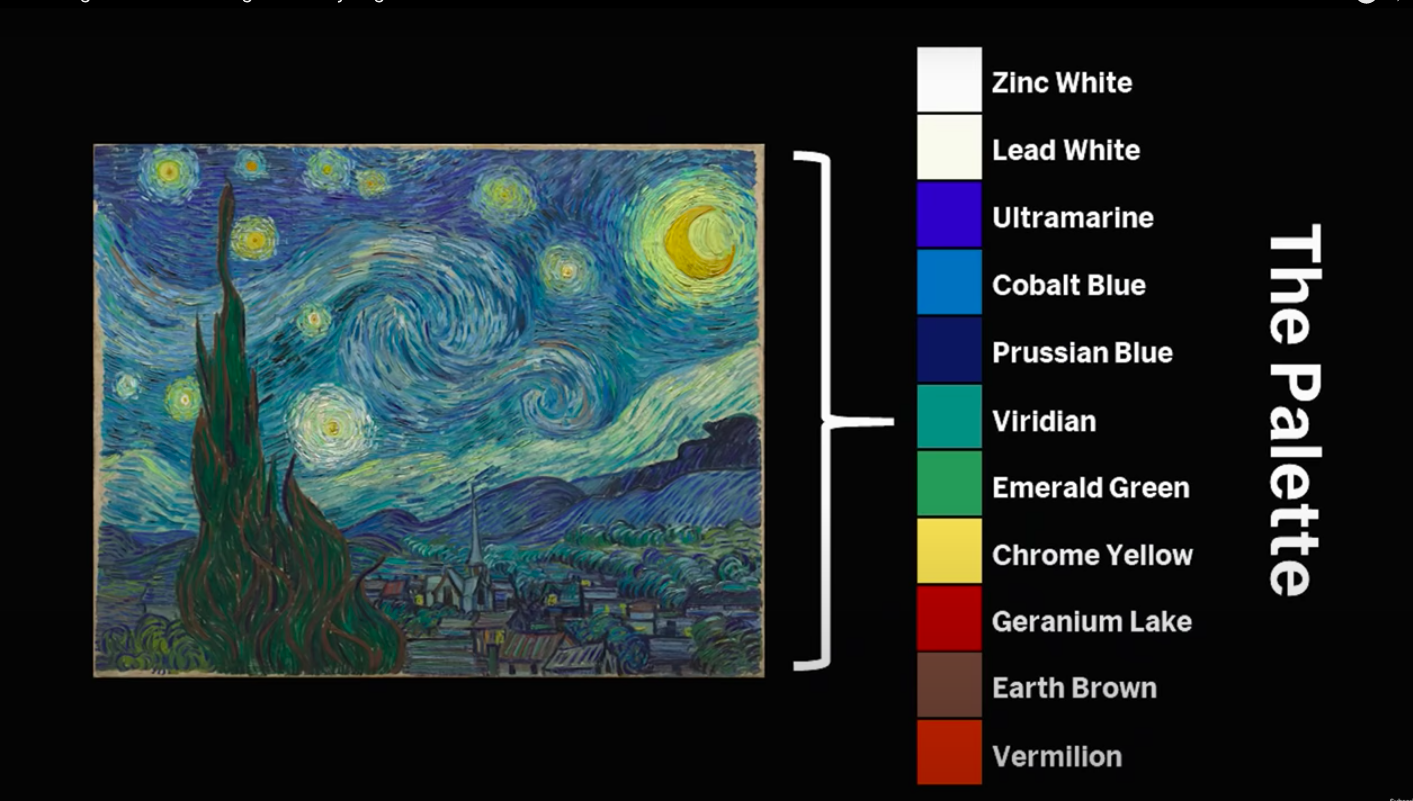 As Avi­ram and Kastler point out, the set cleaves faith­ful­ly to Van Gogh's lim­it­ed palette. Some LEGO fans report that build­ing up the blue back­ground lay­ers is the most chal­leng­ing aspect of assem­bling the 11"x14.5" kit:

I'm 54 and the col­ors, being kind of close, were play­ing games with my eyes. LOL This is my favorite LEGO of all time! In clos­ing, if you haven't heard the song, Vin­cent by Don McLean, I sug­gest you take a lis­ten to this song as you stare at this LEGO mas­ter­piece.
Order LEGO's Vin­cent van Gogh - The Star­ry Night set from Ama­zon.
Relat­ed Con­tent
Vin­cent Van Gogh's "The Star­ry Night": Why It's a Great Paint­ing in 15 Min­utes
The Unex­pect­ed Math Behind Van Gogh's "Star­ry Night"
Zoom Into a Super High Res­o­lu­tion Pho­to of Van Gogh's "The Star­ry Night"
1,000+ Art­works by Vin­cent Van Gogh Dig­i­tized & Put Online by Dutch Muse­ums: Enter Van Gogh World­wide
Down­load Vin­cent van Gogh's Col­lec­tion of 500 Japan­ese Prints, Which Inspired Him to Cre­ate "the Art of the Future"
- Ayun Hal­l­i­day is the Chief Pri­ma­tol­o­gist of the East Vil­lage Inky zine and author, most recent­ly, of Cre­ative, Not Famous: The Small Pota­to Man­i­festo. Fol­low her @AyunHalliday.