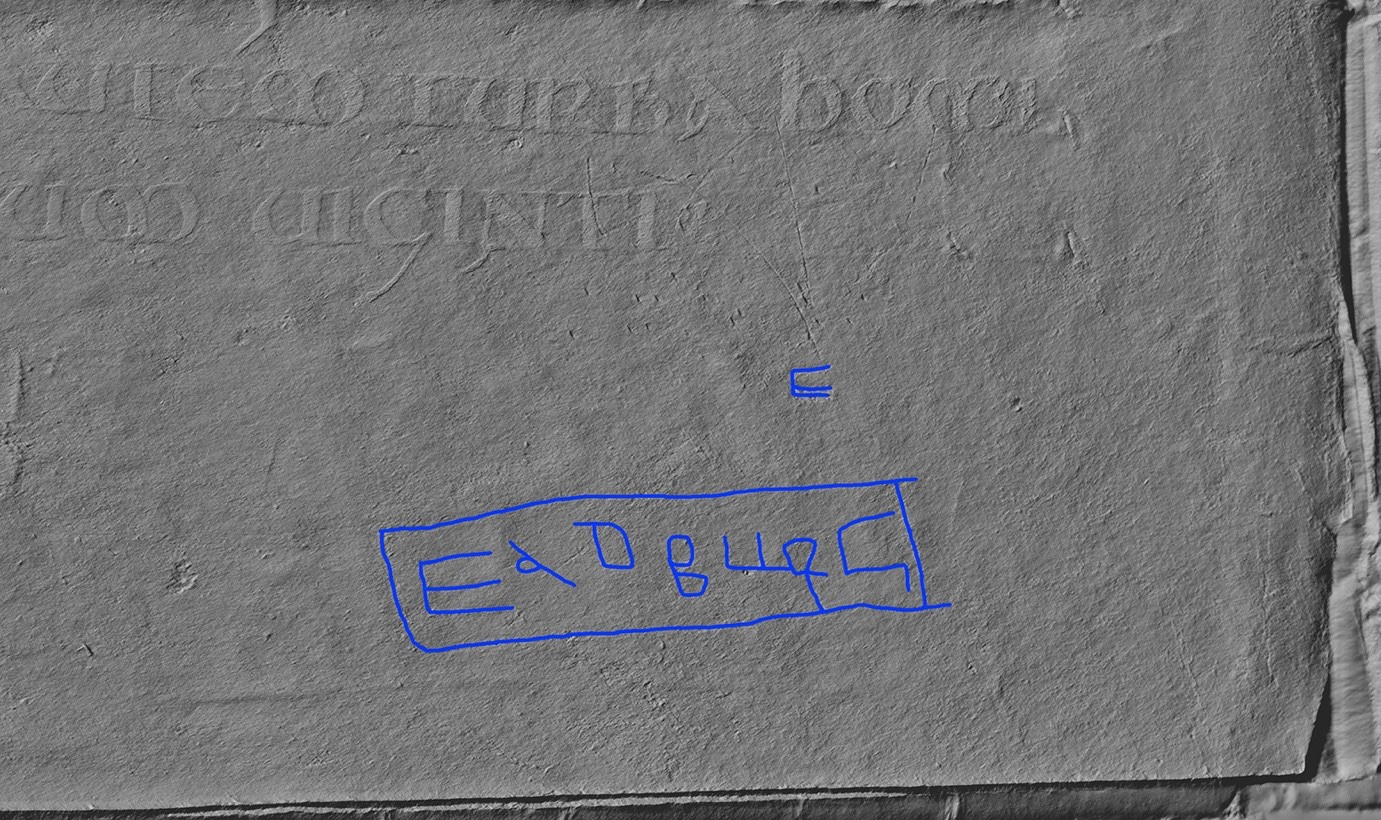 Most of us have doo­dled in the mar­gins of our books at one time or anoth­er, and some of us have even dared to write our own names. But very of few us, pre­sum­ably, would have expect­ed our hand­i­work to be mar­veled at twelve cen­turies hence. Yet that's just what has hap­pened to the mar­gin­a­lia left by a medieval Eng­lish­woman we know only as Ead­burg, who some time in the eighth cen­tu­ry com­mit­ted her name — as well as oth­er sym­bols and fig­ures — to the pages of a Latin copy of the Acts of the Apos­tles.
Ead­burg did this with such secre­cy that only advanced twen­ty-first cen­tu­ry tech­nol­o­gy has allowed us to see it at all. That the read­ers in the Mid­dle Ages some­times jot­ted in their man­u­scripts isn't unheard of.
But unlike most of them, Ead­burg seems to have favored a dry­point sty­lus — i.e., a tool with noth­ing on it to leave a clear mark — which would have made her writ­ing near­ly impos­si­ble to notice with the naked eye. To see all of them neces­si­tat­ed the use of a tech­nique called "pho­to­met­ric stereo," which Oxford Uni­ver­si­ty's Bodleian Library Senior Pho­tog­ra­ph­er John Bar­rett explains in this blog post.
The scan­ning process col­lects images that "map the direc­tion and height of the original's sur­face, and are processed into ren­ders show­ing only the relief of the orig­i­nal with the tone and col­or removed." Sub­se­quent steps of fil­ter­ing and enhance­ment result in a dig­i­tal repro­duc­tion of "the three-dimen­sion­al sur­face of the page," which, with the prop­er enhance­ments, final­ly allows dry­point inscrip­tions to be seen. Ead­burg's name, reports the Guardian's Don­na Fer­gu­son, was found "pas­sion­ate­ly etched into the mar­gins of the man­u­script in five places, while abbre­vi­at­ed forms of the name appear a fur­ther ten times."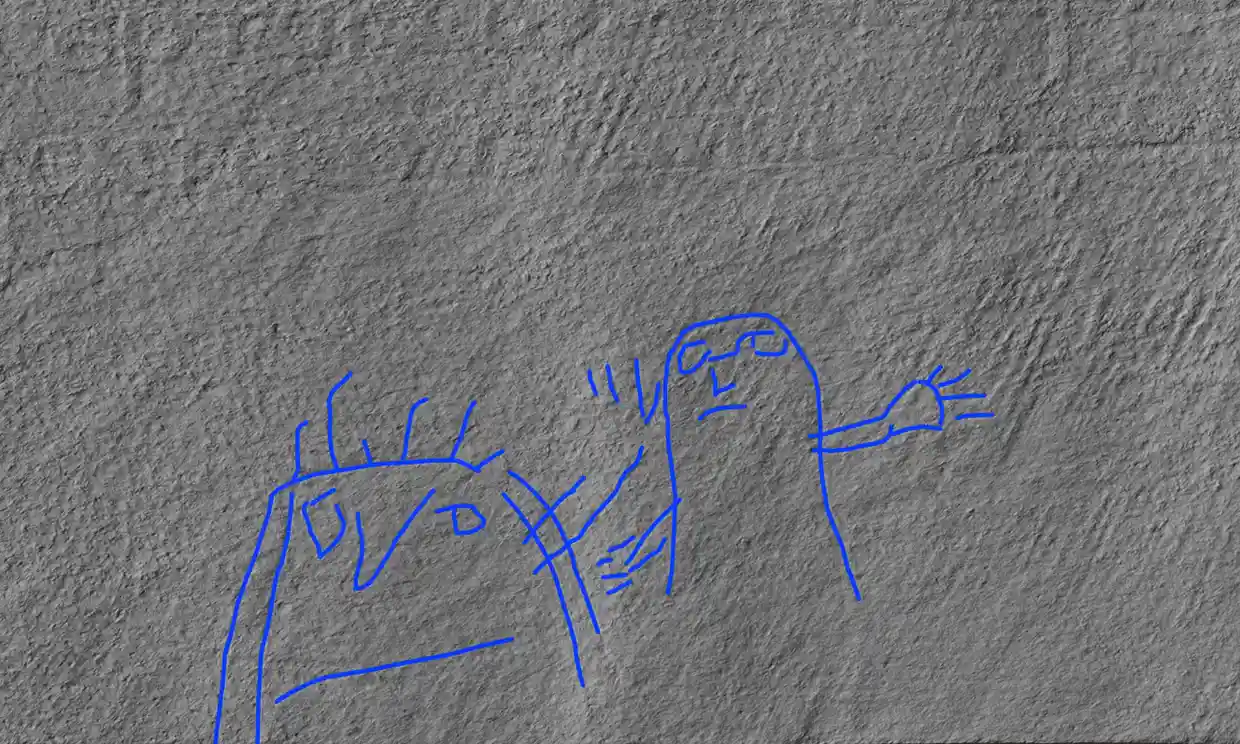 Oth­er new dis­cov­er­ies in the man­u­scrip­t's pages include "tiny, rough draw­ings of fig­ures — in one case, of a per­son with out­stretched arms, reach­ing for anoth­er per­son who is hold­ing up a hand to stop them." What Ead­burg meant by it all remains a mat­ter of active inquiry, but then, so does her very iden­ti­ty. "Char­ter evi­dence sug­gests that a woman called Ead­burg was abbess of a female reli­gious com­mu­ni­ty at Min­ster-in-Thanet, in Kent from at least 733 until her death some­time between 748 and 761," writes Bar­rett, but she was­n't the only Ead­burg who could've pos­sessed the book. All this con­tains a les­son for today's mar­gin­a­lia-mak­ers: if you're going to sign your name, sign it in full.
Relat­ed con­tent:
Medieval Doo­dler Draws a "Rock­star Lady" in a Man­u­script of Boethius' The Con­so­la­tion of Phi­los­o­phy (Cir­ca 1500)
When Medieval Man­u­scripts Were Recy­cled & Used to Make the First Print­ed Books
160,000+ Medieval Man­u­scripts Online: Where to Find Them
Dis­cov­er Nüshu, a 19th-Cen­tu­ry Chi­nese Writ­ing Sys­tem That Only Women Knew How to Write
Ayn Rand Trash­es C.S. Lewis in Her Mar­gin­a­lia: He's an "Abysmal Bas­tard"
Based in Seoul, Col­in Mar­shall writes and broad­casts on cities, lan­guage, and cul­ture. His projects include the Sub­stack newslet­ter Books on Cities, the book The State­less City: a Walk through 21st-Cen­tu­ry Los Ange­les and the video series The City in Cin­e­ma. Fol­low him on Twit­ter at @colinmarshall or on Face­book.