Quick, who's your favorite female drummer?
Hardly a strange question!
(Yes, you are allowed to pick more than one favorite.)
Things were decidedly different when drummer Honey Lantree, the only female member of the 60s British Invasion group the Honeycombs, took up the sticks.
Drums were not her original instrument. Her boyfriend, employer, and eventual bandmate Martin Murray was giving her a guitar lesson when she asked if she could take a whirl at his kit.
Murray recalled his surprise when she started whaling away like a vet:
She was just a born, natural drummer; she hadn't played before and just went for it. I was aghast, staring at her, and said, "All right, you're our new drummer."
Lantree's gender helped the Honeycombs secure press.
She snagged a celebrity endorsement for Carlton drums and turned 21 with a cake festooned with marzipan bees, and, more importantly, a #1 single, "Have I the Right."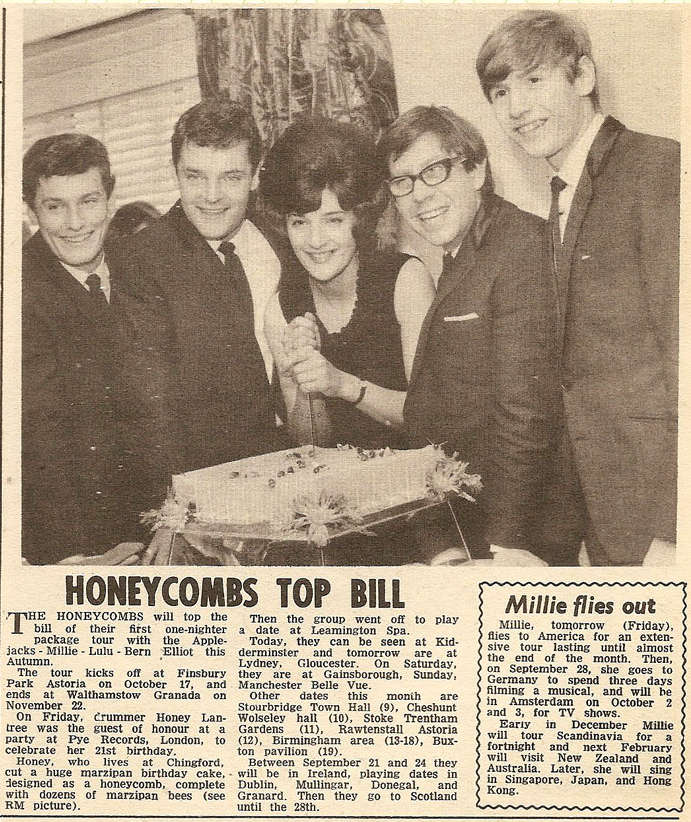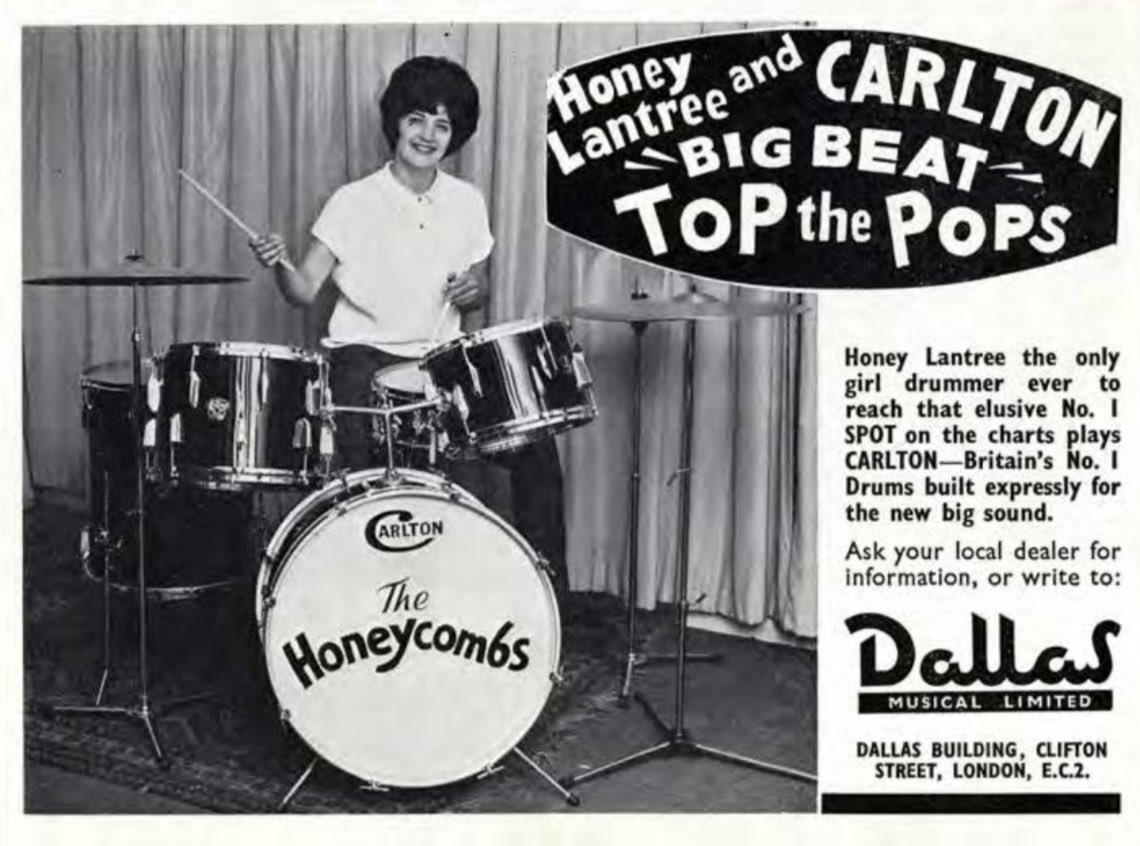 Of course, her gender also ensured that most of the coverage would focus on her appearance, with scant, if any mention of her musical talent.
Lantree was not the only member of the Honeycombs to find this galling.
As lead singer Denis D'Ell told the Record Mirror in 1965:
How can it be a gimmick just because we have a girl, Honey, on drums? Honey plays with us purely and simply because she is the right drummer for the job. If she wasn't any good, she wouldn't hold down the job.
On tour, we don't have any troubles by having a girl with us. We just operate as a group. Perhaps it is that the novelty has worn off – we hope that fans soon will forget all about this so-called gimmick.
The following year, he quit, along with lead guitarist Alan Ward and Peter Pye, who had replaced Murray on rhythm guitar. Lantree and her brother, Honeycombs' bassist John, soldiered on with new personnel until the 1967 death of producer Joe Meek.
Still, for a brief period, the Honeycombs' recordings, tours, television appearances, and yes, press coverage made Lantree the most famous female drummer in the world.
Admittedly, the field was not particularly crowded. Just challenging in ways that outstripped the disproportionate focus on figures, boyfriends, and beauty tips.
Male fans dragged Lantree offstage during a concert in Cornwall, leading her to remark, "You expect this sort of thing but it's still terrifying."
Around the same time, another British band, the all-female Liverbirds, were invited to cross the pond for a coveted gig in Las Vegas…provided they'd play it topless. "Can you imagine me on the drums playing topless," Sylvia Saunders, who shortly thereafter was forced to choose between the drums and a high risk pregnancy, gasped.
Although she is said to have inspired a number of young female musicians, including Karen Carpenter, Lantree, who died in 2018 at the age of 75, rarely shows up on curated lists of notable female drummers.
In a strange way, that spells progress – there are many more female drummers today than there were in the mid 60s, and mercifully more opportunities for them to be taken seriously as musicians.
Related Content
Meet Viola Smith, the World's Oldest Drummer: Her Career Started in the 1930s, and She Played Until She Was 107
Meet the Liverbirds, Britain's First Female (and Now Forgotten) Rock Band
The Women of Rock: Discover an Oral History Project That Features Pioneering Women in Rock Music
Meet Fanny, the First Female Rock Band to Top the Charts: "They Were Just Colossal and Wonderful, and Nobody's Ever Mentioned Them"
The Woman Who Invented Rock n' Roll: An Introduction to Sister Rosetta Tharpe
New Web Project Immortalizes the Overlooked Women Who Helped Create Rock and Roll in the 1950s
– Ayun Halliday is the Chief Primatologist of the East Village Inky zine and author, most recently, of Creative, Not Famous: The Small Potato Manifesto.  Follow her @AyunHalliday.