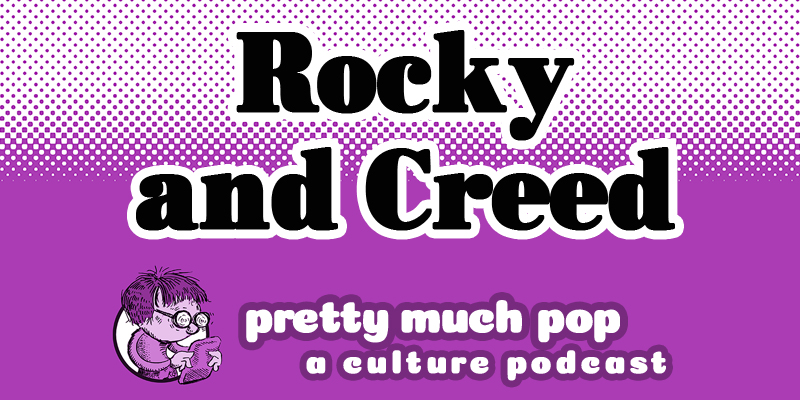 Your Pret­ty Much Pop hosts Mark Lin­sen­may­er, Lawrence Ware, Sarahlyn Bruck, and Al Bak­er talk through the ups and downs of this nine-film fran­chise that start­ed with Rocky, the high­est gross­ing film of 1976 and win­ner of that year's Acad­e­my Award for Best Pic­ture. We're espe­cial­ly con­cerned with this year's Creed III, direct­ed by its star Michael B. Jor­dan, which is the first entry in the fran­chise that's entire­ly free of Sylvester Stal­lone.
How can such an appar­ent­ly sim­ple for­mu­la (start as an under­dog, train, and win at least a moral vic­to­ry) stay fresh? Why was there a robot in Rocky IV? Is there any ratio­nale for an extend­ed, con­tin­u­ing Rocky-verse? Does enjoy­ing these films involve approv­ing of box­ing as a sport, or the glo­ri­fi­ca­tion of fic­tion­al sports heroes over real-life ones?
For var­i­ous arti­cles about things going on in the fran­chise, check out totalrocky.com. Sarahlyn men­tions the NPR pod­cast The Stat­ue.
Fol­low us @law_writes, @sarahlynbruck, @ixisnox, @MarkLinsenmayer.
Hear more Pret­ty Much Pop. If you're not sub­scribed to the pod­cast, you're miss­ing lots of good episodes. Sup­port the show and hear bonus talk­ing for this and near­ly every oth­er episode at patreon.com/prettymuchpop or by choos­ing a paid sub­scrip­tion through Apple Pod­casts. This pod­cast is part of the Par­tial­ly Exam­ined Life pod­cast net­work.
Pret­ty Much Pop: A Cul­ture Pod­cast is the first pod­cast curat­ed by Open Cul­ture. Browse all Pret­ty Much Pop posts.