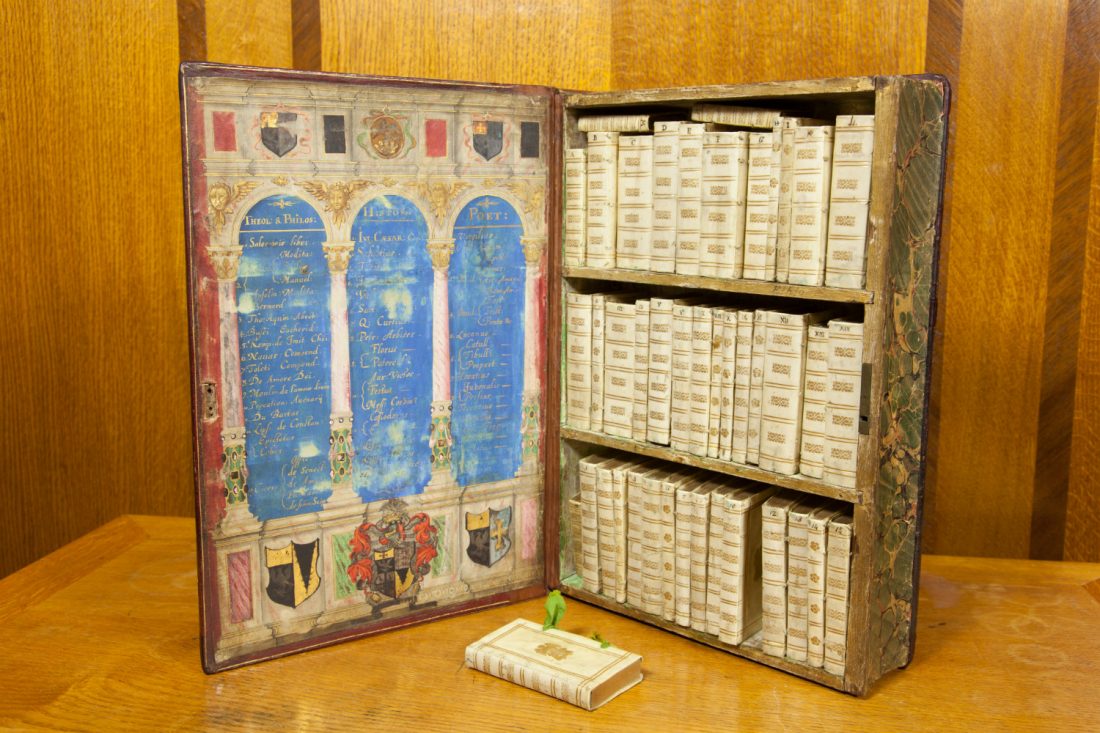 Image cour­tesy of the Uni­ver­si­ty at Leeds
In the strik­ing image above, you can see an ear­ly exper­i­ment in mak­ing books portable–a 17th cen­tu­ry pre­cur­sor, if you will, to the mod­ern day Kin­dle.
Accord­ing to the library at the Uni­ver­si­ty of Leeds, this "Jacobean Trav­el­ling Library" dates back to 1617. That's when William Hakewill, an Eng­lish lawyer and MP, com­mis­sioned the minia­ture library–a big book, which itself holds 50 small­er books, all "bound in limp vel­lum cov­ers with coloured fab­ric ties." What books were in this portable library, meant to accom­pa­ny noble­men on their jour­neys? Nat­u­ral­ly the clas­sics. The­ol­o­gy, phi­los­o­phy, clas­si­cal his­to­ry and poet­ry. The works of Ovid, Seneca, Cicero, Vir­gil, Tac­i­tus, and Saint Augus­tine. Many of the same texts that showed up in The Har­vard Clas­sics (now avail­able online) three cen­turies lat­er.
Appar­ent­ly three oth­er Jacobean Trav­el­ling Libraries were made. They now reside at the British Library, the Hunt­ing­ton Library in San Mari­no, Cal­i­for­nia, and the Tole­do Muse­um of Art in Tole­do, Ohio.
If you would like to sign up for Open Culture's free email newslet­ter, please find it here.
If you would like to sup­port the mis­sion of Open Cul­ture, con­sid­er mak­ing a dona­tion to our site. It's hard to rely 100% on ads, and your con­tri­bu­tions will help us con­tin­ue pro­vid­ing the best free cul­tur­al and edu­ca­tion­al mate­ri­als to learn­ers every­where. You can con­tribute through Pay­Pal, Patre­on, and Ven­mo (@openculture). Thanks!
Relat­ed Con­tent:
Napoleon's Kin­dle: See the Minia­tur­ized Trav­el­ing Library He Took on Mil­i­tary Cam­paigns
Behold the "Book Wheel": The Renais­sance Inven­tion Cre­at­ed to Make Books Portable & Help Schol­ars Study Sev­er­al Books at Once (1588)
The Har­vard Clas­sics: Down­load All 51 Vol­umes as Free eBooks
The Fiske Read­ing Machine: The 1920s Pre­cur­sor to the Kin­dle