What's your stance on Wikipedia, the free, open con­tent online ency­clo­pe­dia?
Stu­dents are often dis­cour­aged or dis­al­lowed from cit­ing Wikipedia as a source, a bias that a Wikipedia entry titled "Wikipedia should not be con­sid­ered a defin­i­tive source in and of itself" sup­ports:
As a user-gen­er­at­ed source, it can be edit­ed by any­one at any time, and any infor­ma­tion it con­tains at a par­tic­u­lar time could be van­dal­ism, a work in progress, or sim­ply incor­rect. Biogra­phies of liv­ing per­sons, sub­jects that hap­pen to be in the news, and polit­i­cal­ly or cul­tur­al­ly con­tentious top­ics are espe­cial­ly vul­ner­a­ble to these issues…because Wikipedia is a vol­un­teer-run project, it can­not con­stant­ly mon­i­tor every con­tri­bu­tion. There are many errors that remain unno­ticed for hours, days, weeks, months, or even years.

(Anoth­er entry coun­sels those who would per­sist to cite the exact time, date, and arti­cle ver­sion they are ref­er­enc­ing.)
Wikipedia has a clear­ly stat­ed pol­i­cy pro­hibit­ing con­trib­u­tors from close para­phras­ing or out­right copy­ing and past­ing from out­side sources, though in a bit of a cir­cle-in-a-cir­cle sit­u­a­tion, sev­er­al not­ed authors and jour­nal­ists have been caught pla­gia­riz­ing Wikipedia arti­cles.
A list of Wikipedia con­tro­ver­sies, pub­lished on — where else? — Wikipedia is a hair rais­ing litany of polit­i­cal sab­o­tage, char­ac­ter assas­si­na­tion, and "revenge edits". (The list is cur­rent­ly sub­stan­ti­at­ed by 338 ref­er­ence links, and has been char­ac­ter­ized as in need of update since Octo­ber 2021, owing to a lack of edits regard­ing the "con­tro­ver­sy about Main­land Chi­nese edi­tors.")
It can be a pret­ty scary place, but Uni­ver­si­ty of Michi­gan senior Annie Rauw­er­da, cre­ator of the Insta­gram account Depths of Wikipedia is unfazed. As she wrote in an arti­cle for the tech pub­li­ca­tion Input:
Wikipedia is a splen­did­ly exten­sive record of almost every­thing that mat­ters; a mod­ern-day Library of Alexan­dria that's free, acces­si­ble, and dynam­ic. But Wikipedia is char­ac­ter­ized not only by what it is but also by what it is not. It's not a soap­box, a bat­tle­ground, nor a blog.


It's also becom­ing famous as Rauw­er­da's play­ground, or more accu­rate­ly, a packed swap shop in which mil­lions of bizarre items are tucked away.
If your sched­ule lim­its the amount time you can spend down its myr­i­ad rab­bit holes, Rauw­er­da will do the dig­ging for you.
Turn­ing a selec­tion of Wikipedia excerpts into a col­lage for a friend's quaran-zine inspired her to keep the par­ty going with screen­shots of odd­ball entries post­ed to a ded­i­cat­ed Insta­gram account.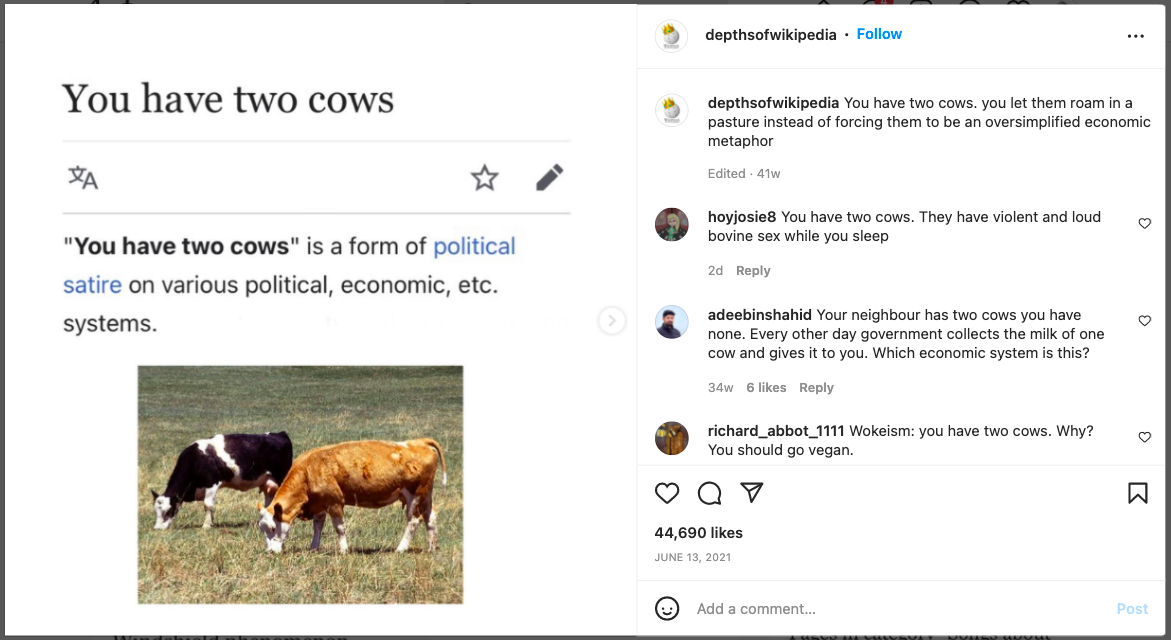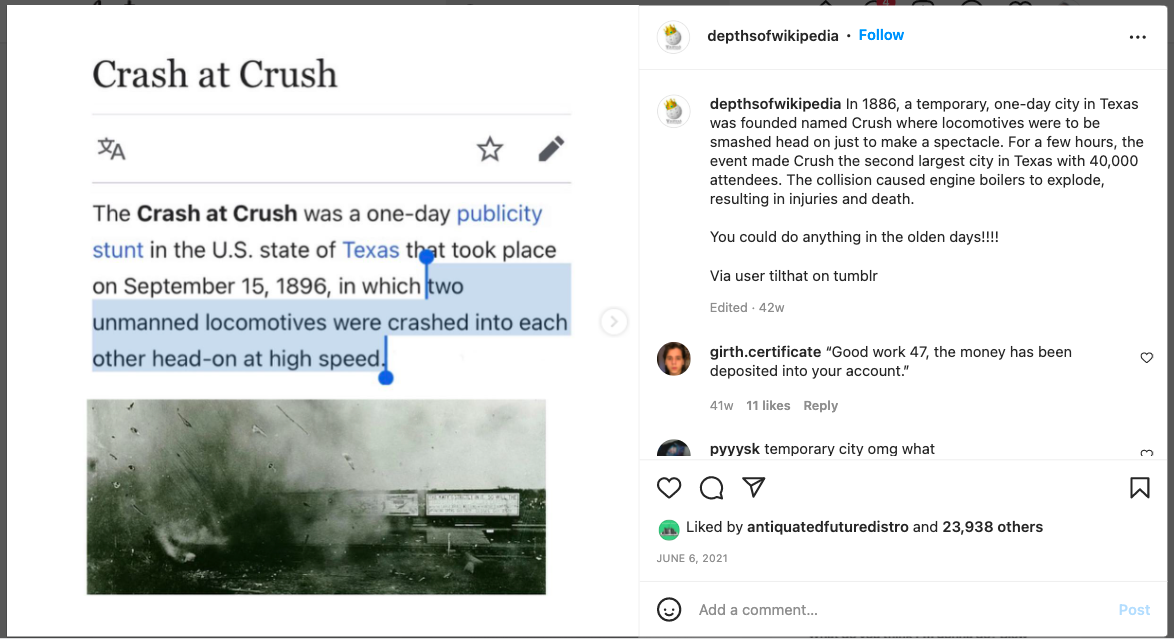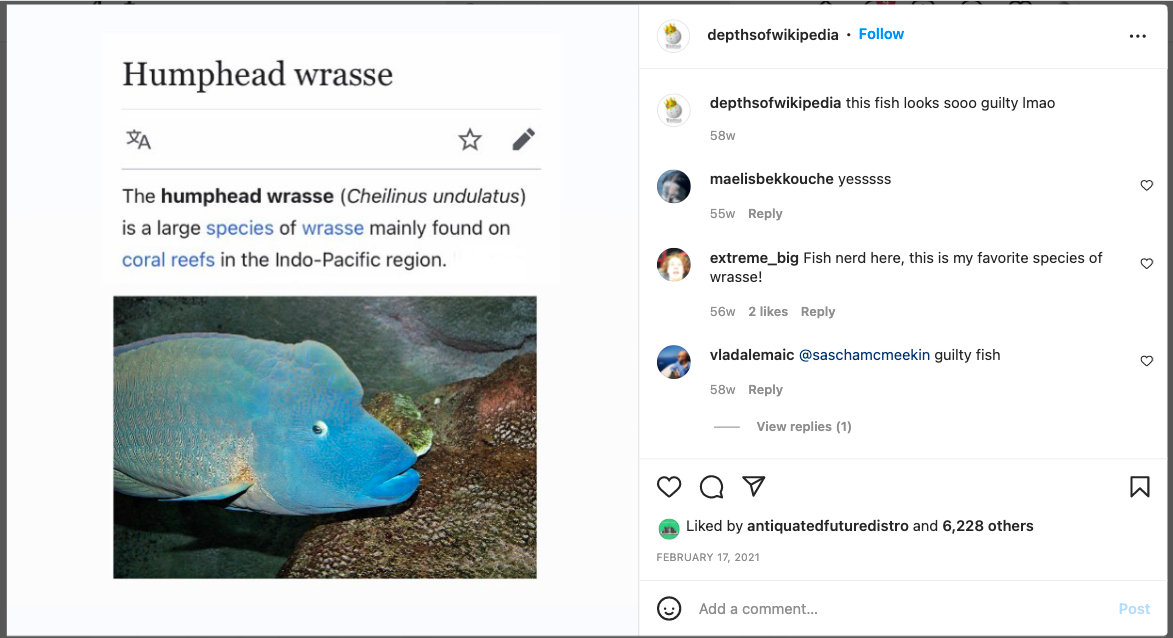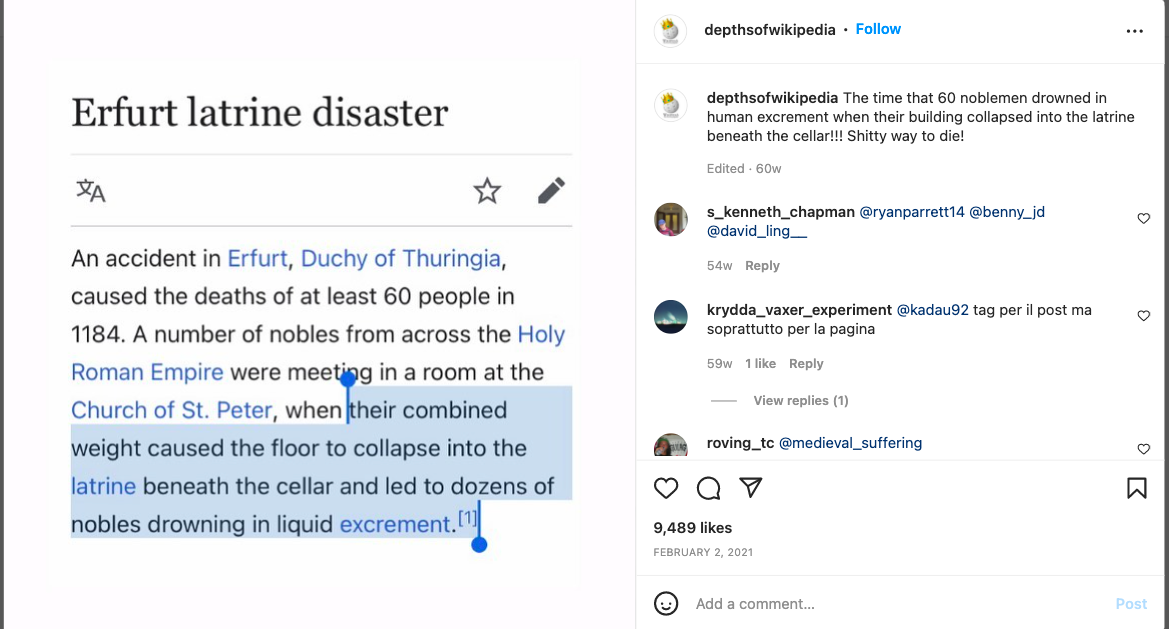 Her fol­low­ers don't seem to care whether a post con­tains an image or not, though the neu­ro­science major finds that emo­tion­al, short or ani­mal-relat­ed posts gen­er­ate the most excite­ment. "I used to post more things that were con­cep­tu­al," she told Lithi­um Mag­a­zine, "like mind-blow­ing physics con­cepts, but those didn't lend them­selves to Insta­gram as well since they require a few min­utes of think­ing and read­ing."
The bulk of what she posts come to her as read­er sub­mis­sions, though in a pinch, she can always turn to the "holy grail" — Wikipedia's own list of unusu­al arti­cles.
In addi­tion to Insta­gram, her dis­cov­er­ies find their way into an infre­quent­ly pub­lished newslet­ter, and onto Tik­Tok and Twit­ter, where some of our recent faves include the def­i­n­i­tion of hum­ster, a list of games that Bud­dha would not play, and the Paul O'Sullivan Band, "an inter­na­tion­al­ly based, pop-rock band con­sist­ing of four mem­bers, all of whom are named Paul O'Sullivan."
Along the way, she has found ways to give back, co-host­ing a vir­tu­al edit-a-thon and bring­ing some gen­uine glam­our to a livestreamed Wikipedia triv­ia con­test.
And she recent­ly authored a seri­ous arti­cle for Slate about Rus­sians scram­bling to down­load a 29-giga­byte file con­tain­ing Russ­ian-lan­guage Wikipedia after the Fed­er­al Ser­vice for Super­vi­sion of Com­mu­ni­ca­tions, Infor­ma­tion Tech­nol­o­gy and Mass Media (Roskom­nad­zor) threat­ened to block it over con­tent relat­ed to the inva­sion of Ukraine.
(You can read more about how that's going on Wikipedia…)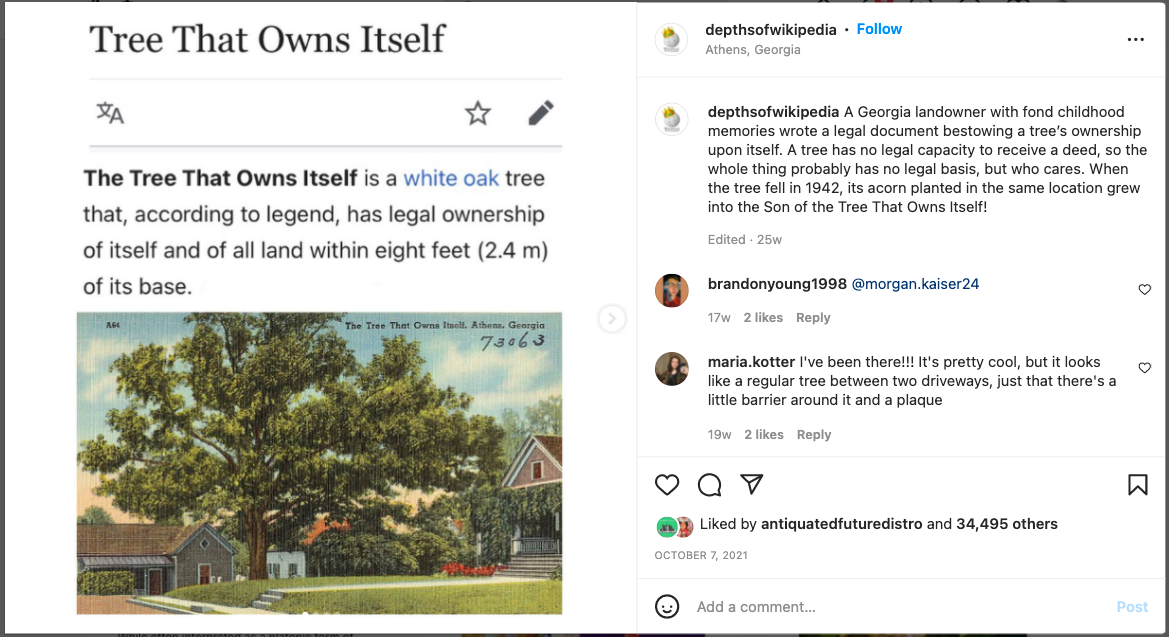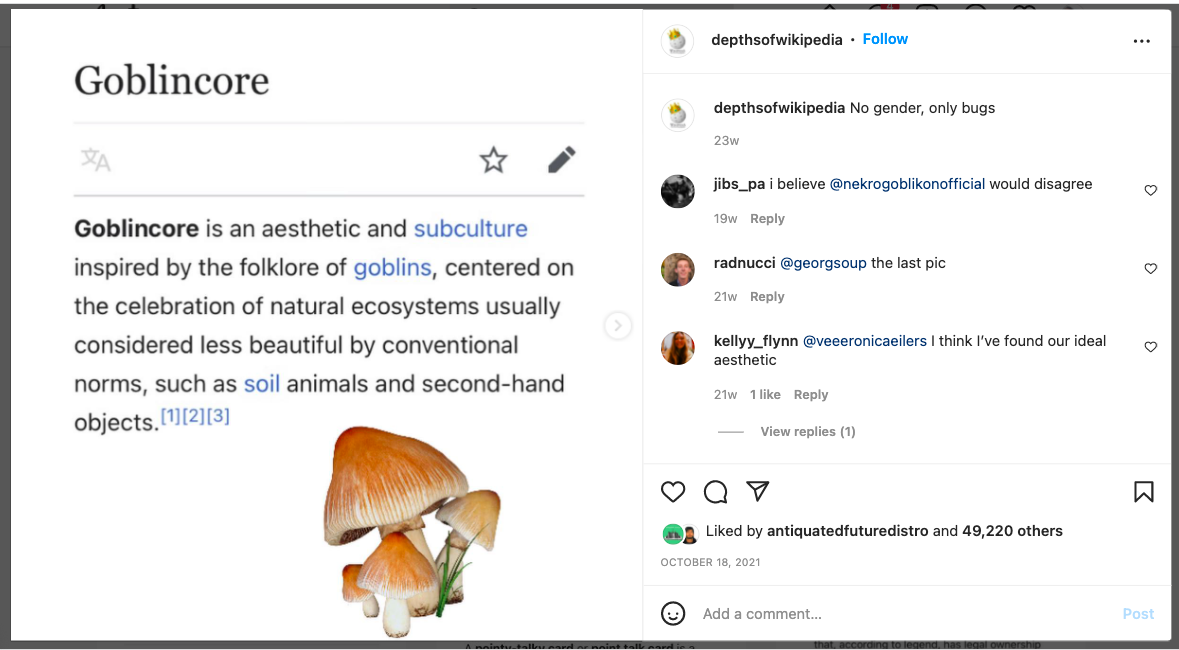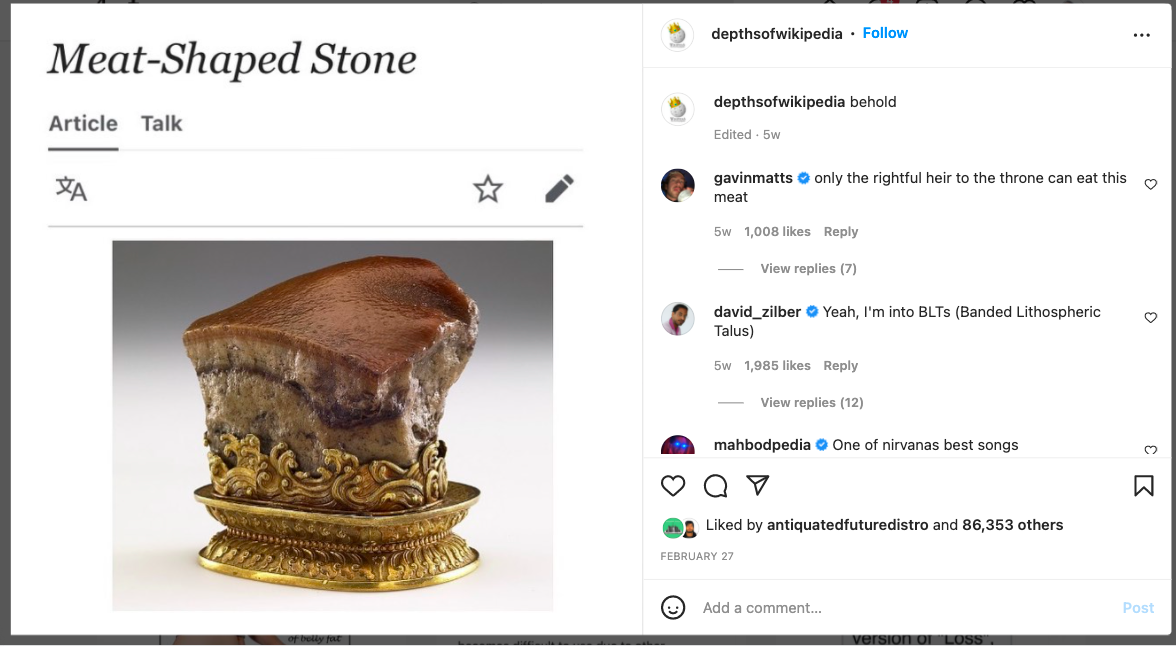 Sub­mit a link to Wikipedia page for pos­si­ble inclu­sion on the Depths of Wikipedia here.
Fol­low Annie Rauwin­da's Depths of Wikipedia on Insta­gram and Tik­Tok.
Relat­ed Con­tent
Lis­ten to Wikipedia: A Web Site That Turns Every Wikipedia Edit Into Ambi­ent Music in Real Time
- Ayun Hal­l­i­day is the Chief Pri­ma­tol­o­gist of the East Vil­lage Inky zine and author, most recent­ly, of Cre­ative, Not Famous: The Small Pota­to Man­i­festo. Fol­low her @AyunHalliday.