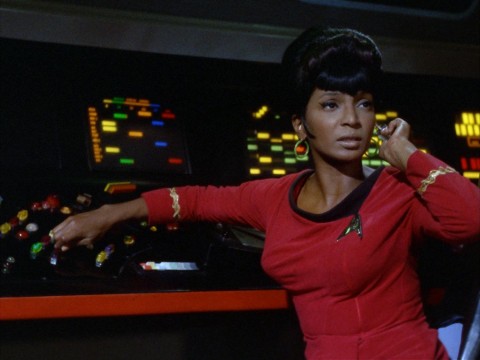 Nichelle Nichols played Lt. Uhura on the original Star Trek series (1966-1969). During the days when African-Americans were still fighting for legal equality in America, her role took on special importance. Her inclusion on the Enterprise pointed to a future when Americans could live and work together, putting race aside. And Nichols made history when Lt. Uhura and Captain Kirk embraced in the first inter-racial kiss on American television.
We can partly thank Martin Luther King, Jr. for all of this. As Nichols explains below, she gave considered leaving Star Trek at the end of Season 1, hoping to pursue a broadway career. But MLK asked her to reconsider. A big fan of the show, Dr. King underscored the importance of her character, of what it meant to future African-Americans, of how her character, through the power of TV, was opening a door that could never be closed. Needless to say, he persuaded her to stay on the show, and the rest is glorious history.
Follow Open Culture on Facebook and Twitter and share intelligent media with your friends. Or better yet, sign up for our daily email and get a daily dose of Open Culture in your inbox. 
If you'd like to support Open Culture and our mission, please consider making a donation to our site. It's hard to rely 100% on ads, and your contributions will help us provide the best free cultural and educational materials.
Related Content:
Neil deGrasse Tyson Lists 8 (Free) Books Every Intelligent Person Should Read
Stephen Colbert Talks Science with Astrophysicist Neil deGrasse Tyson
Neil deGrasse Tyson Delivers the Greatest Science Sermon Ever