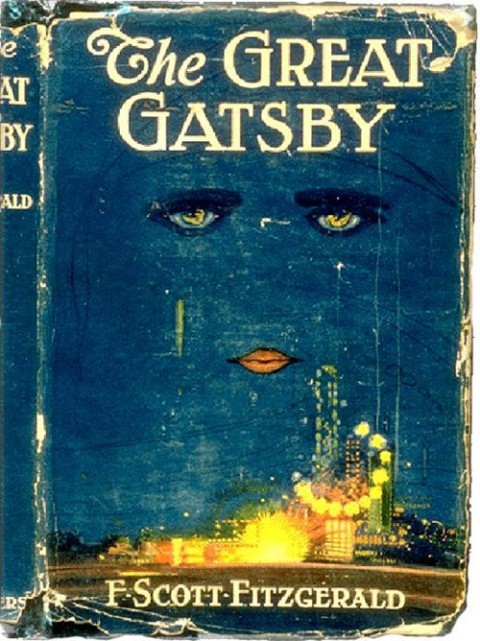 Everybody is familiar with Francis Cugat's original cover art for The Great Gatsby. It famously gives expression to lines from Fitzgerald's classic work -- lines that talk about Daisy Buchanan as the "girl whose disembodied face floated along the dark cornices and blinding signs." According to Charles Scribner III, the original publisher, Cugat created the design while Fitzgerald was still writing the novel, and when Fitzgerald saw the disembodied face, he couldn't resist writing the imagery into the book. Scribner quotes the author as saying, "For Christ's sake, don't give anyone that jacket you're saving for me. I've written it into the book."
Today, Cugat's original book jacket fetches more at auction than a first edition of the novel itself. And even though many other artists have taken a crack at designing covers for The Great Gatsby, none holds a candle to Cugat's 1925 design. Just take a look at this photo gallery at The New York Times. (Click on each cover to see them in a larger format.)
The Gatsby book covers all currently reside at the University of South Carolina, which houses other items that Fitzgerald held near and dear to him -- like his copy of Joyce's Ulysses, his leather briefcase, flask, and more. You can also find original dust jackets for Fitzgerald's other novels on the SC web site, including Tender is the Night, This Side of Paradise, and The Last Tycoon.
Related Content:
The Only Known Footage of the 1926 Film Adaptation of The Great Gatsby (Which F. Scott Fitzgerald Hated)
Seven Tips From F. Scott Fitzgerald on How to Write Fiction
Lolita Book Covers: 100+ Designs From 37 Countries (Plus Nabokov's Favorite Design)
Jack Kerouac's Hand-Drawn Cover for On the Road
Find The Great Gatsby in our Free eBooks collection
Find the Yale Course "Hemingway, Fitzgerald, Faulkner" in our Collection of 700 Free Online Courses