In 2006, a jury of 1,500 filmmakers, actors, actresses, critics and historians created a list of the 100 Most Inspiring Films of All Time. It's a Wonderful Life, Frank Capra's 1946 Christmas tale starring Jimmy Stewart, took top honors. And perhaps you know that the film fell into the public domain for some years, before being yanked back out. But another Frank Capra film, Meet John Doe, remains in the commons. And it ranks 49th on the same list of Inspirational Films.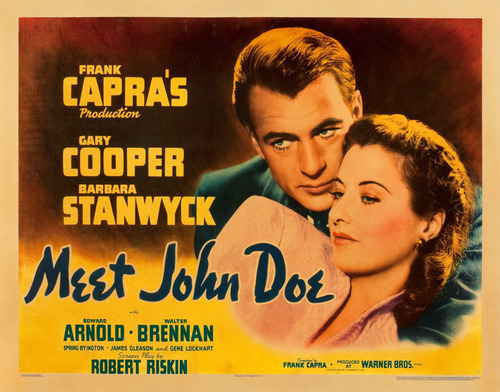 Called "a fable that deals with the dangers of home grown fascism, and the power of the ordinary man and little people to prevent the triumph of dark forces," Meet John Doe can be "grouped into a populist trilogy of Capra films about American individualism," along with Mr. Deeds Goes to Town (1936) and Mr. Smith Goes to Washington (1939). Starring Gary Cooper and Barbara Stanwyck, Meet John Doe (1941) was nominated for the Academy Award for Best Story.
You can watch the uplifting film above, or find it listed in our collection of 675 Free Movies Online. More pristine copies can be found on Amazon.
Related Content:
Private Snafu: The World War II Propaganda Cartoons Created by Dr. Seuss, Frank Capra & Mel Blanc
22 Free Hitchcock Movies Online
65 Free Charlie Chaplin Films Online