A friend recently told me about a screening of Andrei Tarkovsky's Solaris he attended in a state of, er, expanded perception. The vivid sci-fi trip he'd expected turned into the most harrowing emotional experience of his life. 2001: A Space Odyssey has proven a reliable favorite of the consciousness-altering crowd since it came out in 1968, almost to the point where you'd think Kubrick made the film just for them. But Tarkovsky's 1972 story of a sentient planet and the hallucinations with which it tempts and torments a nearby space station has an entirely different existential conception of mankind's venture into the unknown realms of space and time. Whatever your own state of mind, you can watch Solaris free online. (Watch part one here, and part two here and make sure click "cc" at the bottom of the videos to launch the subtitles.) If you don't feel sure about taking the plunge, have a look first at the updated trailer above. (You can also watch the original 1972 trailer in both Russian and English.)
Reworking Stanislaw Lem's original novel toward his own artistic ends, Tarkovsky realized his vision of the future with a number of unusual techniques. Viewers often take special, bemused notice of the scene above, a five-minute drive down an urban highway which comes just before the protagonist, psychologist Kris Kelvin, departs for his space mission. (Tarkovsky liked to say he put it there to discourage impatient filmgoers.) The clip includes commentary from film scholars Vida Johnson and Graham Petrie. As Johnson explains, "Tarkovsky knew that in order to situate the story in a foreign place and a distant time, both to fulfill genre requirements and deflect potential censors, he needed to contrast his nostalgia for nature and the past with a city of the future." And so, unable to build such a thing on his limited budget, Tarkovsky went to Tokyo: "The Japanese road signs, the foreign cars, long tunnels, and multi-lane highways with winding bridges and overpasses might have represented a city of the future for early-1970s Soviet audiences used to simple two-lane roads and domestic tin-box cars, if they were lucky enough to have a car at all."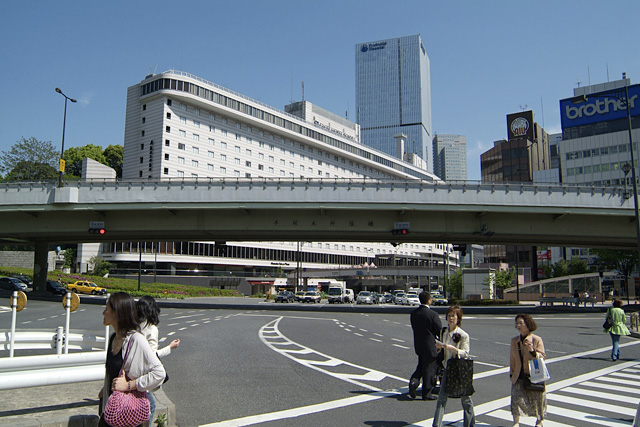 Petrie references an entry from Tarkovsky's diaries "where he worries that if the Japanese visa doesn't come through in time, they will miss the end of the exhibition" — probably Osaka's thoroughly future-oriented Expo '70 World's Fair. (Incidentally, next time you swing by Osaka, I do recommend taking a walk around the still-fascinating Expo '70 grounds.) Tarkovsky did end up missing the Osaka exhibition, and so he shot in Tokyo instead. At Tarkovsky fan site nostalghia.com, Yuji Kikutake has gone through modern-day Tokyo and found the surviving landmarks of the Akasaka and Iikura neighborhoods over which the sequence passes — revealing the future, in other words, of the city of the future. Whatever you think of the resulting five minutes, the fact that Tarkovsky managed to go shoot them and that the officials in charge funded it demonstrates, as Petrie puts it, not just "the ingenuity of filmmakers trying to penetrate the Iron Curtain," but "the high esteem in which [Tarkovsky] was held by the same film-industry bureaucrats who made his life miserable by cutting his budgets and trying to censor his films."
In addition to Solaris (part one, part two) you can find other major films by the Russian auteur in our collection of Free Tarkovsky Films, or our larger collection: 1,150 Free Movies Online: Great Classics, Indies, Noir, Westerns, etc..
Related Content:
Tarkovsky Films Now Free Online
The Masterful Polaroid Pictures Taken by Filmmaker Andrei Tarkovsky
Tarkovsky's Advice to Young Filmmakers: Sacrifice Yourself for Cinema
A Poet in Cinema: Andrei Tarkovsky Reveals the Director's Deep Thoughts on Filmmaking and Life
A Photographic Tour of Haruki Murakami's Tokyo, Where Dream, Memory, and Reality Meet
Colin Marshall hosts and produces Notebook on Cities and Culture and writes essays on cities, language, Asia, and men's style. He's at work on a book about Los Angeles, A Los Angeles Primer. Follow him on Twitter at @colinmarshall or on Facebook.