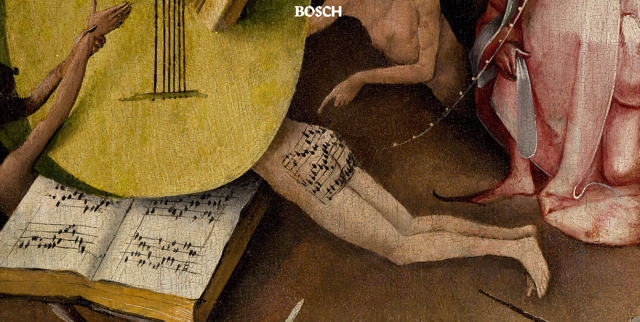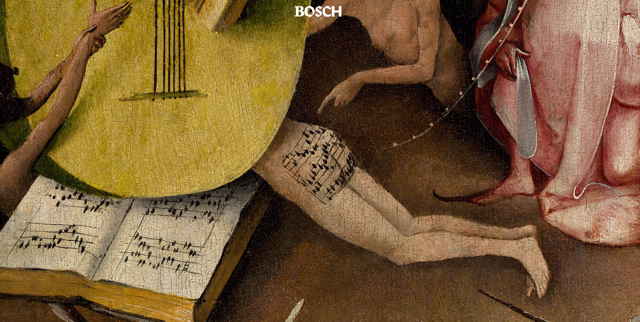 "Not a bum note in sight!" goes the headline, in all the Daily Mail's trademark subtlety. Mark Prigg's straight-to-the-point article tells us of "a musical score discreetly written on the butt of a figure in Garden Of Earthly Delights, the famous painting by Hieronymus Bosch," which, thanks to the labor of love of Oklahoma Christian University student Amelia Hamrick, "has become an online hit." The title of her rendition: "The 600-Year-Old Butt Song from Hell."
Going a bit upmarket to Sean Michaels in the Guardian, we find the details that, "posting on her Tumblr, a self-described 'huge nerd' called Amelia explained that she and a friend had been examining a copy of Bosch's famous triptych, which was painted around the year 1500. "[We] discovered, much to our amusement," she wrote, "[a] 600-years-old butt song from Hell." You can read about it on her viral post, which describes her project of transcribing Bosch's posterior-written score "into modern notation, assuming the second line of the staff is C, as is common for chants of this era."
You can actually hear a rendition of this heroically recovered composition by clicking on the video above. Some fine soul -- presumably a fellow named Jim Spalink -- took Hamrick's notation and turned it into music. When you're done, you can then give the Buttock song a close visual investigation by diving into the virtual tour of The Garden of Earthly Delights, featured here earlier this month. Look for the 13th stop on the guided tour, and you can see the musical notation in incredibly fine detail--finer detail than you could have ever hoped or imagined.
Related Content:
Take a Virtual Tour of Hieronymus Bosch's Bewildering Masterpiece The Garden of Earthly Delights
What Ancient Greek Music Sounded Like: Hear a Reconstruction That is '100% Accurate'
Listen to the Oldest Song in the World: A Sumerian Hymn Written 3,400 Years Ago
Based in Seoul, Colin Marshall writes and broadcasts on cities, language, and style. He's at work on a book about Los Angeles, A Los Angeles Primer, the video series The City in Cinema, the crowdfunded journalism project Where Is the City of the Future?, and the Los Angeles Review of Books' Korea Blog. Follow him on Twitter at @colinmarshall or on Facebook.