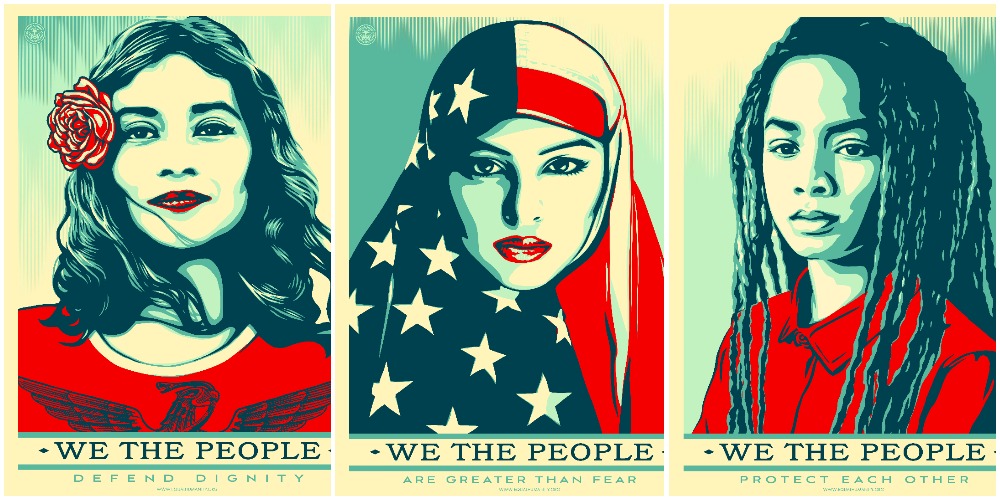 Shepard Fairey probably first crossed your radar when he drew the iconic "Hope" poster so associated with Barack Obama's 2008 campaign. Now, he returns with another set of posters to help protest the inauguration of one Donald J. Trump. If you head over to the Amplifier Foundation web site, you can download and print a series of posters (shown above) by Fairey. The same applies to a number of posters designed by other artists, including Jessica Sabogal and Ernesto Yerena.
The images capture the "shared humanity of our diverse America" and condemn the exclusionary policies of the incoming administration. And thanks to the $1.3 million raised through a successful Kickstarter campaign, these posters will figure into a larger Inauguration Day plan. Here's how it will work:
Much of Washington will be locked down on Inauguration Day, and in some areas there will be severe restrictions on signs and banners.  But we've figured out a hack.  It's called the newspaper!  On January 20th, if this campaign succeeds, we're going to take out full-page ads in the Washington Post with these images, so that people across the capitol and across the country will be able to carry them into the streets, hang them in windows, or paste them on walls.
You're welcome to print and post these posters around your town–wherever it's legally permitted to do so. To download the posters, click here.
Follow Open Culture on Facebook, Twitter, Instagram, Google Plus, and Flipboard and share intelligent media with your friends. Or better yet, sign up for our daily email and get a daily dose of Open Culture in your inbox. To make sure that our posts definitely appear in your Facebook newsfeed, just follow these simple steps.
If you'd like to help support Open Culture, please sign up for a 30-day free trial from Audible.com or The Great Courses Plus. You will get free audio books and free courses in return. No strings attached.
Related Content:
2,200 Radical Political Posters Digitized: A New Archive
A Gallery of Visually Arresting Posters from the May 1968 Paris Uprising
Artist Shepard Fairey Curates His Favorite YouTube Videos
Google Puts Online 10,000 Works of Street Art from Across the Globe