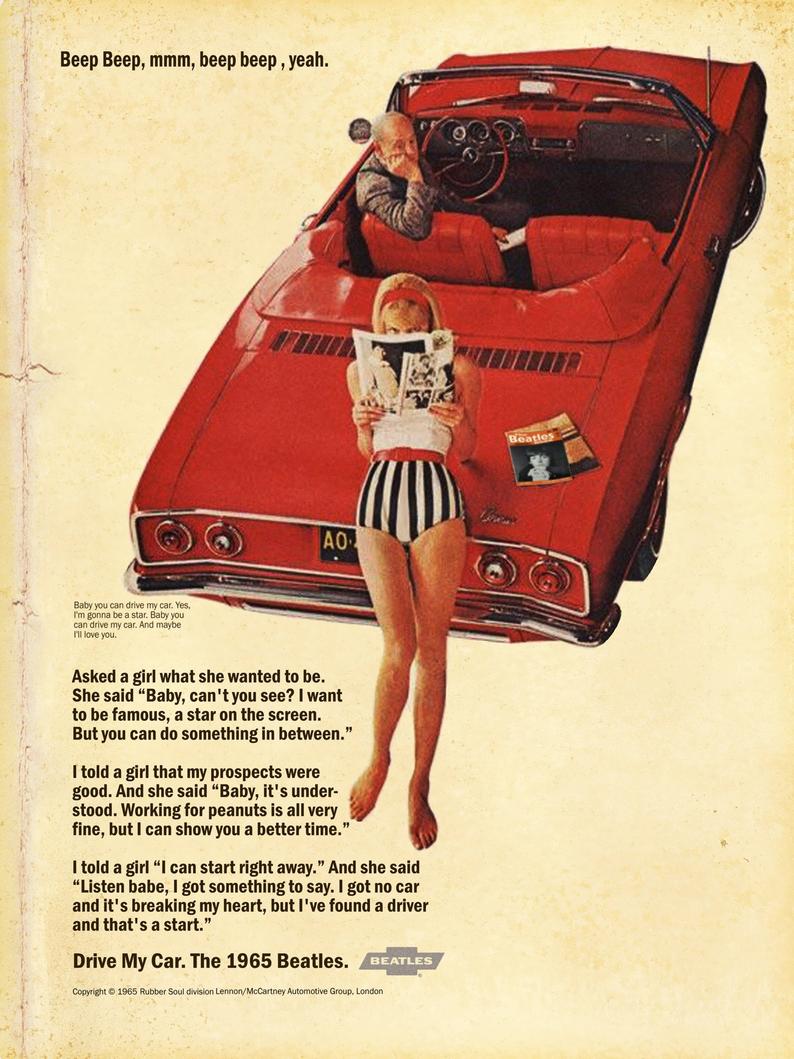 What makes the Bea­t­les the best-known rock band in his­to­ry? None can deny that they com­posed songs of unsur­passed catch­i­ness, a qual­i­ty demon­strat­ed as soon as those songs hit the air­waves. But the past 55 or so years have shown us that they also pos­sess an endur­ing pow­er to inspire: how many begin­ning musi­cians, fired up by their enjoy­ment of the Bea­t­les, play their first notes each day? The trib­utes to the music of the Bea­t­les keep com­ing in non-musi­cal forms as well: take, for exam­ple, these Bea­t­les songs turned into vin­tage book cov­ers and mag­a­zine pages by screen­writer and self-described "graph­ic-arts prankster" Todd Alcott.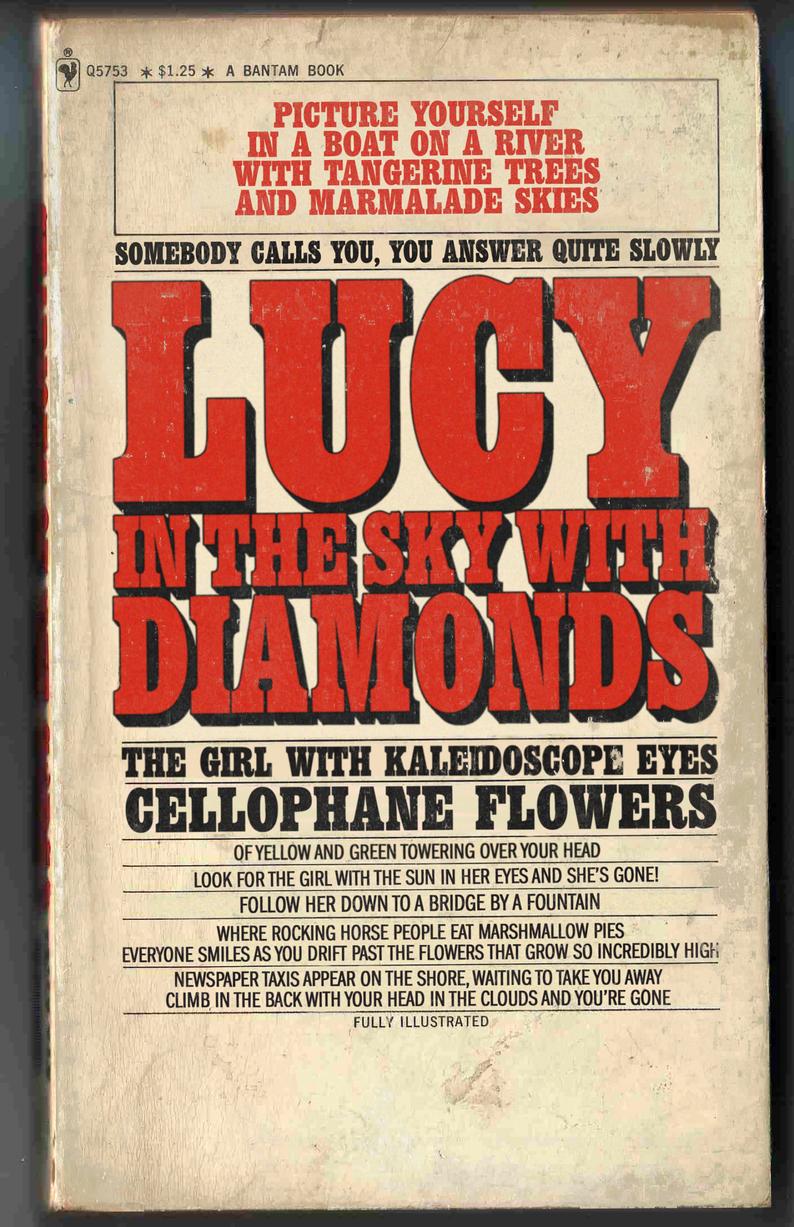 " 'Dri­ve My Car' re-imag­ines the clas­sic 1965 Bea­t­les song as a clas­sic 1965 adver­tise­ment for an actu­al car," Alcott writes of the work at the top of the post, "mash­ing up the image from an ad for a 1966 Chevro­let Cor­vair with the lyrics from the song."
Below that, "Lucy in the Sky with Dia­monds" makes of that num­ber a mass-mar­ket book cov­er "in the style of Erich von Daniken's clas­sic 1970s alien-vis­i­ta­tion book Char­i­ots of the Gods?" Below, Alcot­t's inter­pre­ta­tion of "Tomor­row Nev­er Knows" per­fect­ly re-cre­ates the look (and, with that vis­i­ble cov­er wear, the feel) of a heady 1960s sci­ence-fic­tion nov­el.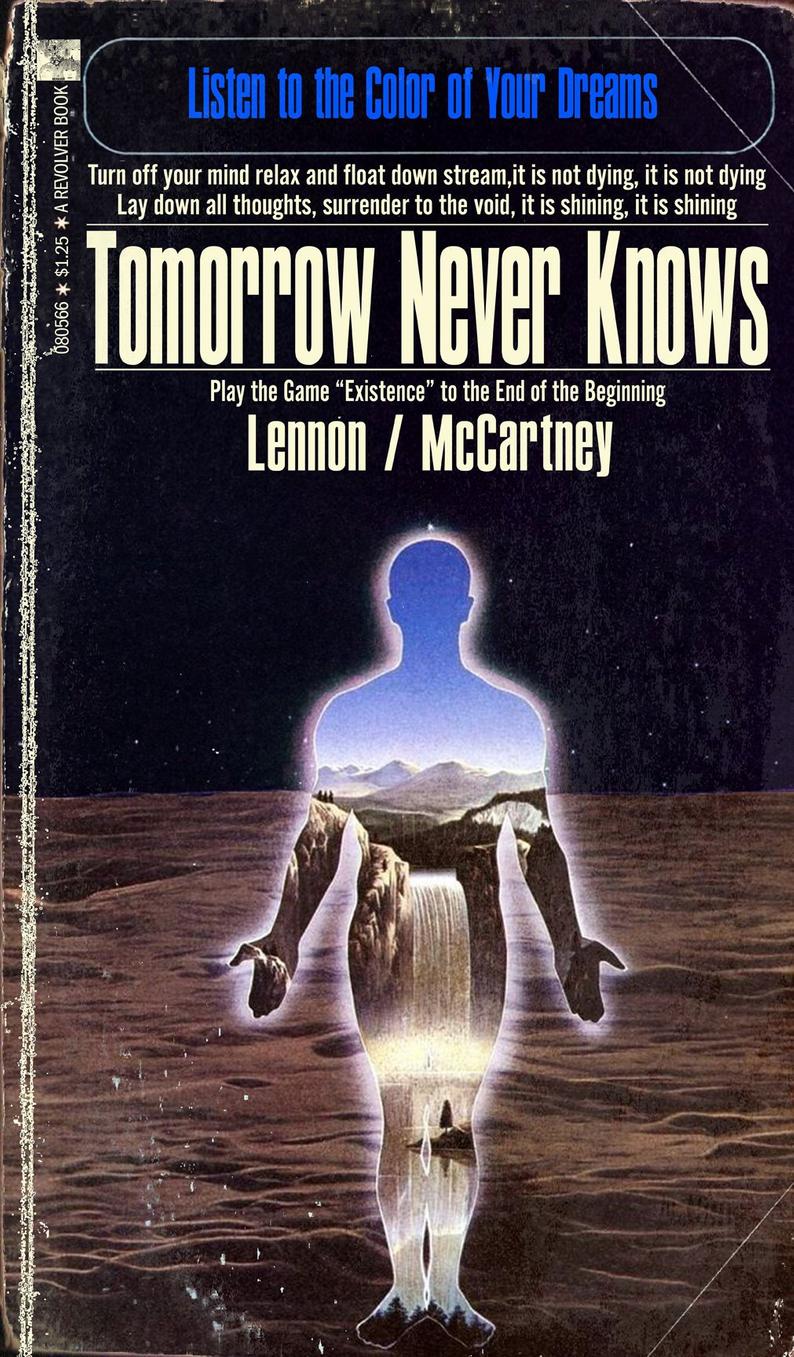 Tomor­row Nev­er Knows does sound like a plau­si­ble piece of spec­u­la­tive fic­tion from that era, but Alcott has made use of much more than these songs' titles. Even casu­al Bea­t­les fans will notice how much of their lyri­cal con­tent he man­ages to work into his designs, for which the 1967 Nation­al Enquir­er cov­er pas­tiche he put togeth­er for the 1967 sin­gle "A Day in the Life" ("com­plete with pho­tos of Tory Browne, the Guin­ness heir about whom the song was writ­ten") offered an espe­cial­ly rich oppor­tu­ni­ty. Just when the Bea­t­les broke up in real life, the era of the new-age self-help book began, and after see­ing what Alcott did with "Hel­lo Good­bye" using the dis­tinc­tive visu­al brand­ing of that pub­lish­ing trend, you'll won­der why no one cashed in on such a com­bi­na­tion at the time.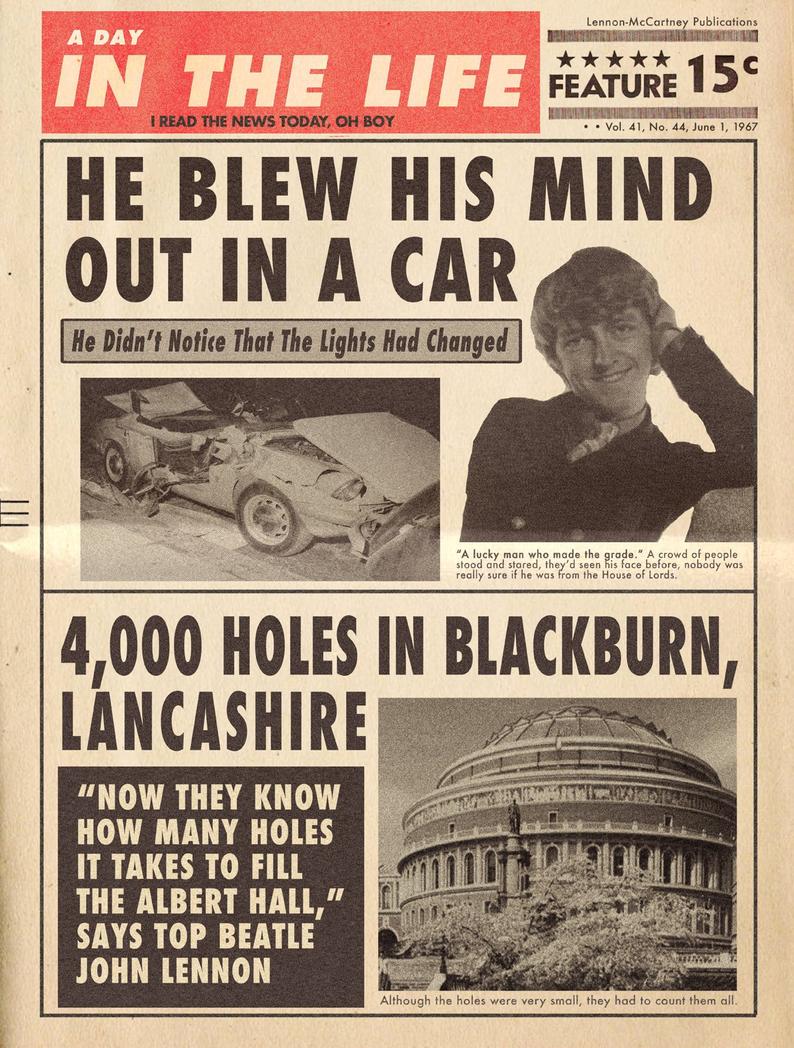 You can see all of Alcot­t's Bea­t­les book cov­er and mag­a­zine page designs, and buy prints of them in var­i­ous sizes, over at Etsy. Oth­er selec­tions include "Rocky Rac­coon" as an 1880s dime nov­el (pub­lish­ers of which includ­ed a firm named Bea­dles) and "Rev­o­lu­tion" as a Sovi­et his­to­ry book. Open Cul­ture read­ers will know Alcott from his pre­vi­ous for­ays into retro music-to-book graph­ic design, which took the songs of David Bowie, Bob Dylan, Radio­head and oth­ers and re-imag­ined them as sci-fi nov­els, pulp-fic­tion mag­a­zines, and oth­er arti­facts of print cul­ture from times past. In the case of the Bea­t­les, Alcot­t's for­mi­da­ble skill at evok­ing a high­ly spe­cif­ic era of recent his­to­ry with an image under­scores, by con­trast, the time­less­ness of the songs that inspired them.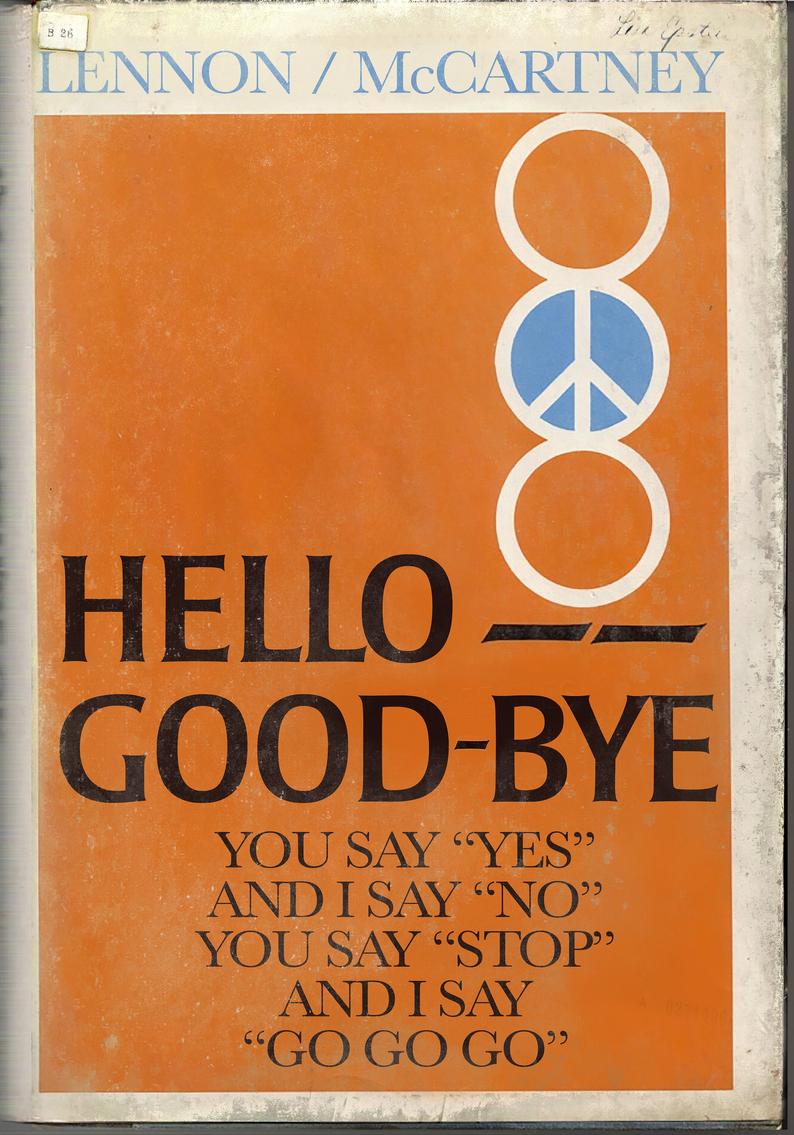 Relat­ed Con­tent:
A Short Film on the Famous Cross­walk From the Bea­t­les' Abbey Road Album Cov­er
How The Bea­t­les' Sgt. Pepper's Lone­ly Hearts Club Band Changed Album Cov­er Design For­ev­er
Songs by David Bowie, Elvis Costel­lo, Talk­ing Heads & More Re-Imag­ined as Pulp Fic­tion Book Cov­ers
Clas­sic Songs by Bob Dylan Re-Imag­ined as Pulp Fic­tion Book Cov­ers: "Like a Rolling Stone," "A Hard Rain's A‑Gonna Fall" & More
Clas­sic Radio­head Songs Re-Imag­ined as a Sci-Fi Book, Pulp Fic­tion Mag­a­zine & Oth­er Nos­tal­gic Arti­facts
Pulp Cov­ers for Clas­sic Detec­tive Nov­els by Dashiell Ham­mett, Arthur Conan Doyle, Agatha Christie & Ray­mond Chan­dler
Based in Seoul, Col­in Mar­shall writes and broad­casts on cities, lan­guage, and cul­ture. His projects include the book The State­less City: a Walk through 21st-Cen­tu­ry Los Ange­les and the video series The City in Cin­e­ma. Fol­low him on Twit­ter at @colinmarshall, on Face­book, or on Insta­gram.