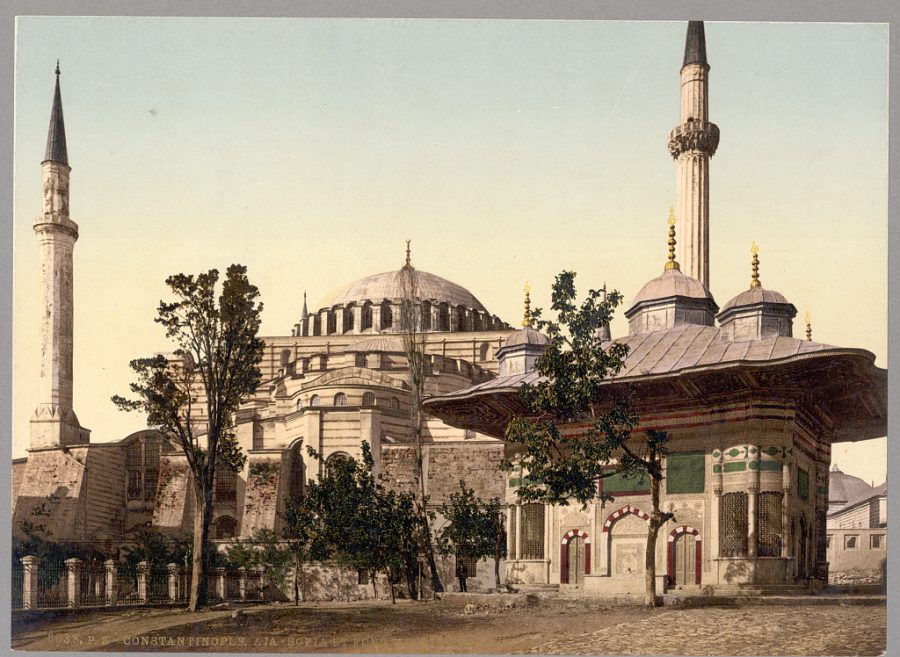 Even those who know nothing else about Istanbul know that it used to be called Constantinople. The official renaming happened in 1930, meaning that the photographs you see here, all of which date from around 1890, were taken, strictly speaking, not in Istanbul but Constantinople. But under any name, and despite all the other changes that have occurred over the past 130 years, the Turkish metropolis on the Bosphorus remains recognizable as the gateway between East and West it has been throughout recorded history. This is thanks in part to its oldest landmarks, above all the cathedral-turned-mosque-turned-museum known as Hagia Sophia, pictured above.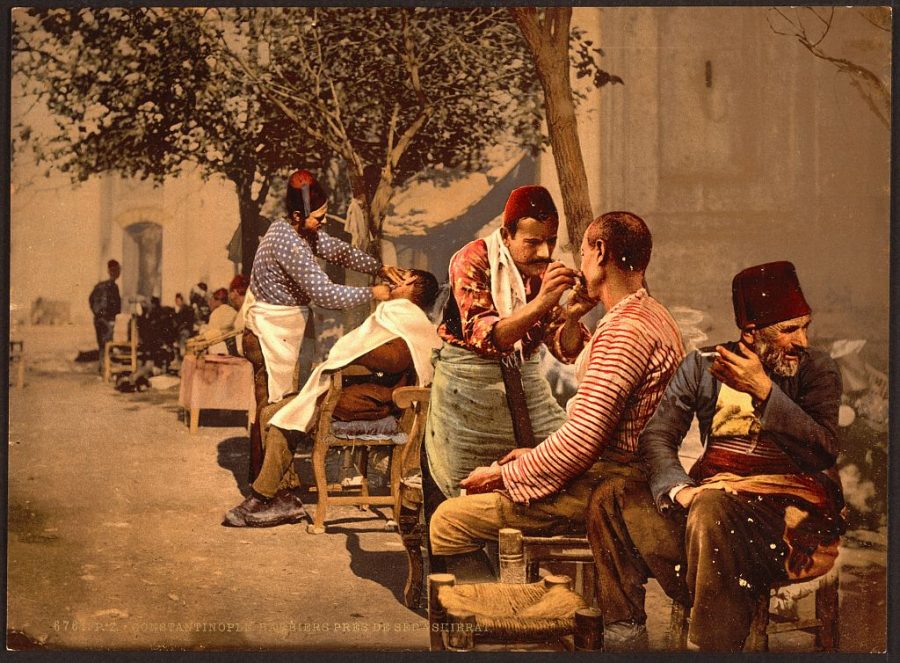 In the 1890s Hagia Sophia was still a mosque, and as we recently posted here, it has just this year become one again. But as a historically rich structure even by the standards of such a historically rich city, it will no doubt remain Istanbul's prime tourist attraction in the 2020s, much as it must have been in the 19th century.
For those who couldn't make the trip in those days — or who could make the trip and wanted to bring home souvenirs that could convey as richly as possible what they'd seen on their travels — there were Photocrom prints. Though not technically a color photography process, Photocrom could produce fairly convincing images by applying color to black-and-white pictures.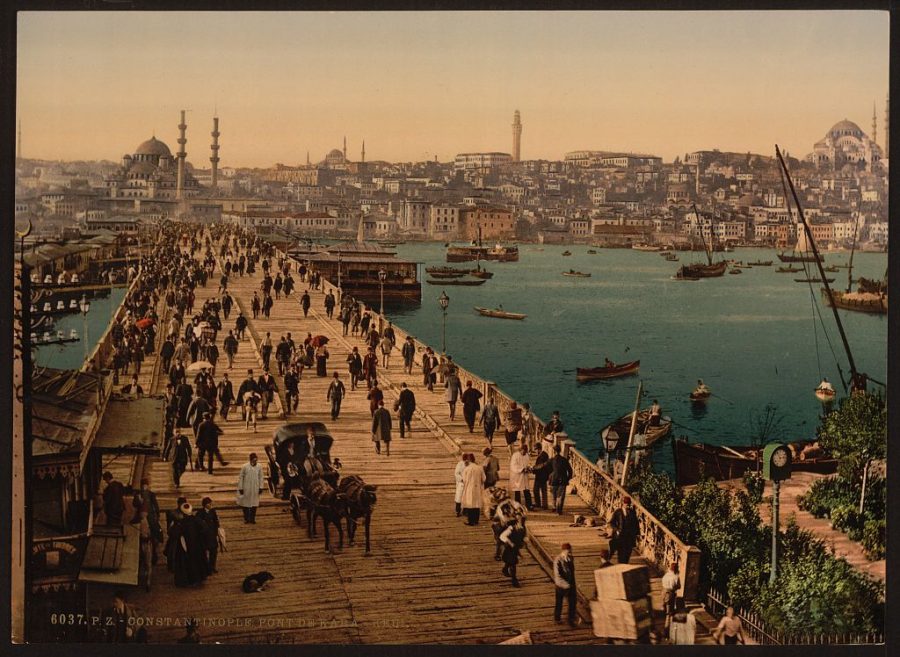 Hence Photocrom's use in capturing vistas from the great European cities, including Rome, Venice, and Paris, all previously featured here on Open Culture. Photocrom prints, explains the Library of Congress' web site, "are ink-based images produced through 'the direct photographic transfer of an original negative onto litho and chromographic printing plates,'" a technology that allowed for the mass production of images that could then be widely distributed. Thanks to the ventures of licensees like the Detroit Publishing Company, those on the other side of the world could behold a city like Istanbul — or rather Constantinople — through what looked "deceptively like color photographs."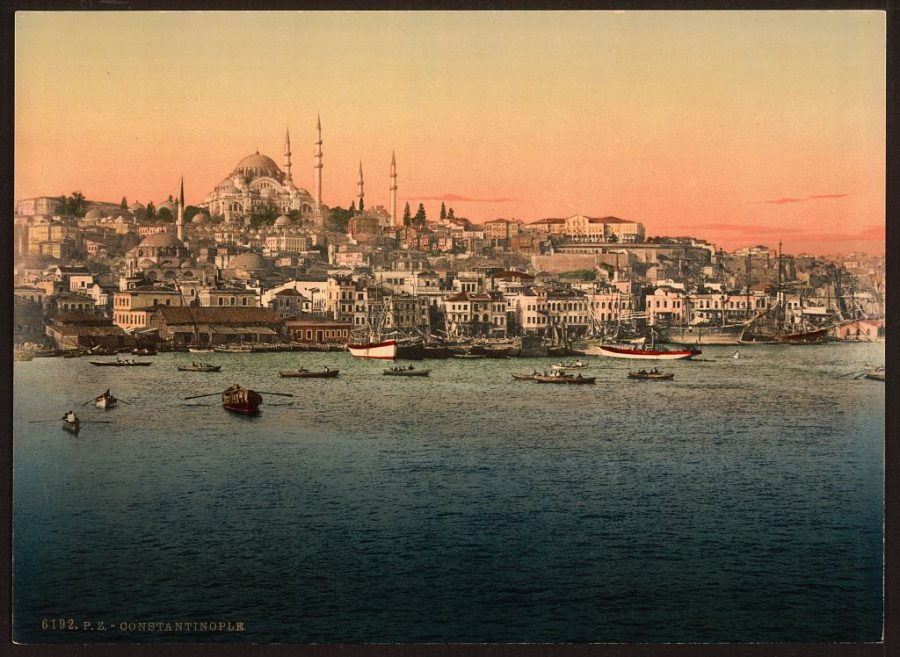 The subjects of these prints, all of which you can view and download at the Library of Congress' online archive, include not just Hagia Sophia but the fountain of Sultan Ahmed, Topkaki Palace's imperial gate, and the Galata Bridge (for which Leonardo da Vinci himself once submitted a design). Other pictures depict the city's street life with views of the Eminönü bazaar as well as barbers and cooks plying their trade in the open air. The colors and contrasts of the Photocrom process gives all of them a sense of reality more vivid, in a way, than reality itself — but as those who've been there know, the reality of Istanbul is vivid enough for anybody.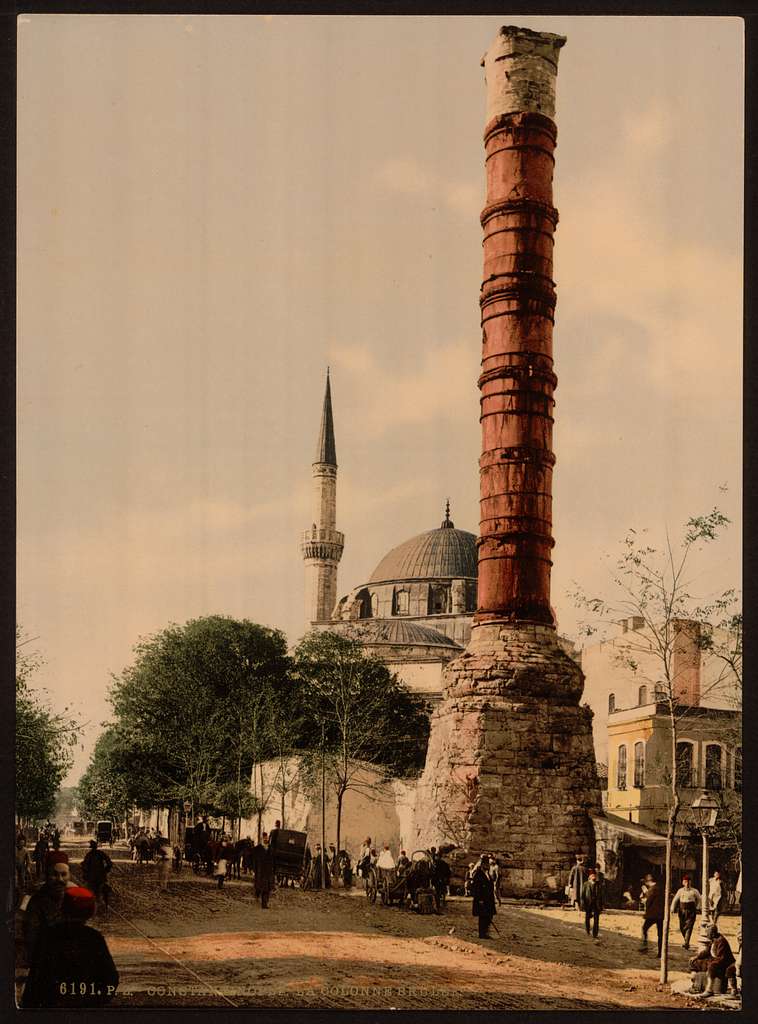 Related Content:
Free: Download Thousands of Ottoman-Era Photographs That Have Been Digitized and Put Online
An Introduction to Hagia Sophia: After 85 Years as a Museum, It's Set to Become a Mosque Again
Rome Comes to Life in Photochrom Color Photos Taken in 1890: The Colosseum, Trevi Fountain & More
Venice in Beautiful Color Images 125 Years Ago: The Rialto Bridge, St. Mark's Basilica, Doge's Palace & More
Paris in Beautiful Color Images from 1890: The Eiffel Tower, Notre Dame, The Panthéon, and More (1890)
Based in Seoul, Colin Marshall writes and broadcasts on cities, language, and culture. His projects include the book The Stateless City: a Walk through 21st-Century Los Angeles and the video series The City in Cinema. Follow him on Twitter at @colinmarshall, on Facebook, or on Instagram.