Peter Paul Rubens' zaftig beauties and plump little angels burst with health. His "powerful and exuberant style," notes one analysis of his technique, "came to characterize the Baroque art of northern Europe." Rubens' name became synonymous with figures who were "realistic, fleshy and indeed corpulent… set in dynamic compositions that echo the grand organizations of the Renaissance masters."
An excellent example of such a composition is The Feast of Venus (1636), painted in the "ecstatic intensity" of Rubens' own style, writes the Kunsthistorisches Museum Wien, after a "description in antiquity of a Greek painting in which a cult image of Aphrodite is decorated by nymphs, with winged cupids dancing around it." Venus may be at the center of the huge piece, but the cupids' roly-poly arms and legs upstage her.
Rubens' cupids already look like they're going to pop off the canvas. In the video at the top, one of them does—breaks right through the frame, scampers across the top and takes flight around the gallery over the heads of awed onlookers. Cupid retrieves a bow and arrows and begins firing love darts around the room. The scene is Brussels Airport, where a selection of Rubens' paintings recently hung in an art-themed lounge.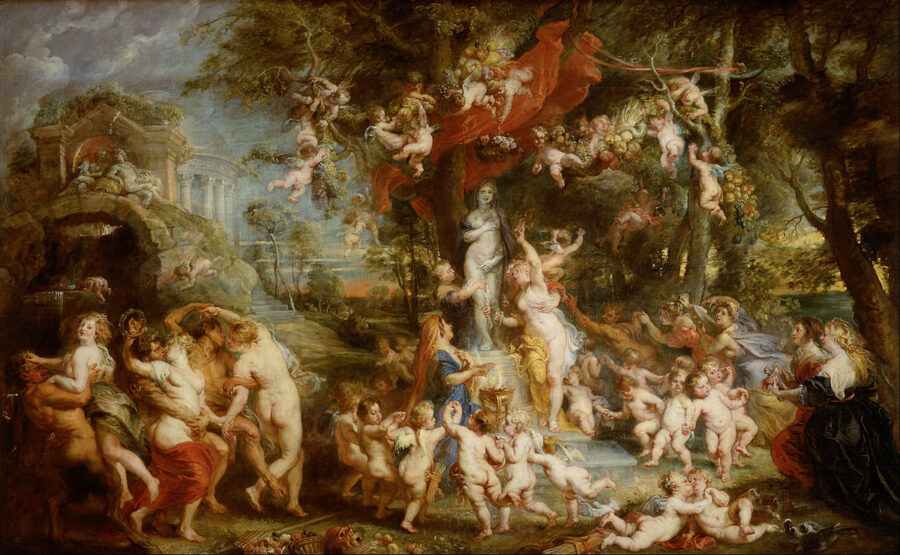 The spectators are passengers waiting for their flights, and the escaped cupid is a trick of projection mapping, created by the Belgian company SkullMapping and commissioned by the tourist agency VisitFlanders. The cupid flew until April of last year, when the paintings were replaced by work from Brueghel as part of a larger project to promote Flemish art and culture in places where people are most likely to encounter it.
Would such small-scale projection maps, "mini-mapping," as it's called, ever be employed in an actual gallery, to the work of revered old masters? Might this be something of an art world heresy? Or might we see in the near future huge, detailed canvases of painters like Rubens and his role model, Titian, suddenly burst into three dimensions, their subjects given life, of some kind, and invited to walk or fly around the halls?
Do these gimmicks trivialize great art or renew appreciation for it? I'd wager that, if he were alive, Rubens might thrill to see his well-fed cupids and angels in motion, and he might just take to building projection maps himself. We have some small idea, at least, of what they might look like, above.
Related Content:
The Largest & Most Detailed Photograph of Rembrandt's The Night Watch Is Now Online: Zoom In & See Every Brush Stroke
Batman & Other Super Friends Sit for 17th Century Flemish Style Portraits
Artist Nina Katchadourian Creates Flemish Style Self-Portraits in Airplane Lavatory
Josh Jones is a writer and musician based in Durham, NC. Follow him at @jdmagness