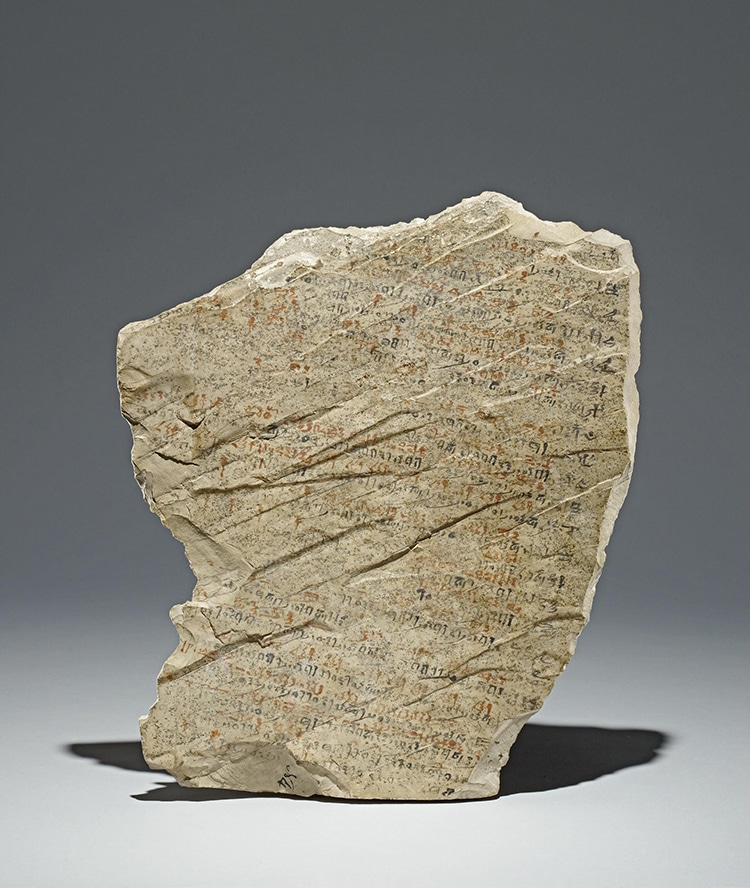 We marvel today at what we consider the wonders of ancient Egypt, but at some point, they all had to have been built by people more or less like ourselves. (This presumes, of course, that you've ruled out all the myriad theories involving supernatural beings or aliens from outer space.) Safe to say that, whenever in human history work has been done, work has been skipped, especially when that work is performed by large groups. It would've taken great numbers indeed to build the pyramids, but even less colossally scaled tombs couldn't have been built alone. And when a tomb-builder took the day off, he needed an excuse suitable to be written in stone — on at any rate, on stone.
"Ancient Egyptian employers kept track of employee days off in registers written on tablets," writes Madeleine Muzdakis at My Modern Met. One such artifact "held by the British Museum and dating to 1250 BCE is an incredible window into ancient work-life balance." Called ostraca, these tablets were made of "flakes of limestone that were used as 'notepads' for private letters, laundry lists, records of purchases, and copies of literary works," according to Egyptologist Jennifer Babcock.
Discovered along with thousands of others in the tomb builder's village of Deir el-Medina, this particular ostracon, on view at the British Museum's web site, offers a rich glimpse into the lives of that trade's practitioners. Over the 280-day period covered by this 3,200-year-old ostracon, common excuses for absence include "brewing beer" and "his wife was bleeding."
Beer, Muzdakis explains, "was a daily fortifying drink in Egypt and was even associated with gods such as Hathor. As such, brewing beer was a very important activity." And alarming though that "bleeding" may sound, the reference is to menstruation: "Clearly men were needed on the home front to pick up some slack during this time. While one's wife menstruating is not an excuse one hears nowadays, certainly the ancients seem to have had a similar work-life juggling act to perform." Most of us today presumably have it easier than did the average ancient Egyptian laborer, or even artisan. Depending on where you live, maybe you, too, could call in sick to work with the excuse of having been bitten by a scorpion. But how well would it fly if you were to plead the need to feast, to embalm your brother, or to make an offering to a god?
Related content:
A 4,000-Year-Old Student 'Writing Board' from Ancient Egypt (with Teacher's Corrections in Red)
Try the Oldest Known Recipe For Toothpaste: From Ancient Egypt, Circa the 4th Century BC
An Ancient Egyptian Homework Assignment from 1800 Years Ago: Some Things Are Truly Timeless
A 3,000-Year-Old Painter's Palette from Ancient Egypt, with Traces of the Original Colors Still In It
The Turin Erotic Papyrus: The Oldest Known Depiction of Human Sexuality (Circa 1150 B.C.E.)
Wonders of Ancient Egypt: A Free Online Course from the University of Pennsylvania
Based in Seoul, Colin Marshall writes and broadcasts on cities, language, and culture. His projects include the Substack newsletter Books on Cities, the book The Stateless City: a Walk through 21st-Century Los Angeles and the video series The City in Cinema. Follow him on Twitter at @colinmarshall or on Facebook.