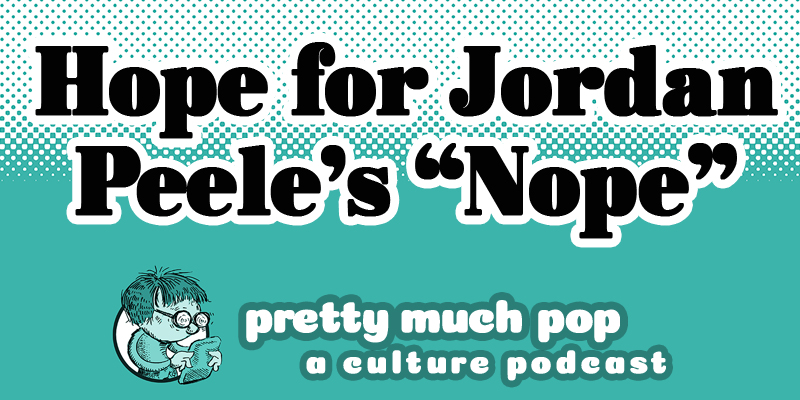 Jor­dan Peele's launch from a sol­id com­e­dy base with Com­e­dy Cen­tral's Key & Peele show to the unex­pect­ed hor­ror film Get Out was so impres­sive that he's gen­er­at­ed a huge amount of good will that allows him to play the full-on auteur with huge bud­gets. Did that pay off with his third film, the mon­ster movie Nope?
Your Pret­ty Much Pop host Mark Lin­sen­may­er is joined by Lawrence Ware (phi­los­o­phy prof. and enter­tain­ment writer), Sarahlyn Bruck (nov­el­ist and writ­ing prof.), and Nicole Pomet­ti (media artist and pod­cast­er) to sec­ond guess Peele's var­i­ous cre­ative deci­sions.
A few arti­cles we reviewed include:
Fol­low us @law_writes, @sarahlynbruck, @remakespodcast, @MarkLinsenmayer.
Hear more Pret­ty Much Pop. Sup­port the show and hear bonus talk­ing for this and near­ly every oth­er episode at patreon.com/prettymuchpop or by choos­ing a paid sub­scrip­tion through Apple Pod­casts. This pod­cast is part of the Par­tial­ly Exam­ined Life pod­cast net­work.
Pret­ty Much Pop: A Cul­ture Pod­cast is the first pod­cast curat­ed by Open Cul­ture. Browse all Pret­ty Much Pop posts.