Mikhail Gorbachev, the 8th and final leader of the Soviet Union, died last month at age 91, a news event that triggered responses ranging from "Who?" to "Wow, was he still alive?" The first response reflects poorly on the teaching of history: journalists reporting on Gorbachev's death have been obliged to explain his significance to many American readers just a few decades after his name filled U.S. headlines. But it's also true that Gorbachev left a thoroughly ambiguous legacy that seems to grow only more muddled with time.
As historian Richard Sakwa wrote on the 20th anniversary of the short-lived Soviet empire's collapse, Gorbachev is remembered in the U.S. — depending on who's remembering — as either a "magnificent failure" or a "tragic success." Some former Soviets, especially those more partial to the authoritarianism of a Stalin or Putin, omit any positive descriptions of Gorbachev's major achievement – to wit, reforming the U.S.S.R. out of existence in the late 1980s with little need, really, for Reagan's extravagant nuclear posturing.
Putin himself calls the fall of the U.S.S.R. "the greatest geopolitical catastrophe" of the previous century, an assessment shared by many who agree with him on nothing else. At the end of the 80s, however, an emerging generation of Russians had no clear sense of what was happening as their country fell apart. "I was 6 when the Soviet Union broke up," Anatoly Kurmanaev writes at The New York Times. "I had no idea at the time that the person most responsible for the overwhelming changes transforming my hometown in Siberia was a man called Mikhail Gorbachev. I remember standing in line for bread in the dying days of Communism, but I don't remember much discussion of his 'perestroika.'"
Mixed admiration and contempt for Gorbachev trickled down to a younger generation a few years later. "The snatches of conversation I could hear were about people being fed up," writes Kurmanaev, "not about the man with a distinctive birthmark sitting in the Kremlin…. Ironically, my first distinct, independent memory of Mr. Gorbachev, as perhaps for many of my generation, dates to a 1998 commercial for Pizza Hut," an ad made by the U.S. fast-food company to celebrate the opening of a restaurant near Red Square, and made by Gorbachev because… well, also ironic, given the ad's premise… he needed the money.
Written by Tom Darbyshire of ad agency BBDO, the commercial stages a debate between patrons at the restaurant before Gorbachev's arrival calms things down. "Meant to be tongue-in-cheek," Maria Luisa Paul writes at The Washington Post, the ad intended to show that "pizza is one of those foods that brings people together and bridges their differences," says Darbyshire. In yet another irony, Gorbachev himself — who negotiated for a year before agreeing to the spot — refused to eat pizza on camera, allowing his granddaughter the honor instead.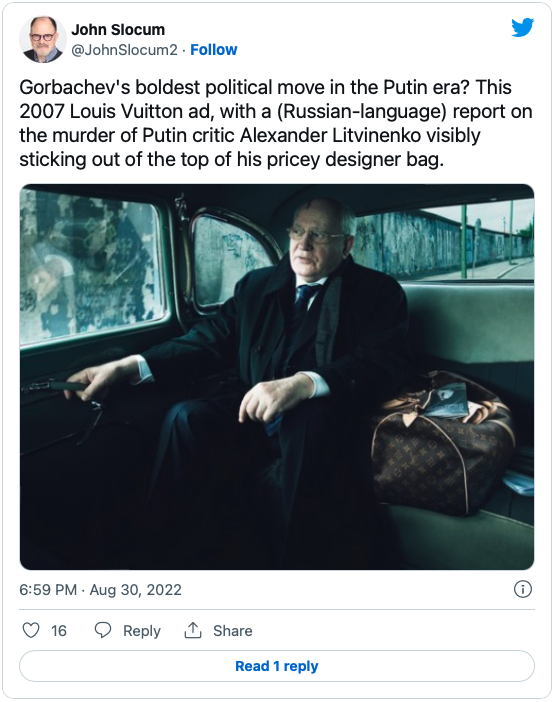 Though he wouldn't touch the stuff, Gorbachev defended himself against critics, including his own wife, Raisa, by saying "pizza is for everyone. It's not only consumption. It's also socializing." What was the talk at Gorbachev's local Pizza Hut on the day he popped in with his grandchild to socialize? Why, it was talk of Gorbachev.
"Because of him, we have economic confusion!" one diner alleges.
"Because of him, we have opportunity!" retorts another.
"Because of him, we have political instability," the first responds.
An older woman breaks the impasse by stating their obvious mutual affinities for pizza, to which all reply, "Hail to Gorbachev!"
Try as they might, not even Pizza Hut could heal the wounds caused by the country's economic confusion and political instability.
The ad has circulated on social media, and in history classes, before and after Gorbachev's death as an example of mass media that "still reflects his legacy," writes Paul. Gorbachev may be largely forgotten — at least in the U.S. — decades after the Pizza Hut ad aired, but it wouldn't be his last attempt to leave his mark in advertising, as we see in the 2007 Louis Vuitton ad above, featuring a product much less accessible than pizza to the average Russian.
Related Content:
The History of Soviet Rock: From the 70s Underground Rock Scene, to Soviet Punk & New Wave in the 1980s
The Soviet Union Creates a List of 38 Dangerous Rock Bands: Kiss, Pink Floyd, Talking Heads, Village People & More (1985)
Long Before Photoshop, the Soviets Mastered the Art of Erasing People from Photographs — and History Too
Josh Jones is a writer and musician based in Durham, NC. Follow him at @jdmagness