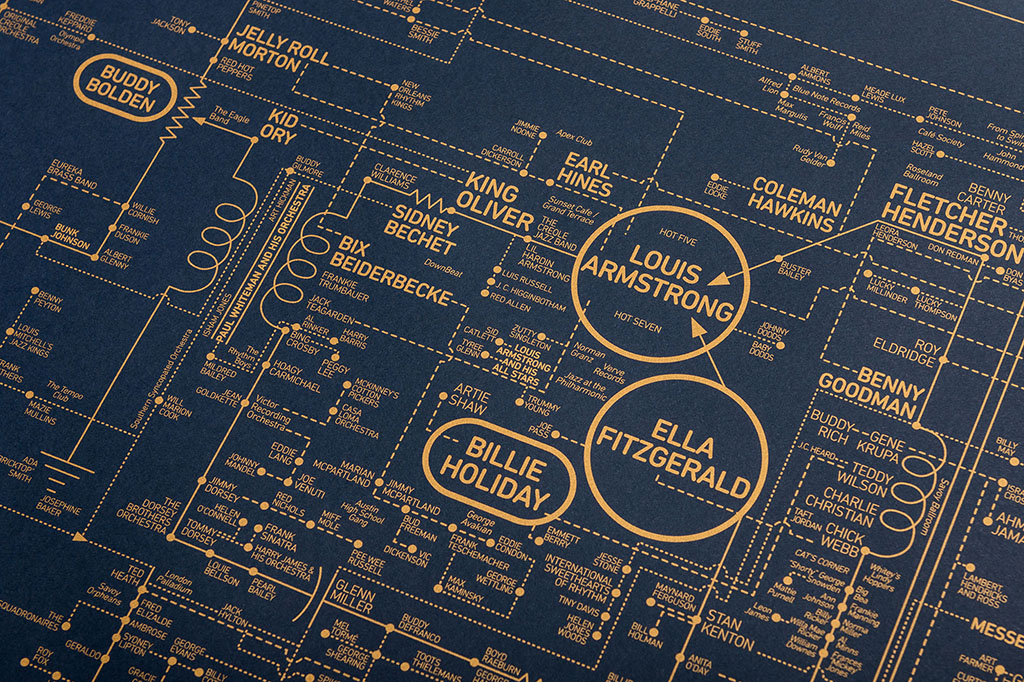 The danger of enjoying jazz is the possibility of letting ourselves slide into the assumption that we understand it. To do so would make no more sense than believing that, say, an enjoyment of listening to records automatically transmits an understanding of record players. One look at such a machine's inner workings would disabuse most of us of that notion, just as one look at a map of the universe of jazz would disabuse us of the notion that we understand that music in all the varieties into which it has evolved. But a jazz map that extensive hasn't been easy to come by until this month, when design studio Dorothy put on sale their Jazz Love Blueprint.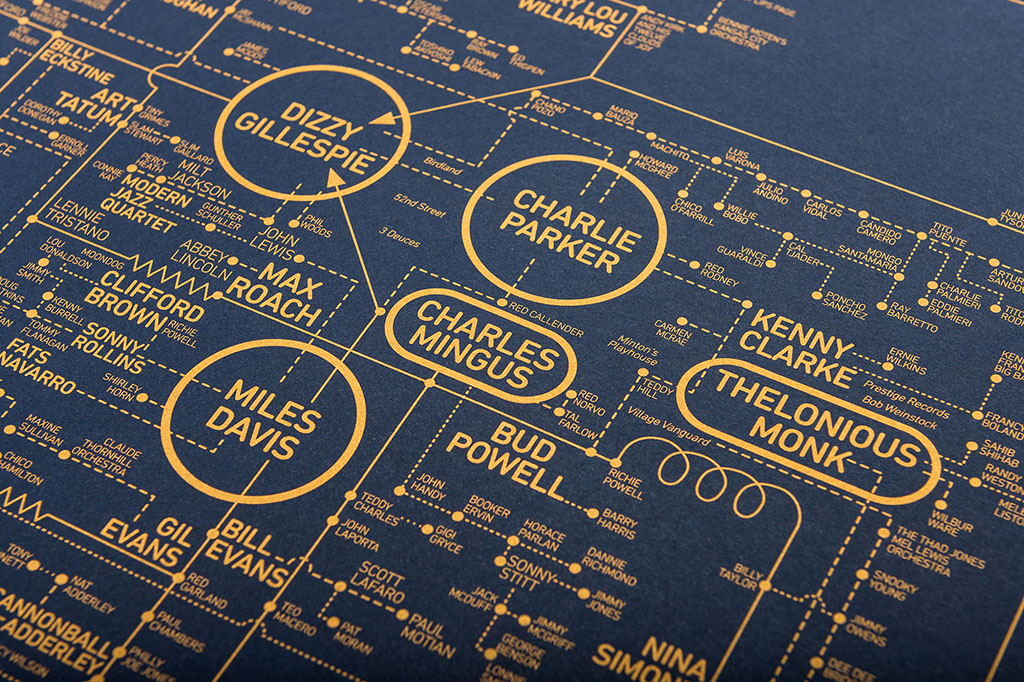 Measuring 80 centimeters by 60 centimeters (roughly two and half by two feet), the Jazz Love Blueprint visually celebrates "over 1,000 musicians, artists, songwriters and producers who have been pivotal to the evolution of this ever changing and constantly creative genre of music," diagramming the connections between the defining artists of major eras and movements in jazz.
These include the "innovators that laid the foundations for jazz music" like Scott Joplin and Jelly Roll Morton, "original jazz giants" like Louis Armstrong and Ella Fitzgerald, "inspired musicians of bebop" like Charlie Parker, Dizzy Gillespie, and such leading lights of "spiritual jazz" as John Coltrane, Alice Coltrane, and the late Pharoah Sanders.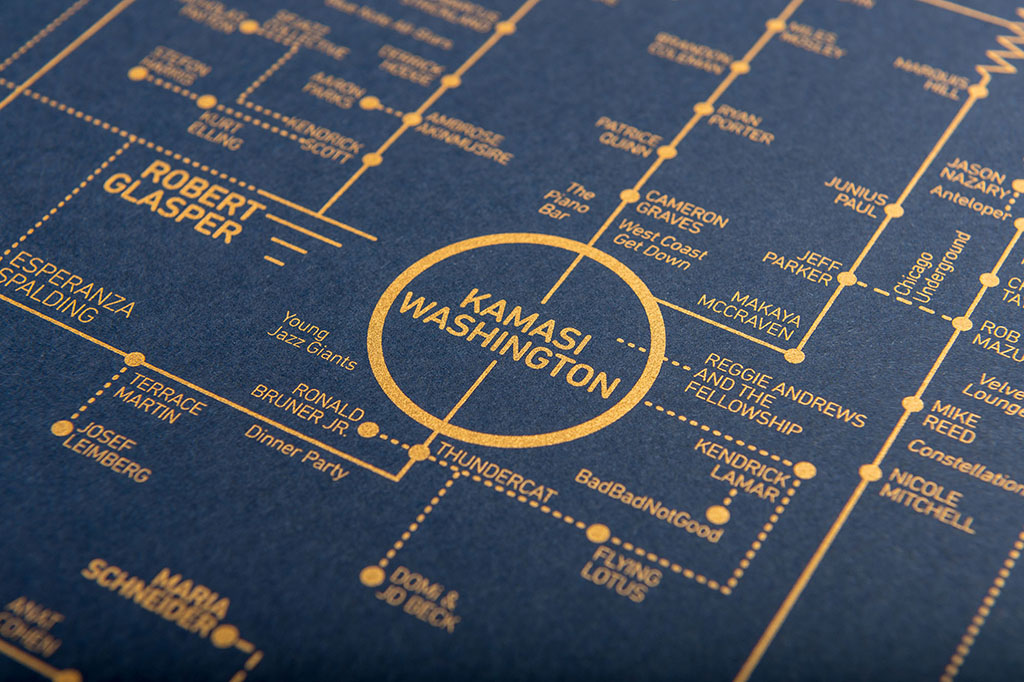 You probably know all those names, even if you only casually listen to jazz. But you may not have heard of such players on "the current vibrant UK scene" as Ezra Collective, Shabaka Hutchings, Nubya Garcia, Kokoroko, and Moses Boyd, or those on "the exploding US scene" like Kamasi Washington, Robert Glasper, and Makaya McCraven. The map includes not only the individuals but also the institutions that have shaped jazz in all its forms: clubs like Birdland and Ronnie Scott's, record labels like Blue Note, Verve, and ECM. Even the most experienced jazz fans will surely spot new listening paths on the Jazz Love Blueprint. Those with an electronic or mechanical bent will also notice that the whole design has been based on the circuit diagram of a phonograph: the very machine that set so many of us on the path to our love of jazz in the first place.
You can find other diagrams mapping the history of Electronic Music, Rock, Hip Hop and Alternative Music here.
Related content:
Linked Jazz: A Huge Data Visualization Maps the Relationships Between Countless Jazz Musicians & Restores Forgotten Women to Jazz History
Hear 2,000 Recordings of the Most Essential Jazz Songs: A Huge Playlist for Your Jazz Education
1959: The Year That Changed Jazz
Langston Hughes Presents the History of Jazz in an Illustrated Children's Book (1955)
Hear the First Jazz Record, Which Launched the Jazz Age: "Livery Stable Blues" (1917)
Behold the MusicMap: The Ultimate Interactive Genealogy of Music Created Between 1870 and 2016
Based in Seoul, Colin Marshall writes and broadcasts on cities, language, and culture. His projects include the Substack newsletter Books on Cities, the book The Stateless City: a Walk through 21st-Century Los Angeles and the video series The City in Cinema. Follow him on Twitter at @colinmarshall or on Facebook.