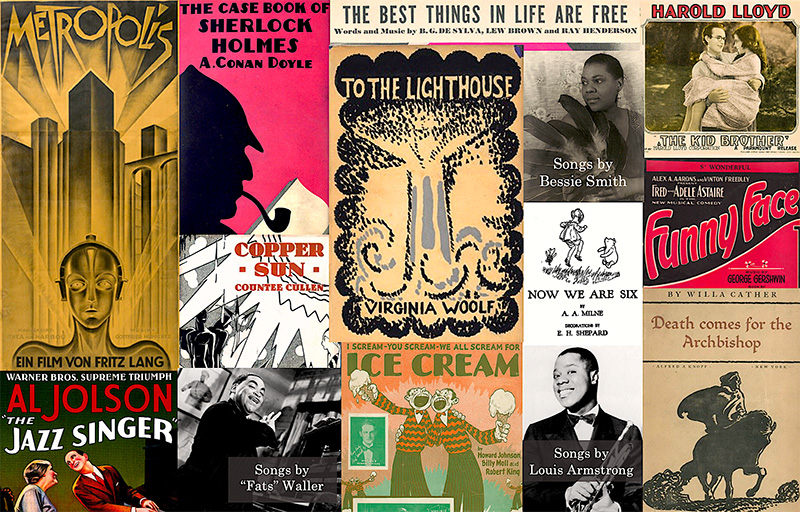 It's safe to say that few, if any, of us alive today were doing any movie-going in 1927. But that shouldn't stop us from recognizing the importance of that year to cinema itself. It saw the release of, among other pictures, The Lodger, with which the young Alfred Hitchcock first fully assembled his signature mechanics of suspense; Metropolis, Fritz Lang's still-influential vision of Art Deco dystopia; F. W. Murnau's Sunrise, a lavish romantic drama complete with sound effects; and even the very first feature-length "talkie," The Jazz Singer starring Al Jolson. And don't even get us started on what a year 1927 was for literature.
Rather, take it from Hyperallergic's Rhea Nayyar, who highlights Franz Kafka's posthumously published first novel Amerika, which is now "considered one of his more realistic and humorous works." Nayyar also mentions Virginia Woolf's much better-known To the Lighthouse, which, like Amerika as well as all the aforementioned films, has just entered the public domain in the United States in 2023 for anyone to enjoy and use as they please.
So has Arthur Conan Doyle's The Case-Book of Sherlock Holmes, the final book of stories featuring that iconic detective, Ernest Hemingway's collection Men Without Women, Hermann Hesse's Der Steppenwolf, and even the very first Hardy Boys novel, The Tower Treasure.
You'll find many such notable books, movies, and musical compositions — that last group including such immortal tunes as "The Best Things in Life are Free," "Puttin' on the Ritz" and "(I Scream You Scream, We All Scream for) Ice Cream" — rounded up here by Jennifer Jenkins, director of Duke Law School's Center for the Study of the Public Domain. She also explains why we should care: "1927 was a long time ago. The vast majority of works from 1927 are out of circulation. When they enter the public domain in 2023, anyone can rescue them from obscurity and make them available, where we can all discover, enjoy, and breathe new life into them." We know that many works created in 1927 have stood the test of time; now to find out what they'll inspire us to create in 2023.
Find a list of important works entering the public domain here.
via Duke University Law School
Related content:
The Lodger: Alfred Hitchcock's First Truly 'Hitchcockian' Movie (1927)
Metropolis: Watch Fritz Lang's 1927 Masterpiece
Free: F. W. Murnau's Sunrise, the 1927 Masterpiece Voted the 5th Best Movie of All Time
Why Should We Read Virginia Woolf? A TED-Ed Animation Makes the Case
Franz Kafka: An Animated Introduction to His Literary Genius
Based in Seoul, Colin Marshall writes and broadcasts on cities, language, and culture. His projects include the Substack newsletter Books on Cities, the book The Stateless City: a Walk through 21st-Century Los Angeles and the video series The City in Cinema. Follow him on Twitter at @colinmarshall or on Facebook.