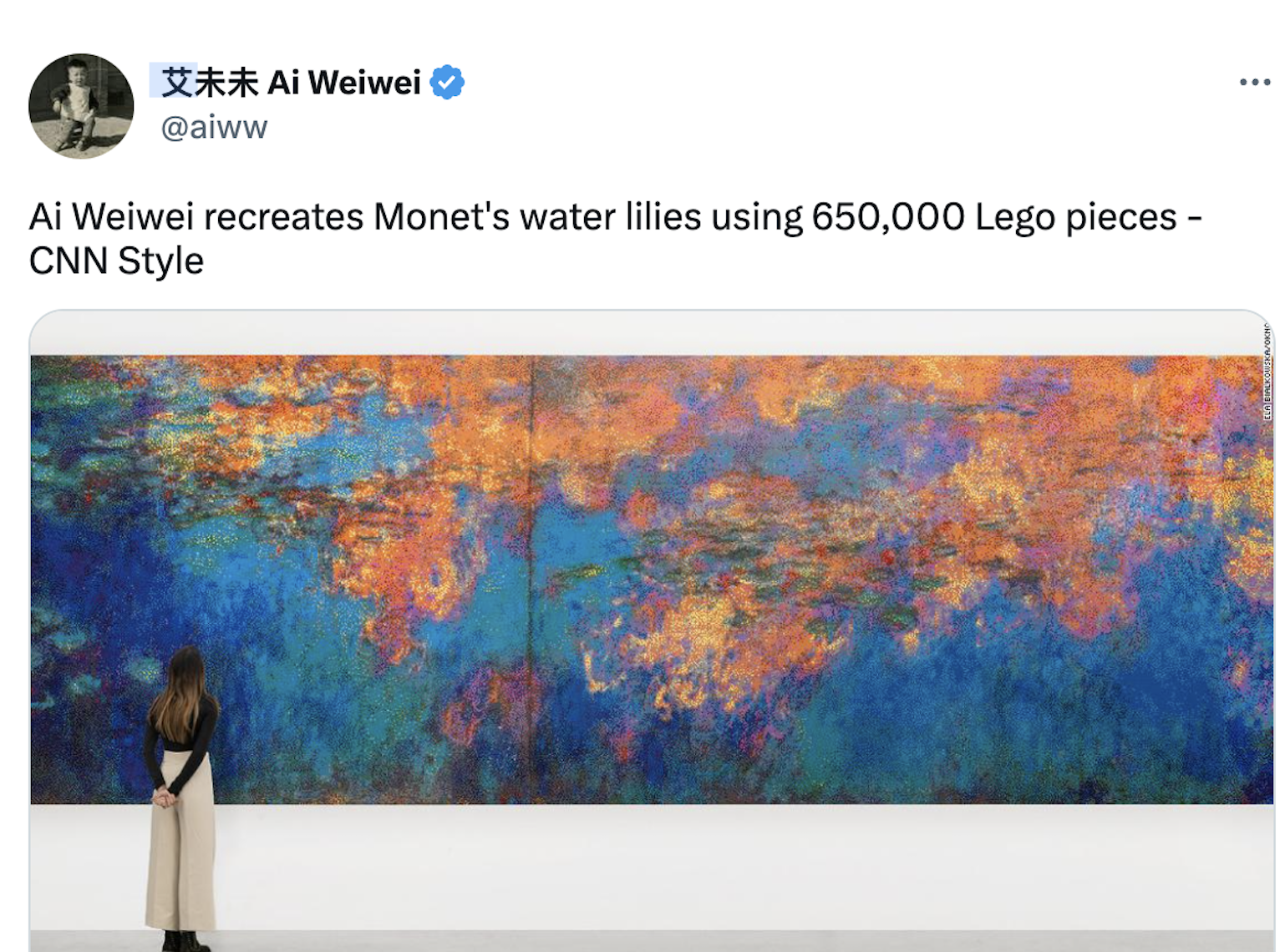 Nearly a century after Claude Monet painted them, the Nymphéas, or Water Lilies, still impress as a vision of a seemingly minor subject realized at a grand scale. The paintings installed in a dedicated room at the Musée de l'Orangerie in Paris make an especially strong impact on their viewers — an impact surely not lost on Ai Weiwei, who has lately re-created another set of Water Lilies (a triptych whose original resides at the Museum of Modern Art) entirely out of Lego bricks. Titled Water Lilies #1, this 50-foot-long plastic homage will go on display at London's Design Museum as part of Ai Weiwei: Making Sense, which opens on April 7th and runs until July 30th.
"Ai used 650,000 Lego bricks in 22 colors in his version of the famous Impressionist triptych," writes ARTnews' Karen K. Ho. Apart from simply replicating, brick by pixel-like brick, the brushstrokes with which Monet replicated the lily pond at his Giverny home, Weiwei also included "a dark area on the right-hand side. The Design Museum said it represents the underground dugout in Xinjiang province where Ai and his father, Ai Qing, lived in forced exile in the 1960s." On one level, this is an unexpected addition; on another, it's just the touch one might expect from the most famous dissident Chinese artist alive.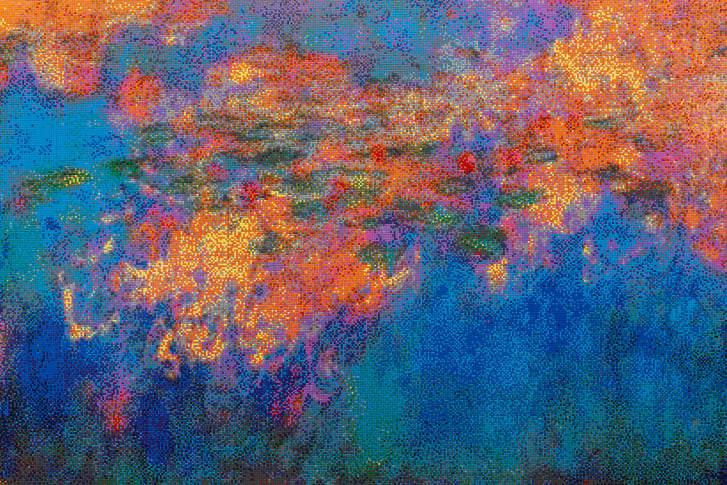 Image by Ela Bialkowska/OKNO Studio
Experienced in the medium of Lego, Ai has also used everyone's favorite building blocks "to produce portraits of political prisoners. In 2017, the Hirshhorn Museum and Sculpture Gallery exhibited 176 of these Lego artworks." Making Sense will also include a new Lego piece called Untitled (Lego Incident), which, as the Guardian's Caroline Davies writes, "comprises thousands of Lego blocks donated by members of the public after Lego briefly refused to sell their products to him in 2014." It seems that Lego had reservations about being associated with such a politically charged project. The statement made by Water Lilies #1 may be less direct, but — enriched by its large scale, its cross-cultural inspiration, and its materials that have long been a near-universal fixture of childhood — it won't be any less powerful.
Related content:
Monet's Water Lilies: How World War I Inspired Monet to Paint His Final Masterpieces & Create "the World's First Art Installation"
How to Paint Water Lilies Like Monet in 14 Minutes
Ai Weiwei Creates Hand-Silkscreened Scarves Drawing on a Chinese Paper Cutting Tradition
Who's Afraid of Ai Weiwei: A Short Documentary
Hokusai's Iconic Print, "The Great Wave off Kanagawa," Recreated with 50,000 LEGO Bricks
The Vincent van Gogh "Starry Night" LEGO Set Is Now Available: It's Created in Collaboration with MoMA
Based in Seoul, Colin Marshall writes and broadcasts on cities, language, and culture. His projects include the Substack newsletter Books on Cities, the book The Stateless City: a Walk through 21st-Century Los Angeles and the video series The City in Cinema. Follow him on Twitter at @colinmarshall or on Facebook.