We've fea­tured a vari­ety of build­ings designed by Frank Lloyd Wright here on Open Cul­ture, from his per­son­al home and stu­dio Tal­iesin and the Impe­r­i­al Hotel in Tokyo, to a gas sta­tion and a dog­house. But if any sin­gle struc­ture explains his endur­ing rep­u­ta­tion as a genius of Amer­i­can archi­tec­ture, and per­haps the genius of Amer­i­can archi­tec­ture, it must be the house called Falling­wa­ter.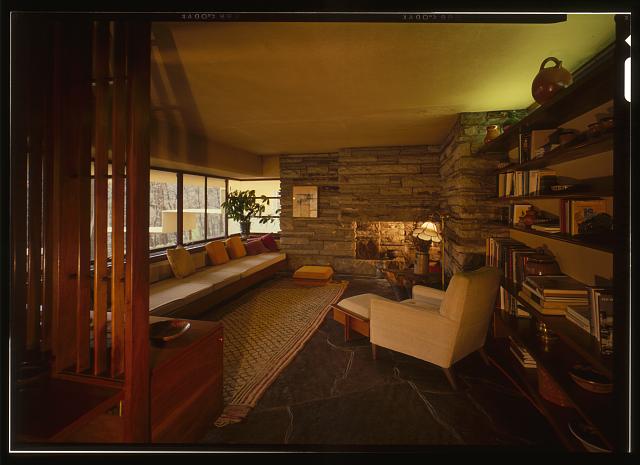 Designed in 1935 for Pitts­burgh depart­ment-store mag­nate Edgar J. Kauf­mann and his wife Lil­iane, it sits atop an active water­fall — not below it as Kauf­mann had orig­i­nal­ly request­ed, to name just one of the dis­agree­ments that arose between client and archi­tect through­out the process.
In the event, Wright had his way as far as the posi­tion­ing of the house on the site, as with much else about the project — and so much the bet­ter for its stature in the his­to­ry of archi­tec­ture, which has only risen since com­ple­tion 85 years ago.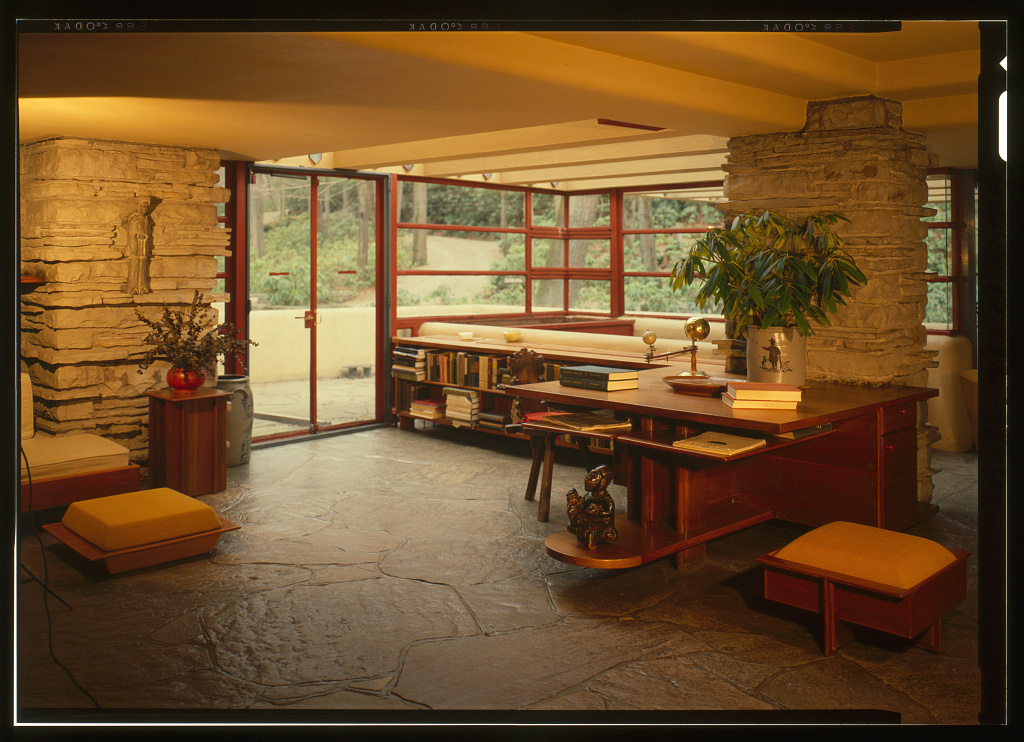 Inspired by the Kauf­man­n's love of the out­doors, as well as his own appre­ci­a­tion for Japan­ese archi­tec­ture, Wright employed tech­niques to inte­grate Falling­wa­ter's spaces with one anoth­er, as well as with the sur­round­ing nature. Time mag­a­zine wast­ed no time, as it were, declar­ing the result Wright's "most beau­ti­ful job"; more recent­ly, it's received high praise from no less a mas­ter Japan­ese archi­tect than Tadao Ando.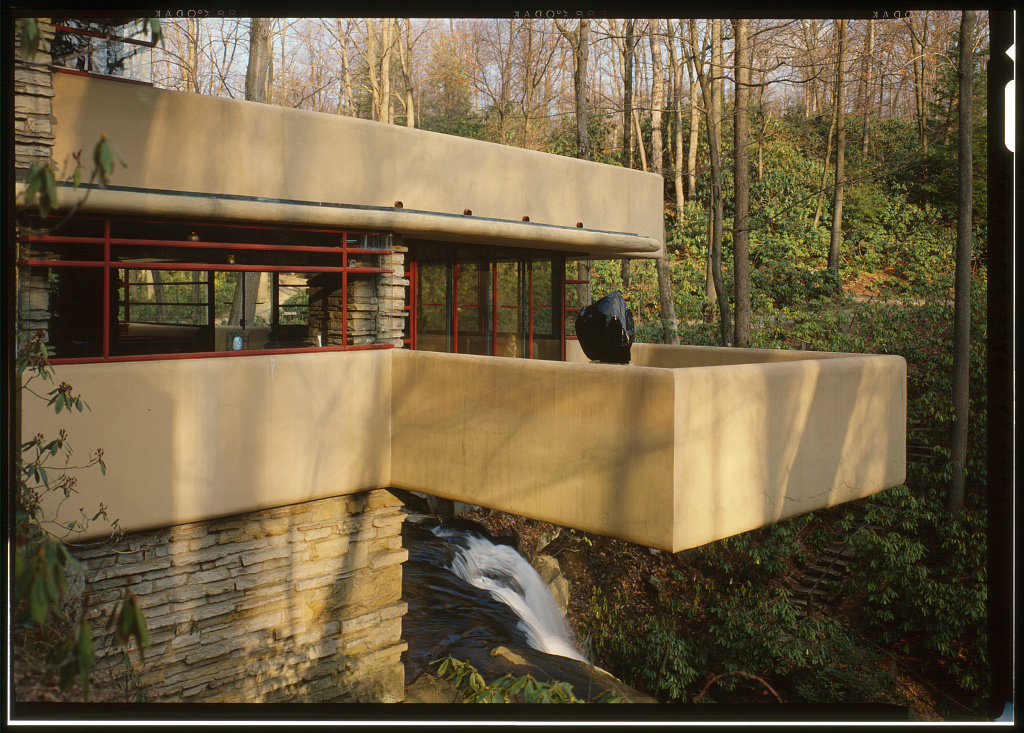 When he vis­it­ed Falling­wa­ter, Ando expe­ri­enced first-hand a use of space sim­i­lar to that which he knew from the built envi­ron­ment of his home­land, and also how the house lets in the sounds of nature. Though such a pil­grim­age can great­ly expand one's appre­ci­a­tion of the house, rare is the view­er who fails to be enrap­tured by pic­tures alone.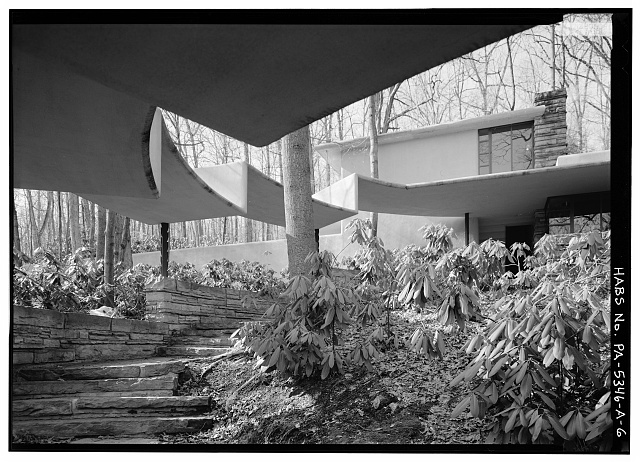 Near­ly as astute in the realm of pub­lic­i­ty as in that of archi­tec­ture, Wright would have known that Falling­wa­ter had to pho­to­graph well, a qual­i­ty vivid­ly on dis­play in this archive of 137 high-res­o­lu­tion images at the Library of Con­gress. From it, you can down­load col­or and black-and-white pho­tos of the house­'s exte­ri­or and inte­ri­or as well as its plans, which — so the sto­ry goes — Wright orig­i­nal­ly drew up in just two hours after months of inac­tion. Falling­wa­ter thus stands as not just con­crete proof of once-brazen archi­tec­tur­al notions, but also vin­di­ca­tion for pro­cras­ti­na­tors every­where.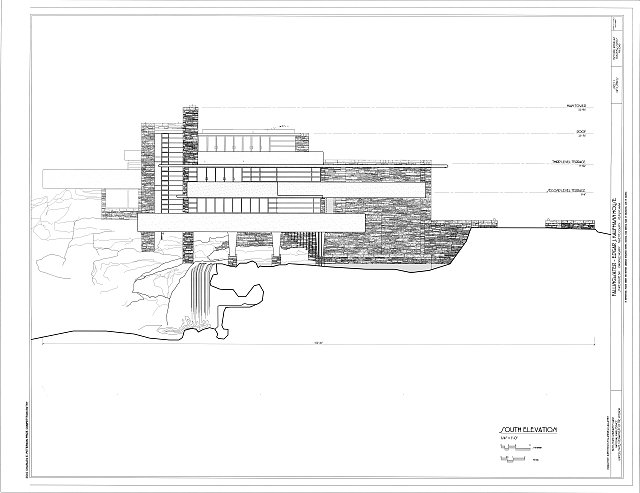 Relat­ed con­tent:
An Ani­mat­ed Tour of Falling­wa­ter, One of Frank Lloyd Wright's Finest Cre­ations
12 Famous Frank Lloyd Wright Hous­es Offer Vir­tu­al Tours: Hol­ly­hock House, Tal­iesin West, Falling­wa­ter & More
What It's Like to Work in Frank Lloyd Wright's Icon­ic Office Build­ing
What Frank Lloyd Wright's Unusu­al Win­dows Tell Us About His Archi­tec­tur­al Genius
The Unre­al­ized Projects of Frank Lloyd Wright Get Brought to Life with 3D Dig­i­tal Recon­struc­tions
1,300 Pho­tos of Famous Mod­ern Amer­i­can Homes Now Online, Cour­tesy of USC
Based in Seoul, Col­in Marshall writes and broad­casts on cities, lan­guage, and cul­ture. His projects include the Sub­stack newslet­ter Books on Cities, the book The State­less City: a Walk through 21st-Cen­tu­ry Los Ange­les and the video series The City in Cin­e­ma. Fol­low him on Twit­ter at @colinmarshall or on Face­book.