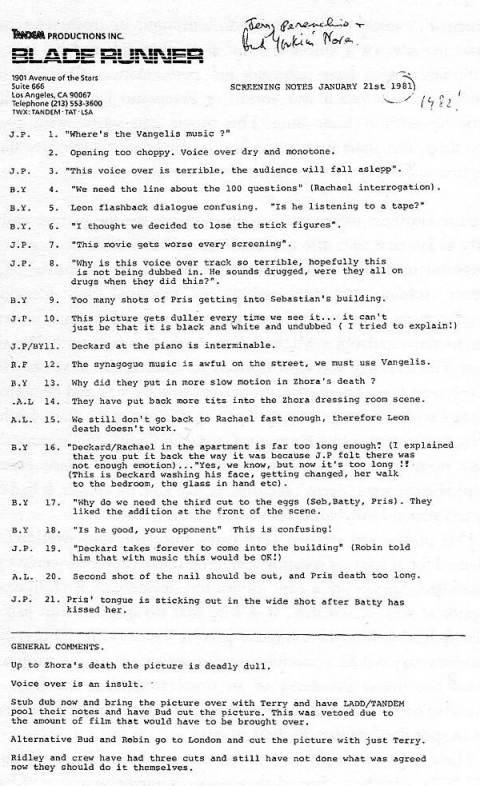 Growing up, I didn't think about all the individual qualities that make a great movie. I just thought of Blade Runner. Whatever Ridley Scott's 1982 adaptation of Philip K. Dick's Do Androids Dream of Electric Sheep had, it made for high cinematic quality indeed. As naive as it sounds, it doesn't fall much short of modern critical and target-audience consensus. Visually, intellectually, and technically, Blade Runner has endured the decades almost effortlessly; how many other tales of humans real and artificial in a dystopian future megalopolis can you say the same about, at least with a straight face? Yet back in the early eighties, you would have had to call the picture, which opened to a weekend of only $6.15 million in ticket sales against its $28 million budget, a flop. Nor could critics come up with much praise: "A waste of time," said Gene Siskel of Siskel & Ebert. ("I have never quite embraced Blade Runner," Ebert wrote 25 years later, "but now it is time to cave in and admit it to the canon.")
Have a look at the sheet of screening notes above (or click here to view a larger image), and you'll find that even the studio executives didn't like the movie. Some Blade Runner fans blame the poor initial reception on the cut that 1982's critics and audiences saw, which differs considerably from the version so many of us revere today. They cite in particular a series of deadeningly explanatory voice-overs performed after the fact by star Harrison Ford, which sounds like a classic demand by philistine "suits" in charge until you read the notes from one executive referred to as J.P.: "Voice over dry and monotone," "This voice over is terrible," "Why is this voice over track so terrible." And under "general comments": "Voice over is an insult." But with the offending track's removal, the replacement of certain shots, tweaks in the plot, and the simple fullness of time, Blade Runner has gone from one of the least respected science fiction films to one of the most. Yet part of me wonders if some of those higher-ups in the screening ever made peace with it. A certain A.L., for instance, makes the fourteenth point, and adamantly: "They have to put more tits into the Zhora dressing room scene."
via Neatorama
Related Content:
Blade Runner is a Waste of Time: Siskel & Ebert in 1982
The Blade Runner Sketchbook: The Original Art of Syd Mead and Ridley Scott Online
Blade Runner: The Final, Final Cut of the Cult Classic
Colin Marshall hosts and produces Notebook on Cities and Culture and writes essays on literature, film, cities, Asia, and aesthetics. He's at work on a book about Los Angeles, A Los Angeles Primer. Follow him on Twitter at @colinmarshall.