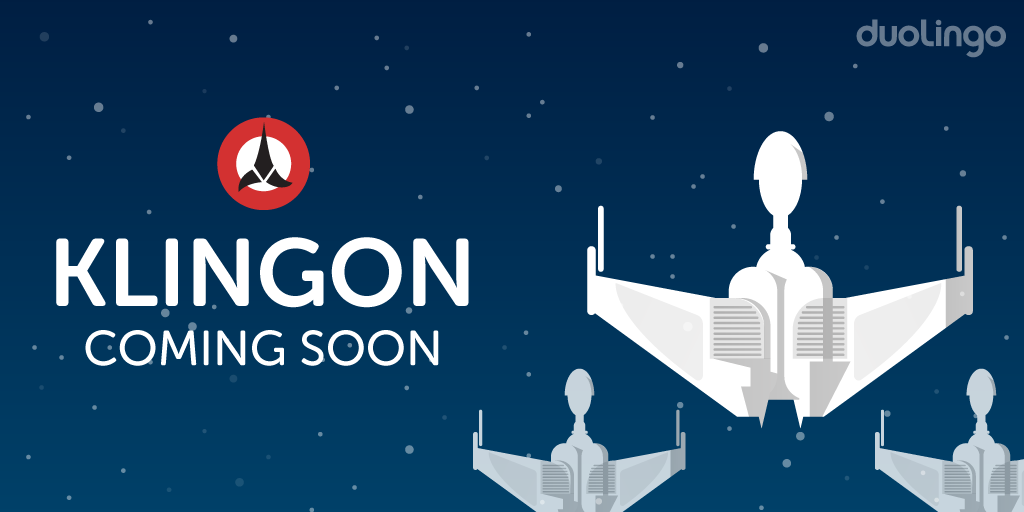 Duolingo provides free educational resources that will help you learn a whole host of terrestrial languages -- languages like Spanish, French, German, and Italian. But now they're expanding into extraterrestrial languages too, like Klingon. That's, of course, "the constructed language spoken by the fictional extraterrestrial Klingon species in the Star Trek universe. Created by Marc Okrand, the language itself is centered around spacecraft, warfare, and weaponry — but it also reflects the directness and sense of humor of the Klingon culture."
Duolingo's Klingon course -- Klingon for English Speakers -- is currently under development.  But, so far, almost 18,000 people have requested to be notified when the course is ready to go. You can add your name to the list here, too.
And before you go, make sure you check out our meta list of Free Language Lessons, where you can find free lessons covering 48 different languages. The list includes terrestrial lessons from Duolingo too.
Related Content:
Learn 48 Languages Online for Free: Spanish, Chinese, English & More
Animated Video Explores the Invented Languages of Lord of the Rings, Game of Thrones & Star Trek
French in Action: Cult Classic French Lessons from Yale (52 Episodes)
Take Free Online Courses at Hogwarts: Charms, Potions, Defense Against the Dark Arts & More
1100 Free Online Courses from Top Universities
Dan Colman is the founder/editor of Open Culture. Follow us on Facebook, Twitter, Google Plus and LinkedIn and  share intelligent media with your friends. Or better yet, sign up for our daily email and get a daily dose of Open Culture in your inbox.