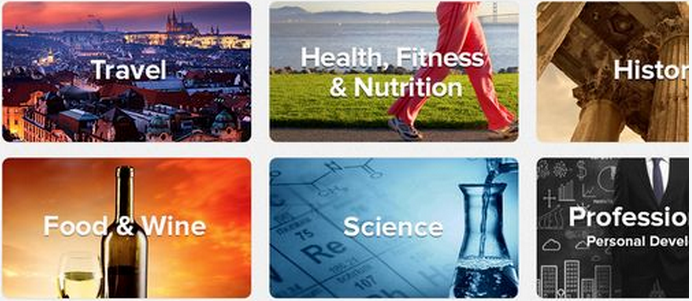 NOTE: This beta trial is now over, but you can still sign up for a 30-day free trial to Great Courses Plus. Click here for more details.
Long before I started Open Culture I was a fan of The Great Courses, formerly called The Teaching Company. If you're not familiar with them, the company travels across the US, recording great professors lecturing on great topics that will appeal to any lifelong learner. The courses are very polished and stimulating (I've personally purchased almost 20 courses over the years), and they have typically been sold in an "à la carte" fashion.
Now, The Great Courses is working on rolling out a new model, and Open Culture readers can give it an early test drive for free. The company will soon launch The Great Courses Plus, a new video subscription learning service that offers unlimited access to 5,000 lectures from a library of courses -- courses covering History, Philosophy, Literature, Economics, Math, Science, Professional Development, Cooking & Wine, Photography and much more. Choosing what they want to watch, when they want to watch, subscribers can stream lectures on computer web browsers, mobile web browsers, and apps designed for Apple, Google Play, Kindle Fire, and Roku.
The general public won't have access to this new service until the fall, but our readers (the first 250 1500) can sign up for a free beta test of The Great Courses Plus. To get your free subscription, visit www.TheGreatCoursesPlus.com; enter your email address and the code OPENCULTURE in the orange box on the home page; click 'Submit;' and then finish the sign-up process. [Note: the code OPENCULTURE is not case sensitive, I'm told.] The sign-up process does require a credit card to ensure you are a real person, but you will not be charged now or in the future. The beta is expected to last until late September. When the beta test is finished, your subscription will be cancelled and you will be under no obligation to join.
Again, The Great Courses has given us 250 1500 free slots, so if you're interested, get cracking soon.
For more coverage of The Great Courses Plus initiative, see an article just published in USA Today.
Dan Colman is the founder/editor of Open Culture. Follow us on Facebook, Twitter, Google Plus and LinkedIn and  share intelligent media with your friends. Or better yet, sign up for our daily email and get a daily dose of Open Culture in your inbox.