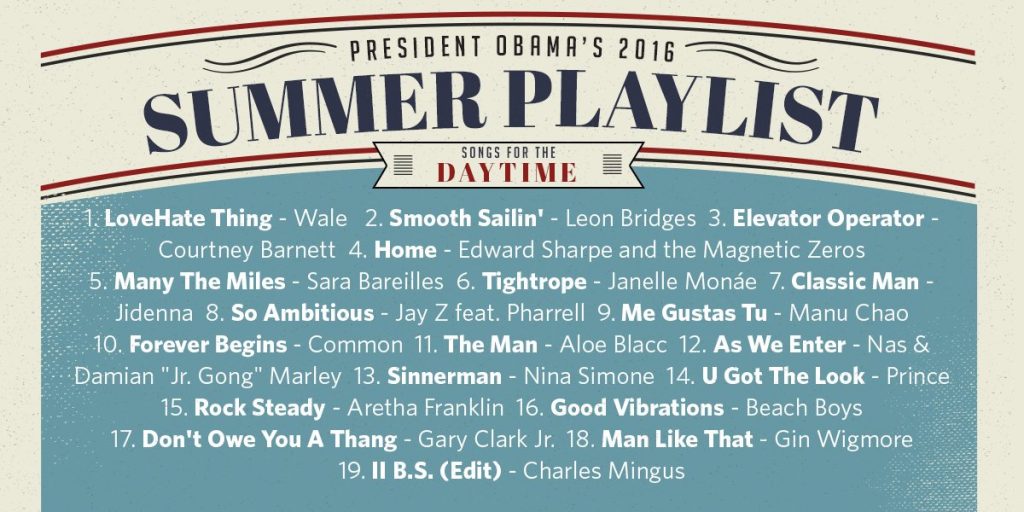 Like he did last summer, President Obama has put together two eclectic music playlists–one for a hot summer day, and another for a summer evening. And they're both pretty chill, the stuff vacations are made of. If you have Spotify (download it here), you can start streaming all of the songs below. And if you want to know more about Clinton and Trump's favorite songs, check out this piece on Rolling Stone.
The President's Summer Playlist: Daytime
LoveHate Thing – Wale
Smooth Sailin' – Leon Bridges
Elevator Operator – Courtney Barnett
Home – Edward Sharpe and the Magnetic Zeros
Many the Miles – Sara Bareilles
Tightrope – Janelle Monae
Classic Man – Jidenna
So Ambitious – Jay-Z, feat. Pharrell
Me Gustas Tu – Manu Chao
Forever Begins – Common
The Man – Aloe Blacc
As We Enter – Nas & Damian "Jr. Gong" Marley
Sinnerman – Nina Simone
U Got the Look – Prince
Rock Steady – Aretha Franklin
Good Vibrations – Beach Boys
Don't Owe You A Thang – Gary Clark Jr.
Man Like That – Gin Wigmore
II B.S. (edit) — Charles Mingus
The President's Summer Playlist: Nighttime
If I Have My Way – Chrisette Michelle
Espera – Esperanza Spalding
Tell It Like It Is – Aaron Neville
Alright – Ledisi
Trapped By A Thing Called Love – Denise Lasalle
Lady – D'Angelo
So Very Hard to Go – Tower of Power
Midnight Sun – Carmen McCrae
Cucurrucucu Paloma – Caetano Veloso
Green Aphrodisiac – Corinne Bailey Rae
I'll Be There for You / You're All I Need – Mary J Blige / Method Man
Lover Man – Billie Holiday
Criminal – Fiona Apple
Acid Rain – Chance the Rapper
My Funny Valentine – Miles Davis
Do You Feel Me – Anthony Hamilton
I Get Lonely – Janet Jackson
Lean In – Lizz Wright
All Day Music – War
Say Yes — Floetry
Follow Open Culture on Facebook, Twitter, Instagram, Google Plus, and Flipboard and share intelligent media with your friends. Or better yet, sign up for our daily email and get a daily dose of Open Culture in your inbox. To make sure that our posts definitely appear in your Facebook newsfeed, just follow these simple steps.
If you'd like to help support Open Culture, please sign up for a 30-day free trial from Audible.com or The Great Courses Plus. You will get free audio books and free courses in return. No strings attached.