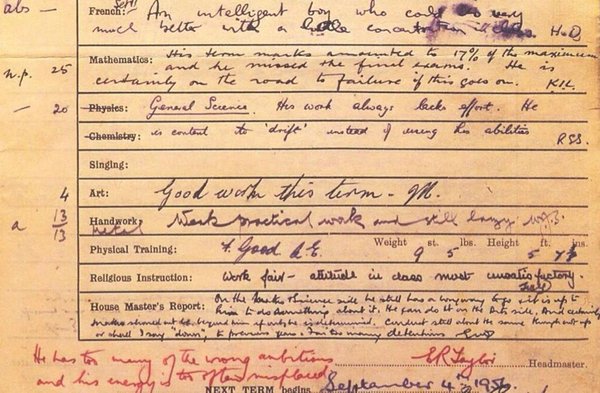 In September 1956, a young John Lennon took home a dismal report card--the kind that many smart, wayward kids can probably relate to.
French teacher: "An intelligent boy who could be very much better with a little concentration in class."
Math teacher: "He is certainly on the road to failure if this goes on."
Physics teacher: "His work always lacks effort. He is content to 'drift' instead of using his abilities."
Religion teacher: "Attitude in class most unsatisfactory."
Head master: "He has too many wrong ambitions and his energy is too often misplaced."
Guess they had him all figured out...
Follow Open Culture on Facebook and Twitter and share intelligent media with your friends. Or better yet, sign up for our daily email and get a daily dose of Open Culture in your inbox. 
If you'd like to support Open Culture and our mission, please consider making a donation to our site. It's hard to rely 100% on ads, and your contributions will help us provide the best free cultural and educational materials.
Related Content:
9-Year-Old Edward Hopper Draws a Picture on the Back of His 3rd Grade Report Card
Hip 1960s Latin Teacher Translated Beatles Songs into Latin for His Students: Read Lyrics for "O Teneum Manum," "Diei Duri Nox" & More
Famous Writers' Report Cards: Ernest Hemingway, William Faulkner, Norman Mailer, E.E. Cummings & Anne Sexton
The John Lennon Sketchbook, a Short Animation Made of Lennon's Drawings, Premieres on YouTube
John Lennon Sums Up Elvis, Yoko & Howard Cosell in One Word