The name of Vin­cent Van Gogh is one of the very best known in the his­to­ry of paint­ing, and indeed the his­to­ry of art. But that does­n't mean the man him­self enjoyed any suc­cess in his short life­time. Though he was con­vinced that he was cre­at­ing "the art of the future," and seem­ing­ly right to believe it, the buy­ers of nine­teenth-cen­tu­ry Euro­pean art did­n't see it quite that way. Con­se­quent­ly impov­er­ished, Van Gogh had to resort to uncon­ven­tion­al strate­gies to main­tain his artis­tic pro­duc­tiv­i­ty. Instead of pro­fes­sion­al mod­els, for exam­ple, he hired peas­ants and peo­ple from the streets. And when he could­n't paint them, he paint­ed him­self.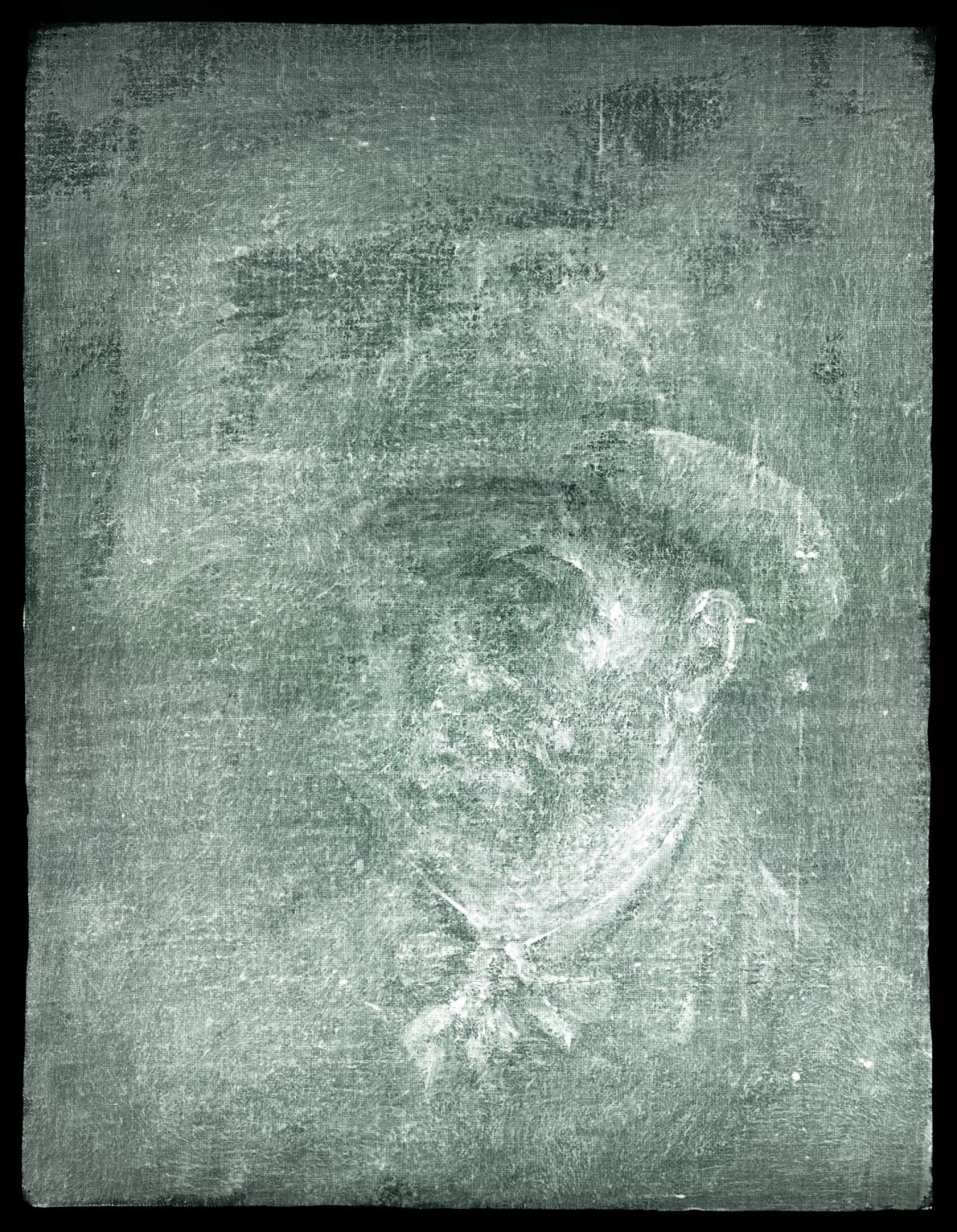 Van Gogh would also econ­o­mize by re-using his can­vas­es, a prac­tice not unknown in his day. "How­ev­er, instead of paint­ing over ear­li­er works," writes Jor­dan Ogg at Nation­al Gal­leries Scot­land, "he would turn the can­vas around and work on the reverse."
It seems he did this with the Nation­al Gal­leries Scot­land's own Head of a Peas­ant Woman, whose back side turns out to bear a hith­er­to unknown self-por­trait hid­den by "lay­ers of glue and card­board" for well over a cen­tu­ry. X‑ray analy­sis has revealed "a beard­ed sit­ter in a brimmed hat with a neck­er­chief loose­ly tied at the throat. He fix­es the view­er with an intense stare, the right side of his face in shad­ow and his left ear clear­ly vis­i­ble."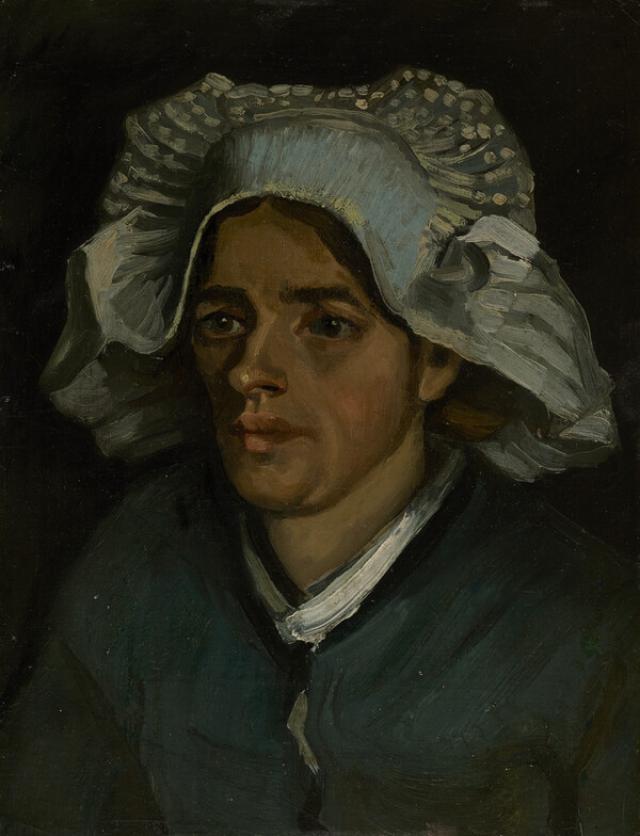 Even in its ghost­ly lack of detail, this face seems to be unmis­tak­able. If it belongs to who we think it does, it will become the 36th known Van Gogh self-por­trait. It would have been paint­ed before 1884's Head of a Peas­ant Woman, "dur­ing a key moment in Van Gogh's career, when he was exposed to the work of the French impres­sion­ists after mov­ing to Paris." You can learn about the ongo­ing process of this lost self-por­trait's redis­cov­ery in the video at the top of the post. Van Gogh expressed con­vic­tion that he was paint­ing for lat­er gen­er­a­tions, but sure­ly even he would be astound­ed at the excite­ment of twen­ty-first cen­tu­ry cura­tors about find­ing anoth­er of his self por­traits — and one he saw fit to give the card­board treat­ment at that.
Relat­ed con­tent:
Vin­cent Van Gogh's Self Por­traits: Explore & Down­load a Col­lec­tion of 17 Paint­ings Free Online
Behold the New­ly Dis­cov­ered Sketch by Vin­cent van Gogh Sketch, "Study for Worn Out" (1882)
Watch as Van Gogh's Famous Self-Por­trait Morphs Into a Pho­to­graph
Dis­cov­ered: The Only Known Pic­ture of Vin­cent Van Gogh as an Adult Artist? (Maybe, Maybe Not)
AI & X‑Rays Recov­er Lost Art­works Under­neath Paint­ings by Picas­so & Modigliani
A Restored Ver­meer Paint­ing Reveals a Por­trait of a Cupid Hid­den for Over 350 Years
Based in Seoul, Col­in Mar­shall writes and broad­casts on cities, lan­guage, and cul­ture. His projects include the Sub­stack newslet­ter Books on Cities, the book The State­less City: a Walk through 21st-Cen­tu­ry Los Ange­les and the video series The City in Cin­e­ma. Fol­low him on Twit­ter at @colinmarshall, on Face­book, or on Insta­gram.