As a child, Jeff De Boer, the son of a sheet met­al fab­ri­ca­tor, was fas­ci­nat­ed by the Euro­pean plate armor col­lec­tion in Calgary's Glen­bow Muse­um:

There was some­thing mag­i­cal or mys­ti­cal about that emp­ty form, that con­tained some­thing. So what would it con­tain? A hero? Do we all con­tain that in our­selves?
After grad­u­at­ing from high school wear­ing a par­tial suit of armor he con­struct­ed for the occa­sion, De Boer com­plet­ed sev­en full suits, while major­ing in jew­el­ry design at the Alber­ta Col­lege of Art and Design.
A sculp­ture class assign­ment pro­vid­ed him with an excuse to make a suit of armor for a cat. The artist had found his niche.
Using steel, sil­ver, brass, bronze, nick­el, cop­per, leather, fiber, wood, and his del­i­cate jew­el­ry mak­ing tools, DeBoer became the cats' armor­er, spend­ing any­where from 50 to 200 hours pro­duc­ing each increas­ing­ly intri­cate suit of feline armor. A noble pur­suit, but one that inad­ver­tent­ly cre­at­ed an "imbal­ance in the uni­verse":
The only way to fix it was to do the same for the mouse.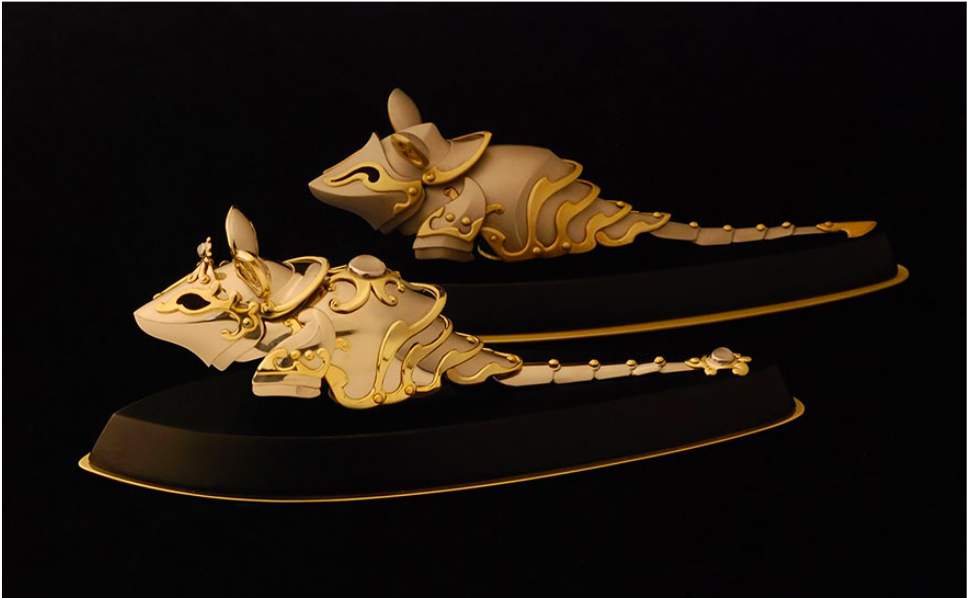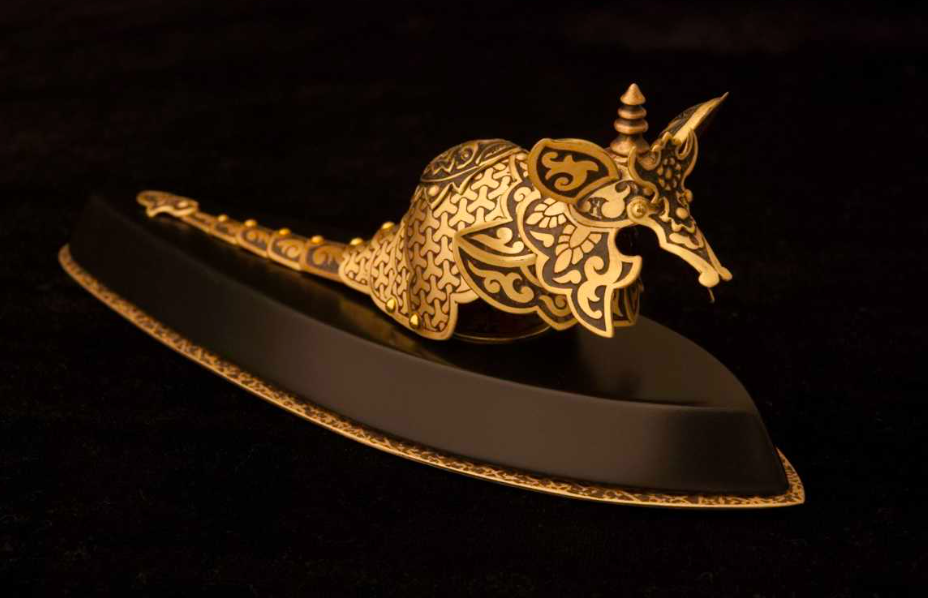 "The suit of armor is a trans­for­ma­tion vehi­cle. It's some­thing that only the hero would wear," De Boer notes.
Fans of David Petersen's Mouse Guard series will need no con­vinc­ing, though no real mouse has had the mis­for­tune to find its way inside one of his aston­ish­ing, cus­tom-made cre­ations.
Not even a taxi­dermy spec­i­men, he revealed on the Mak­ing, Our Way pod­cast:
It's not an alto­geth­er bad idea. The only rea­son I don't do it is that hol­low suit of armor like you might see in a muse­um, your imag­i­na­tion will make it do a mil­lion things more than if you stick a mouse in it will ever do. I have put armor on cats. I can tell you, it's noth­ing like what you think it's going to be. It's not a very good expe­ri­ence for the cat. It does not ful­fill any fan­tasies about a cat wear­ing a suit of armor.

Though cats were his entry point, De Boer's sym­pa­thies seem aligned with the under­dog — er, mice. Equip­ping hum­ble, hypo­thet­i­cal crea­tures with exquis­ite­ly wrought, his­tor­i­cal pro­tec­tive gear is a way of push­ing back against being per­ceived dif­fer­ent­ly than one wish­es to be.
Accept­ing an Hon­orary MFA from his alma mater ear­li­er this year, he described an armored mouse as a metaphor for his "ongo­ing cat and mouse rela­tion­ship with the world of fine art…a mis­chie­vous, rebel­lious being who dares to com­pete on his own terms in a world ruled by the cool cats."
Each tiny piece is pre­ced­ed by painstak­ing research and many ref­er­ence draw­ings, and may incor­po­rate spe­cial mate­ri­als like the Japan­ese silk haori-himo cord lac­ing the shoul­der plates to the body armor of a Samu­rai mouse fam­i­ly.
Addi­tion­al cre­ations have ref­er­enced Mon­go­lian, glad­i­a­tor, cru­sad­er, and Sara­cen styles — this last per­fect for a Per­sian cat.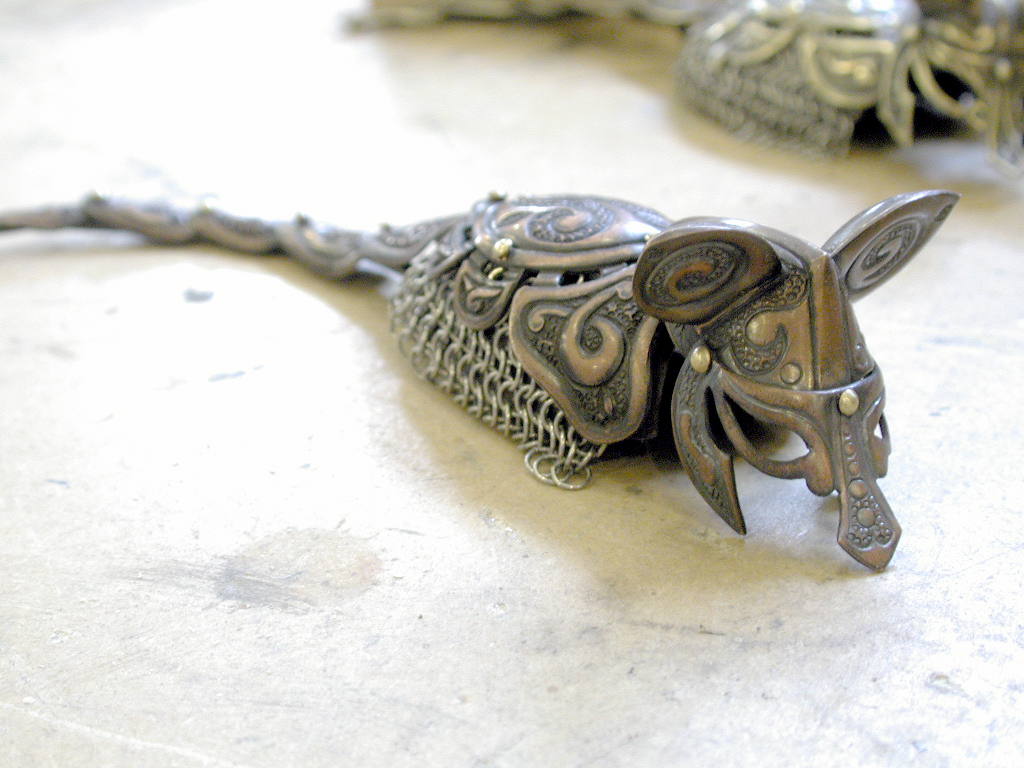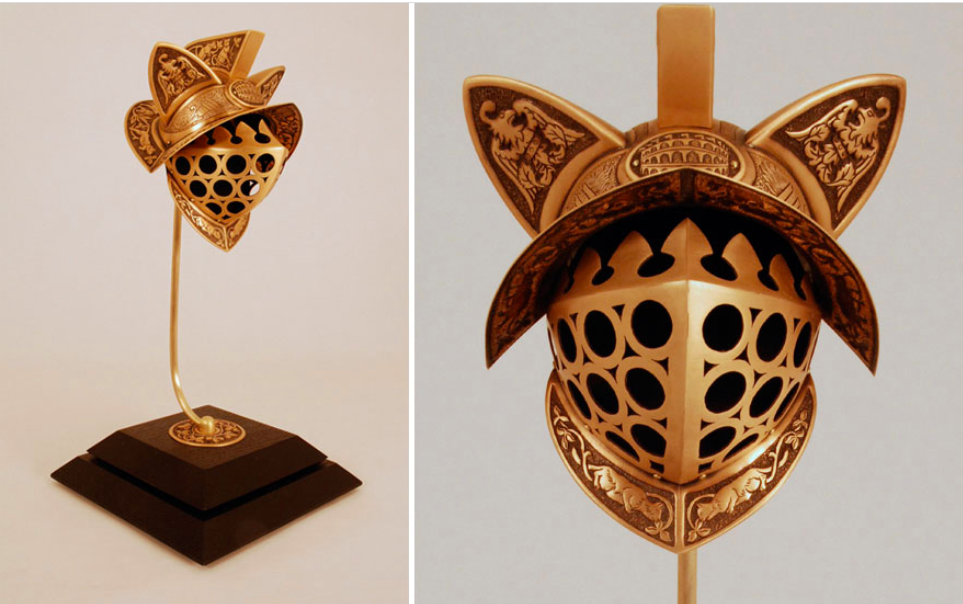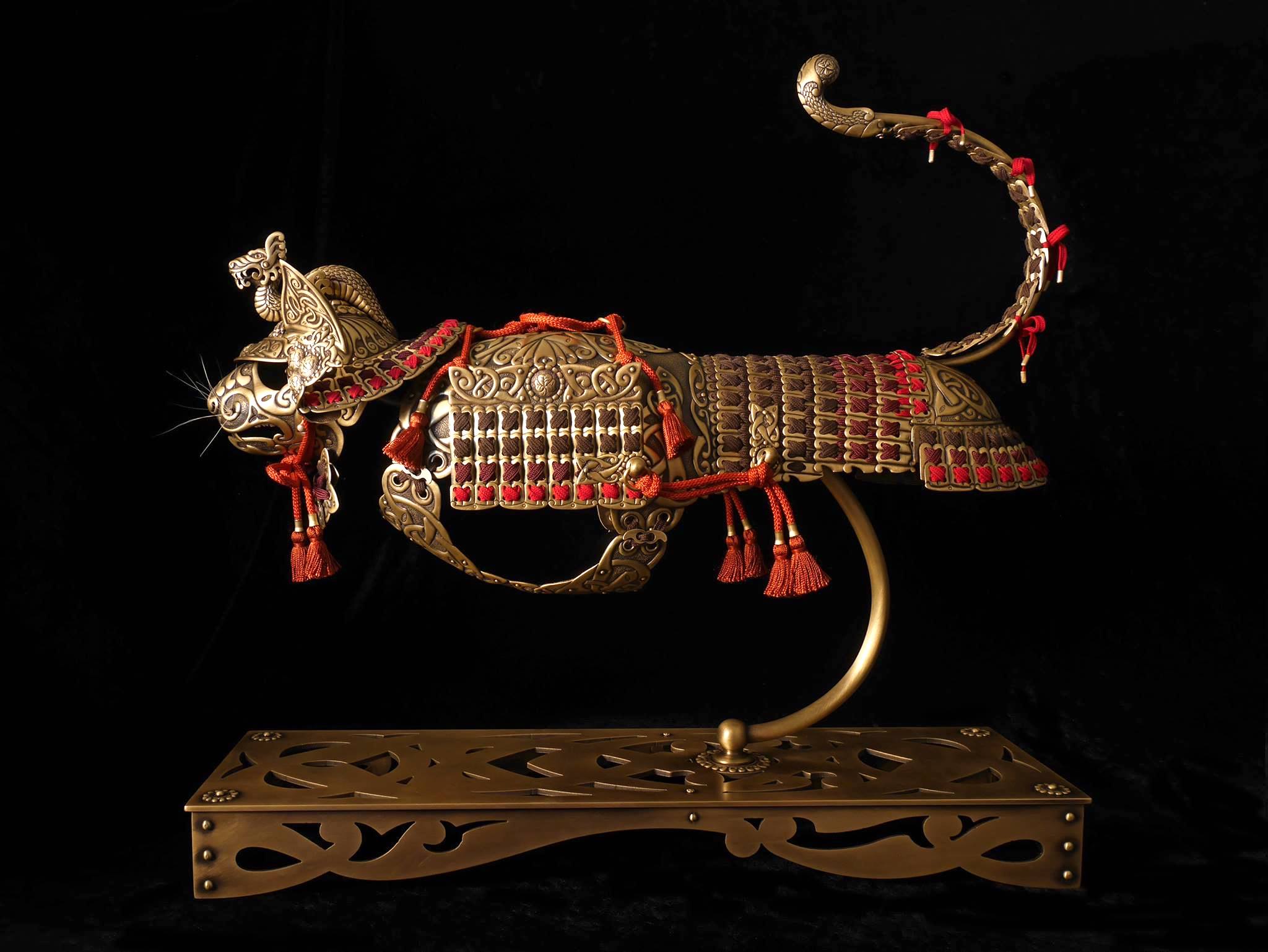 "I mean, "Why not?" he asks in his TED‑x Talk,Village Idiots & Inno­va­tion, below.
His lat­est work com­bines ele­ments of Maratha and Hus­sar armor in a ver­i­ta­ble puz­zle of minus­cule pieces.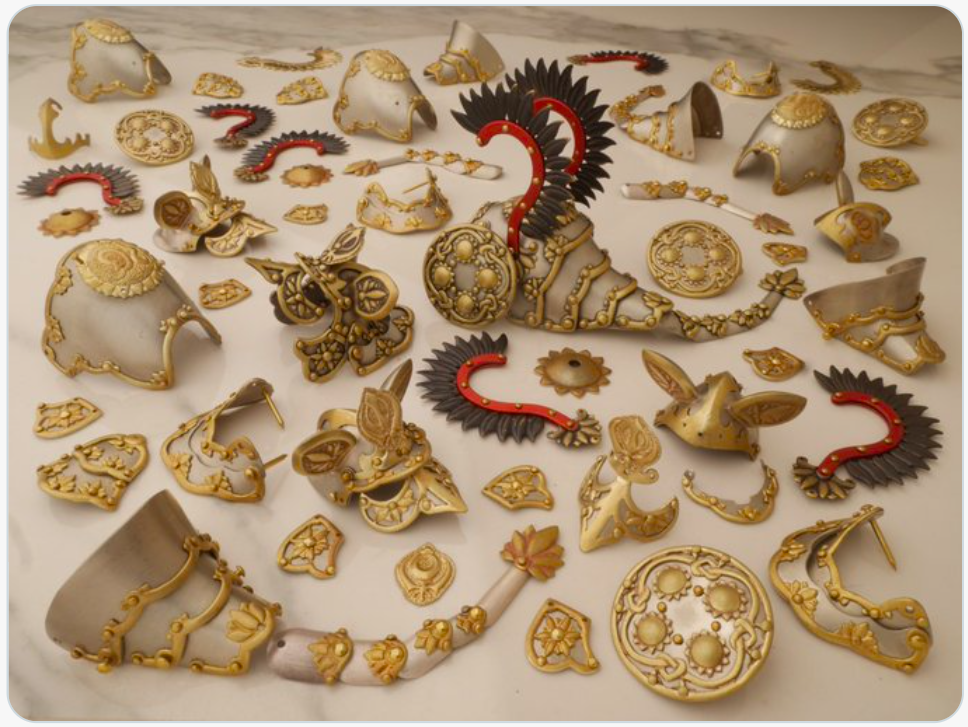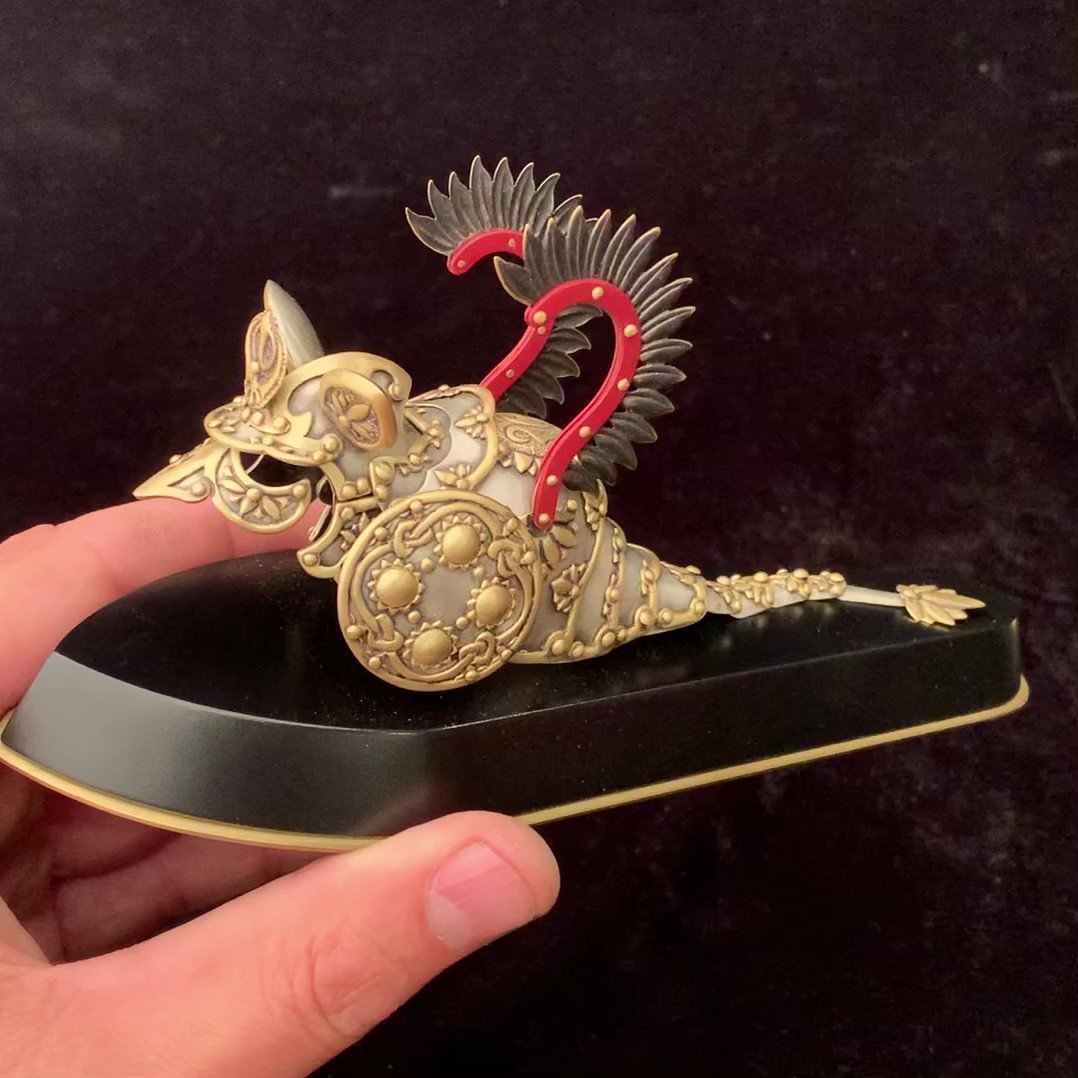 See more of Jeff De Boer's cat and mouse armor on his Insta­gram.
Relat­ed Con­tent
What's It Like to Fight in 15th Cen­tu­ry Armor?: A Sur­pris­ing Demon­stra­tion
Cats in Medieval Man­u­scripts & Paint­ings
A Record Store Designed for Mice in Swe­den, Fea­tur­ing Albums by Mouse Davis, Destiny's Cheese, Dol­ly Pars­ley & More
- Ayun Hal­l­i­day is the Chief Pri­ma­tol­o­gist of the East Vil­lage Inky zine and author, most recent­ly, of Cre­ative, Not Famous: The Small Pota­to Man­i­festo. Fol­low her @AyunHalliday.