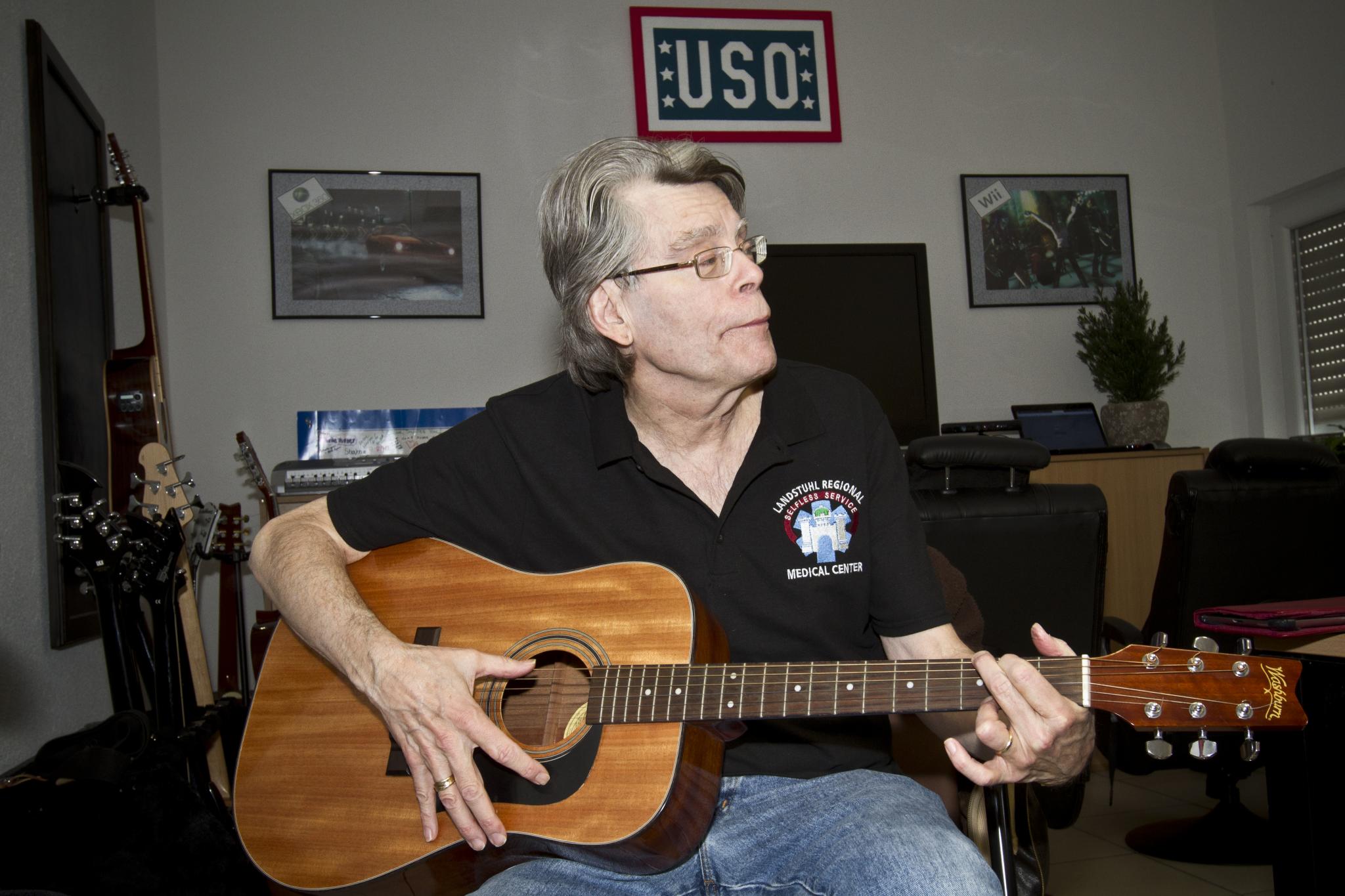 Image by the USO, via Flickr Com­mons
In one of my favorite Stephen King inter­views, for The Atlantic, he talks at length about the vital impor­tance of a good open­ing line. "There are all sorts of the­o­ries," he says, "it's a tricky thing." "But there's one thing" he's sure about: "An open­ing line should invite the read­er to begin the sto­ry. It should say: Lis­ten. Come in here. You want to know about this." King's dis­cus­sion of open­ing lines is com­pelling because of his dual focus as an avid read­er and a prodi­gious writer of fiction—he doesn't lose sight of either per­spec­tive:
We've talked so much about the read­er, but you can't for­get that the open­ing line is impor­tant to the writer, too. To the per­son who's actu­al­ly boots-on-the-ground. Because it's not just the reader's way in, it's the writer's way in also, and you've got to find a door­way that fits us both.
This is excel­lent advice. As you ori­ent your read­er, so you ori­ent your­self, point­ing your work in the direc­tion it needs to go. Now King admits that he doesn't think much about the open­ing line as he writes, in a first draft, at least. That per­fect­ly craft­ed and invit­ing open­ing sen­tence is some­thing that emerges in revi­sion, which can be where the bulk of a writer's work hap­pens.
Revi­sion in the sec­ond draft, "one of them, any­way," may "neces­si­tate some big changes" says King in his 2000 mem­oir slash writ­ing guide On Writ­ing. And yet, it is an essen­tial process, and one that "hard­ly ever fails." Below, we bring you King's top twen­ty rules from On Writ­ing. About half of these relate direct­ly to revi­sion. The oth­er half cov­er the intangibles—attitude, dis­ci­pline, work habits. A num­ber of these sug­ges­tions reli­ably pop up in every writer's guide. But quite a few of them were born of Stephen King's many decades of tri­al and error and—writes the Barnes & Noble book blog—"over 350 mil­lion copies" sold, "like them or loathe them."
1. First write for your­self, and then wor­ry about the audi­ence. "When you write a sto­ry, you're telling your­self the sto­ry. When you rewrite, your main job is tak­ing out all the things that are not the sto­ry."
2. Don't use pas­sive voice. "Timid writ­ers like pas­sive verbs for the same rea­son that timid lovers like pas­sive part­ners. The pas­sive voice is safe."
3. Avoid adverbs. "The adverb is not your friend."
4. Avoid adverbs, espe­cial­ly after "he said" and "she said."
5. But don't obsess over per­fect gram­mar. "The object of fic­tion isn't gram­mat­i­cal cor­rect­ness but to make the read­er wel­come and then tell a sto­ry."
6. The mag­ic is in you. "I'm con­vinced that fear is at the root of most bad writ­ing."
7. Read, read, read. "If you don't have time to read, you don't have the time (or the tools) to write."
8. Don't wor­ry about mak­ing oth­er peo­ple hap­py. "If you intend to write as truth­ful­ly as you can, your days as a mem­ber of polite soci­ety are num­bered, any­way."
9. Turn off the TV. "TV—while work­ing out or any­where else—really is about the last thing an aspir­ing writer needs."
10. You have three months. "The first draft of a book—even a long one—should take no more than three months, the length of a sea­son."
11. There are two secrets to suc­cess. "I stayed phys­i­cal­ly healthy, and I stayed mar­ried."
12. Write one word at a time. "Whether it's a vignette of a sin­gle page or an epic tril­o­gy like 'The Lord of the Rings,' the work is always accom­plished one word at a time."
13. Elim­i­nate dis­trac­tion. "There should be no tele­phone in your writ­ing room, cer­tain­ly no TV or videogames for you to fool around with."
14. Stick to your own style. "One can­not imi­tate a writer's approach to a par­tic­u­lar genre, no mat­ter how sim­ple what that writer is doing may seem."
15. Dig. "Sto­ries are relics, part of an undis­cov­ered pre-exist­ing world. The writer's job is to use the tools in his or her tool­box to get as much of each one out of the ground intact as pos­si­ble."
16. Take a break. "You'll find read­ing your book over after a six-week lay­off to be a strange, often exhil­a­rat­ing expe­ri­ence."
17. Leave out the bor­ing parts and kill your dar­lings. "(kill your dar­lings, kill your dar­lings, even when it breaks your ego­cen­tric lit­tle scribbler's heart, kill your dar­lings.)"
18. The research shouldn't over­shad­ow the sto­ry. "Remem­ber that word back. That's where the research belongs: as far in the back­ground and the back sto­ry as you can get it."
19. You become a writer sim­ply by read­ing and writ­ing. "You learn best by read­ing a lot and writ­ing a lot, and the most valu­able lessons of all are the ones you teach your­self."
20. Writ­ing is about get­ting hap­py. "Writ­ing isn't about mak­ing mon­ey, get­ting famous, get­ting dates, get­ting laid or mak­ing friends. Writ­ing is mag­ic, as much as the water of life as any oth­er cre­ative art. The water is free. So drink."
See a fuller expo­si­tion of King's writ­ing wis­dom at Barnes & Noble's blog.
Note: An ear­li­er ver­sion of this post appeared on our site in 2014.
Relat­ed Con­tent:
The 69 Pages of Writ­ing Advice Denis John­son Col­lect­ed from Flan­nery O'Connor, Jack Ker­ouac, Stephen King, Hunter Thomp­son, Wern­er Her­zog & Many Oth­ers
7 Tips From Ernest Hem­ing­way on How to Write Fic­tion
Kurt Vonnegut's 8 Tips on How to Write a Good Short Sto­ry
Stephen King's Top 10 All-Time Favorite Books
Josh Jones is a writer and musi­cian based in Durham, NC. Fol­low him at @jdmagness