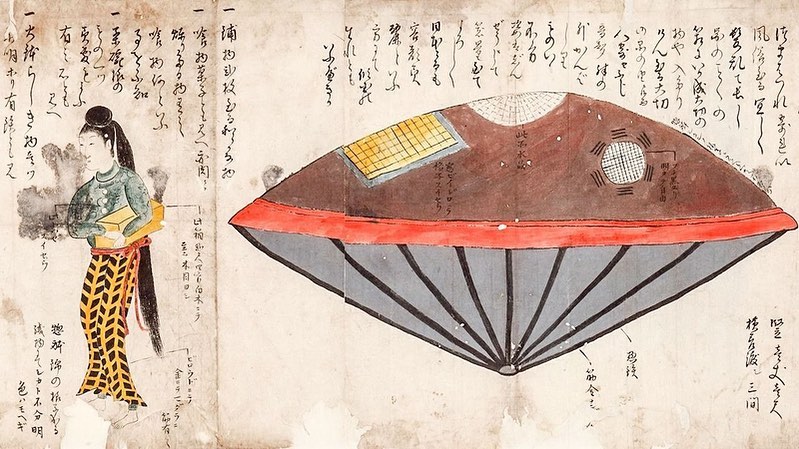 For the enthusiast of unidentified flying objects, we live in interesting times indeed. Back in 2021, as we previously featured here on Open Culture, the CIA declassified and published thousands of pages of UFO-related documents. In just the past few weeks, three UFOs were shot down over North America. In the span of time between those events, much else has also occurred to stimulate the imagination of those who've kept watching the skies. Fascination with UFOs may have strong cultural associations with twentieth-century America — and the subject can now feel a bit passé for that reason — but it knows fewer cultural or temporal boundaries than we may think: witness, for example, the Japanese folktale of Utsuro-bune.
"In 1803, a round vessel drifted ashore on the Japanese coast and a beautiful woman emerged, wearing strange clothing and carrying a box. She was unable to communicate with the locals, and her craft was marked with mysterious writing." Such is the premise of the legend as retold at Nippon.com, which also offers an analysis by Gifu University professor emeritus Tanaka Kazuo.
"Long before the American UFO stories, the craft depicted in Edo-period Japanese documents for some reason looked like a flying saucer," he says. Nor have scholars traced Utsuro-bune (虚舟, which means "hollow ship") back to only one source: to date, Tanaka "has found eleven documents relating to the Hitachi Utsuro-bune legend, of which the most interesting are thought to date from 1803, the same year that the craft was said to have come to shore."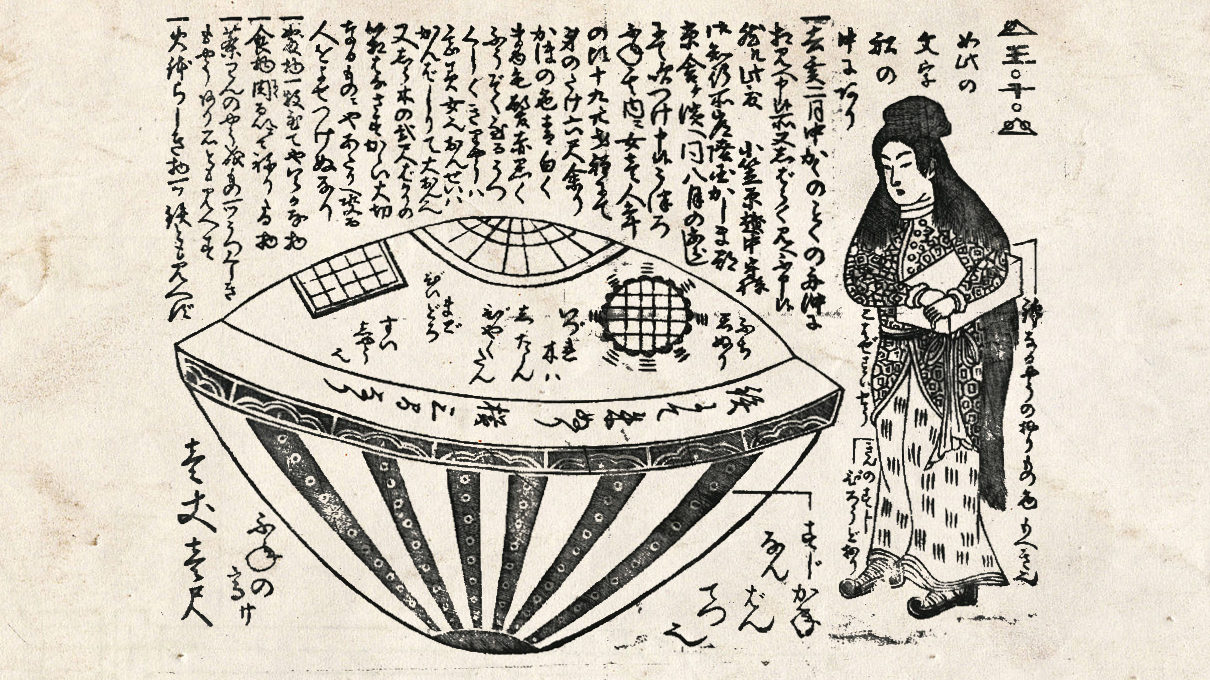 What exactly happened in Hitachi, a small city on Japan's east coast, in 1803? Why do near contemporary depictions of the Utsuro-bune itself (especially in the 1835 Hyōryū kishū or "records of castaways," as seen at the top of the post) so closely resemble modern-day visions of flying saucers? Given that the incident is held to have taken place during the country's 265-year-long sakoku period of national isolation, no foreigner is likely to have crossed over to Japanese shores without causing a major incident. Unable to communicate with this mysterious woman, the fishermen of Hitachi are said simply to have returned her — box and all — to the hollow ship, which drifted back out to sea, never to be seen again. It was her good luck, some ufologists might say, to have turned up on Earth a century and a half before the opening of Area 51.
Related content:
The Japanese Fairy Tale Series: The Illustrated Books That Introduced Western Readers to Japanese Tales (1885-1922)
The First Museum Dedicated to Japanese Folklore Monsters Is Now Open
The Ghosts and Monsters of Hokusai: See the Famed Woodblock Artist's Fearsome & Amusing Visions of Strange Apparitions
The CIA Has Declassified 2,780 Pages of UFO-Related Documents, and They're Now Free to Download
What Do Aliens Look Like? Oxford Astrobiologists Draw a Picture, Based on Darwinian Theories of Evolution
The Appeal of UFO Narratives: Investigative Journalist Paul Beban Visits Pretty Much Pop #14
Based in Seoul, Colin Marshall writes and broadcasts on cities, language, and culture. His projects include the Substack newsletter Books on Cities, the book The Stateless City: a Walk through 21st-Century Los Angeles and the video series The City in Cinema. Follow him on Twitter at @colinmarshall or on Facebook.