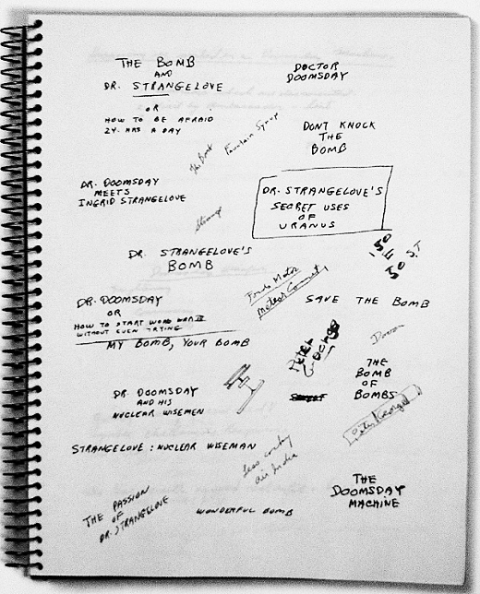 We have here a page out of Stanley Kubrick's notebook, which Lists of Note---the sister site of Letters of Note, always a favorite of ours here at Open Culture---posted as a collection of alternative titles for Dr. Strangelove. The list includes Dr. Doomsday, The Doomsday Machine, Dr. Doomsday and His Nuclear Women, Don't Knock the Bomb: these ideas came not from an interfering studio, but from Kubrick's own mind as he worked his way toward the most suitable name. You can see him getting closer; while this page doesn't include the film's final title, Dr. Strangelove: Or, How I Learned to Stop Worrying and Love the Bomb, it does include Dr. Strangelove's Bomb, Strangelove; Nuclear Wiseman, and the Gibsonian-sounding The Passion of Dr. Strangelove. I myself will always wonder how Dr. Strangelove's Secret Uses of Uranus would have played, but when you deal with cinematic craftsmen as detail-oriented and reputedly "perfectionist" as Kubrick, you know that their driving desire to get things right extends all the way to their titles and beyond.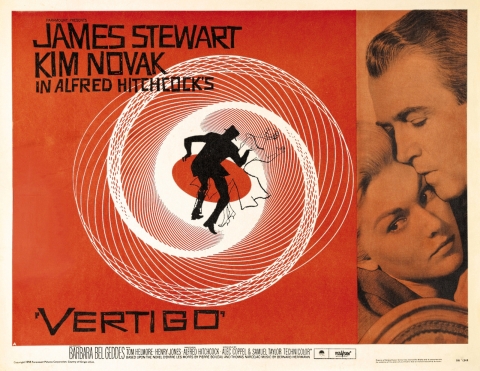 This holds just as true for Alfred Hitchcock. Alone in the Dark, Behind the Mask, The Dark Tower, Without a Trace, all possible titles for the movie we now know as Vertigo. When Hitchcock's San Francisco psychological thriller recently topped Sight and Sound's critics poll of the greatest films of all time, it surely did so for cinematic merits having nothing to do with its name. But would a Vertigo by any other title feel quite as fresh and gripping today, 55 years after it first came out? This goes especially for the pre-threadbare titles I rattled off above, which only account for four of 47 of the suggestions Paramount Pictures executive Sam Frey pitched to Hitchcock, including Deceit, Deceitful, and, for good measure, Deception. You can read all of them at Lists of Note. I quite like The Face Variations, but Hitchcock knew his project most intimately, and thus knew that Vertigo it had to be.
Related Content:
Inside Dr. Strangelove: Documentary Reveals How a Cold War Story Became a Kubrick Classic
Philosopher Slavoj Zizek Interprets Hitchcock's Vertigo in The Pervert's Guide to Cinema (2006)
20 Free Hitchcock Movies Online
Colin Marshall hosts and produces Notebook on Cities and Culture and writes essays on literature, film, cities, Asia, and aesthetics. He's at work on a book about Los Angeles, A Los Angeles Primer. Follow him on Twitter at @colinmarshall.